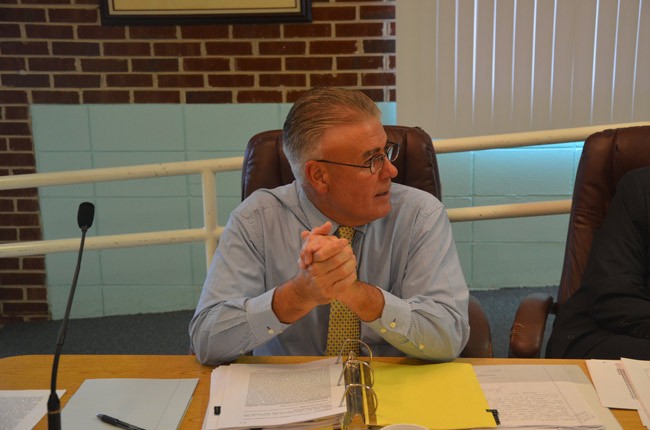 The Flagler Beach City Commission's co-dependent relationship with its city manager took yet another twist Thursday evening as the commission "told" Bruce Campbell that he would be staying on at least through December.
The city commission voted 4-0 (Kim Carney was absent) to keep Campbell on a month-to-month basis as it conducts a search for a replacement. The commission doesn't want to have an interim manager, fearing a return to the years when it employed one—Bernie Murphy—for five years.
Less than a month ago, Campbell was ordering the commissioners to "get on with it" and find his replacement, and telling them that he'd had enough, and that the end of September would be his drop-dead date to leave. It's not clear what convinced him to change his mind.
"I was approached this week and asked if I would consider staying until the replacement was found, so I told the commissioners that I did say that I would help them in any way I could and if they believe I needed to hang around a couple of months until they got this hiring process completed, I would do that," Campbell said in an interview this morning. "It's not going to be five years." He said that resumes have started coming in, so it should not be a dragged-out process. "I think they'll get numerous confident. There's probably going to be more resumes than the last time." There were 140 resumes five years ago.
Thursday evening, as commissioners again discussed his fate, he sat at his usual desk He leaned his head on his folded hands, fiddled with his paperwork, held his head in his hands and straightened his tie. He said nothing. It's been almost a year since Campbell announced his intended resignation.
An internal want-ad for the position drew just one applicant earlier this month. A broader ad in trade journals has drawn a dozen applicants so far. That ad is open-ended, but the commission wants to term-limit it, too.
The decision to retain Campbell was prompted by Commission Chairman Marshall Shupe, who'd tried similar maneuvers several times in the past few months with less success. This time he implied that Campbell himself had previously given his word that he'd stay as long as the commission needed him. And now the commission needs him.
"I think I've done this a couple of times but now we're getting close to the point where we need to look at resumes and things like that with the city manager," Shupe said. "I know Bruce said he wanted to turn in his keys if you will at the end of September. At the same time, probably a year or so ago, he said at the request of the commission that he'd stay on month to month until we didn't need him anymore. I personally think that with some of the things that are going on, it would be in our best interest, meaning the residents and everybody in town, it would be a little tough to have somebody come in on an interim basis" and try to get up to speed with what's going on.
"We should tell him that we would like him to stay on, on a month-to-month basis, same pay, same whatever, until we've got a new manager selected," Shupe said.
Commissioner Steve Settle was surprised by the turn-around.  "I honestly believed that Bruce would be leaving at the end of September. I've been talking to some of our staff people about the possibility of choosing an acting," Settle said. His worry is a repeat of the prolonged, often embarrassing process that eventually led to Campbell's appointment five years ago. The process took a year and innumerable commission votes to break stalemate after stalemate.
"One of the flaws in our laws, it takes four votes to choose a new city manager, which means there's a reluctance—if you've got a couple of people reluctant to go forward and choose somebody new, you end up in a stalemate and it could last five years," Settle said. "I think we've learned that. I've got no problem with Bruce, I believe I've been his biggest supporter over the past five years, but I would like to avoid creating any incentive for us to drag our feet in filling this job."
Commissioner Jane Mealy agreed with Settle and Shupe, but proposed an end date to Campbell's month-to-month renewals: Dec. 31.
There's a possibility that it may not drag out that long. Shupe wants to start looking at resumes soon. "I don't want to be deluged at the end of October with starting the process," he said. "I want this process started, but I think he's the person who needs to be here for the next two or three or four months." He was referring to Campbell.
The commission will likely hold either a workshop or a special meeting to go through its first batch of resumes next month.
Campbell said he doesn't know what he plans to do after his city commission job. "I'm going to look for something. I don't know what that is yet," he said. Most likely, he'll stay in the area.