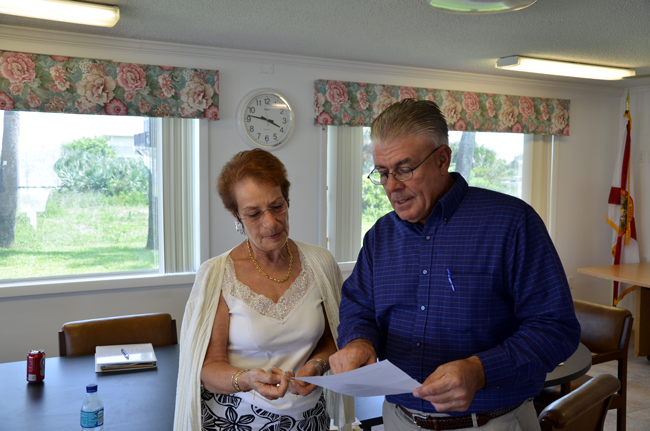 Flagler Beach's 5,000 residents will see another tax rate increase next year, though the 14.6 percent increase won't be as steep as last year's 21.3 percent increase. And most property owners are more likely to see a decrease in the their overall tax bill.
That's the case for several reasons. Flagler Beach's new tax rate will still be a couple of points lower than the average 17.5 percent drop in property valuations in the city. A home with a taxable value of $100,000 last year would have paid $420 in Flagler Beach taxes, given the city's current tax rate of $4.2311 per $1,000 in taxable value. If that house has maintained the very same value, it would pay $485 next year, with the new tax rate of $4.850 per $1,000. But if that house suffered the average 17.5 percent loss in value, it would be taxed on only $82,500, yielding a tax bill of $417, a decline of $3.
Property owners are likely to see a far bigger decline in their tax bill because the school board, which accounts for about half the typical tax bill in Flagler Beach, has held its tax rate flat despite the falling valuations. That will translate into a substantial tax saving for most property owners.
The Flagler Beach City Commission holds the first of two public hearings at 5:30 p.m. today at City Hall.
Aside from the tax rate, the highlights include a 3 percent raise for 55 of the city's 70 employees–namely, all of its non-union employees (the police force has about 15 union employees), with a few exceptions: Acting City Manager Bruce Campbell is not getting a raise, though he is getting paid, on an annualized basis, $90,000. And city commissioners, who make $700 a month, said they will not take a raise.
The city is also buying two police cruisers, adding $25,000 to its contingency fund, and cutting no full-time jobs, though a part-time librarian and a part-time custodian have been cut.
The 3 percent raise to city employees will cost $71,400 out of a general fund of $4.8 million, and a total city budget (including its garbage, water and stormwater funds) of $11.9 million.
Last month, Campbell originally proposed a tentative property tax rate of $5.0520 per $1,000. That would have generated an additional $200,000 for the city's reserves. "So the decision the commission had to make after we got through that salary business," Campbell said, "was how much do we want to put in reserve? Do we want to keep it at 5.0520, put the whole $200,000 in the bank, reserves, or do we want to reduce that?" Commissioners decided to decrease that amount that goes in reserves in order to decrease the property tax rate. (Every $45,000 is the equivalent of a tenth of a point in the tax rate.)
On health insurance, the city didn't quite save money: it managed only to decrease what would have been a 20 percent spike in premium costs, from United Health Care, its insurer. The spike was limited to 13 percent. But employees pay no premiums, unless they're also buying coverage for spouses or family. That may change in coming years as the city finds itself unable to carry the employees' entire premium costs.
"I believe we did what we set out to do and that is, to deliver a balanced budget to our citizens without affecting the level or quality of services. In fact in some cases we're going to improve some of our services," Campbell said, with the two new police cars, a new Community Redevelopment Agency director (the position, vacant for several months, saved the city some money), and bringing building inspections in-house, instead of sending 90 percent of the building inspection fees to Flagler County.
"The important thing is," Campbell said, "we've also cut our total budget by 50 percent. Back in 2006-07 that total budget was over $20 million, so we've cut that in half. Staff has done a good job cutting the expenses to run our city, but still maintaining the level of service that we provide, and that's important because there's some people—and there's always the naysayers—but there's some people out there who always believe, well, you know, they don't do anything, it's government, they're playing around."
It was Campbell's first opportunity to do a government budget. It was also part of his ongoing, and what appears to be a year-long, job interview. The city commission has yet to hire Campbell full time. He has the votes of three commissioners. But he needs one more. So far, Commissioners Jane Mealy and Commission Chairman John Feind, who were opposed to appointing Campbell acting manager in the first place, have refused to provide a fourth vote. But they did say in late spring that they would make their decision based on Campbell's performance during budget season. That decision should happen as soon as the second budget hearing is over, and the commission adopts its 2011-12 budget.
Feind was put off by the political nature of the campaign to install Campbell manager. Mealy was uneasy about Campbell's exclusively private-sector executive experience, which preceded his stint as an orange-clad maintenance man for the city. Campbell was asked, in an interview, what difference he may have experienced, working on a government budget.
"There was nothing different about working on the budget," he said. "A budget is a budget. It's about revenues and expenses. The only thing that's different in government is the fact that it's more limiting in terms of the fund-based accounting. I mean the fund-based accounting puts restrictions on your ability to do certain things within each fund. You can't do things between funds like you can in a company. The company's money is the company's money, whereas here you get the general fund, the general fund can be drawn upon to support certain things, but the enterprise fund you can't use that back to the general fund to balance your revenues and expenses."
Campbell ran into a bit of trouble when reorganizing the city's building inspection system by bringing it in-house–and initially failing to create just such a separate fund. That matter was worked out, though it also created friction with the county.