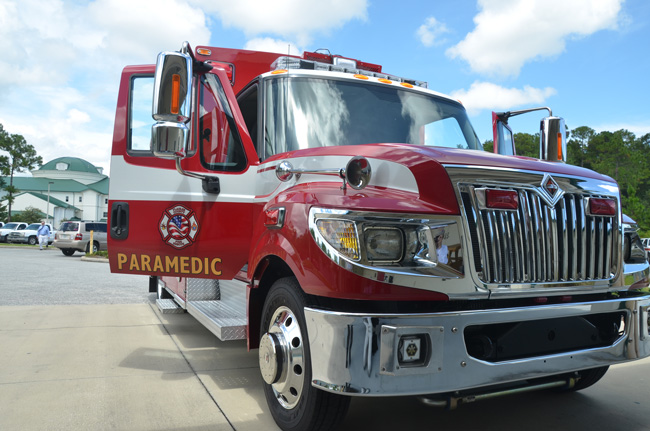 Flagler County Fire Rescue this week took ownership of two new 17,000-lb. ambulances, each costing $219,000 empty, and showed one off to county commissioners Wednesday.
An ambulance doesn't have a lifespan longer than two and a half to three years. Each unit averages 5,000 miles a month. Some do more, some do less. "That's due to all the transports we do from this hospital to specialty hospitals," Flagler County Fire Chief Don Petito said, as when patients must be taken from Florida Hospital Flagler to hospitals in Jacksonville or Gainesville. All the ambulances on the road currently are approaching 200,000 miles.
"But it does 90 percent of the work for the county," Petito said. "Ninety percent of the calls are EMS." Last year the county logged 14,000 calls, with more than 12,000 for ambulances. Flagler County Fire Rescue alone responds with actual ambulances, with the county's and Palm Coast and Flagler Beach fire departments joining the response with fire engines, depending on the location of the call.
Ambulance calls also generate revenue, as patients and their insurance provider are charged for transport. In 2012 the county took in $2 million in ambulance revenue. It budgeted revenue of $2.35 million this year. But collecting has at times been a problem, with significant gaps between what the county charges and what patients actually pay. The ambulance service is part of Flagler County Fire Rescue's $8.5 million operation, run by 76 firefighter-paramedics and a total of 84 employees. Those numb ers don't include the two-pilot, $500,000 Fire Flight emergency rescue helicopter operation, which often works in tandem with paramedics on the ground and generates about $80,000 in revenue a year.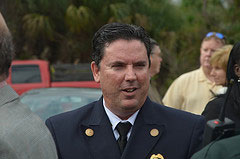 The county has 11 ambulance units. Seven are on duty 24 hours a day at seven different locations, with a seventh location just added on the west side of the county, Station 51 at St. Johns Park—an upgrade long sought by the west side. Four are in spare status, so if one breaks down, it can immediately be replaced, and the broken down unit sent for repairs without affecting rotations.
"When this one goes in service, we'll place it at a station that has an existing unit. We'll take that existing unit and put it into spare status. Now, we have a group that's already in spare status. We take the oldest ones that are having a lot of maintenance problems, and we surplus them."
That means they get sold at auction. One year yielded $15,000 for two such units, which are usually shipped overseas and used by agencies there as ambulances.
Ambulances have always been two-person units. Fire engines have generally been three-person units, but since adding a seventh ambulance unit, the department has had to reduce some engine shifts to two-person units, a move firefighters oppose but have been willing to work with, because the county has pledged to close the gap. The county commission approved the additional dollars to hire three more firefighters in October, and the county administrator has spoken favorably of adding three more next year.
"The way we're staffing things now," Petito said, "we're very rarely going down to two-man engines. So once we get the three people up, and we're still training the five that we had open before"—earlier this year, there were five openings in the department because of turnover—"I don't think you'll see two-man engines anymore. And then the other three will help us with vacations and sick leave."
---
Ambulances respond to 12,000 calls a year and generate $2 million in revenue.
---
Customized the box to the specifications of the department, as for instance enabling backboards to be slid and accessed from either end of the vehicle, and, since firefighters ride the ambulances, holding a half dozen oxygen packs that firefighters wear when they battle blazes. "This is on all of our trucks now," though it's not exactly a new addition: the upgrade started eight years ago.
In the patient department, the patient is rolled into the bed of the truck, rimmed by storage spaces for a vast amount of supplies and equipment, much of it now electronic, including an EKG and a suction machine, some of it refrigerated. "Everything is computerized," Petito said.
The ambulances are serviced at the county's fleet management department. The only time it's sent to an authorized dealer is when major repairs are required and the four-year warranty is invoked.
Accidents used to be a serious problem several years ago. Not anymore. Petito couldn't remember when the last wreck involving an ambulance took place. Nothing major, but still disruptive to rotations and insurance costs.
"I got here 10 years ago," he said. "We were averaging one wreck per week, and we provided a bunch of driver training and a bunch of policies. We provided that tool for the drivers to prevent accidents, and we very rarely do we get accidents. We faced that problem, quick."
In addition to the ambulance units, the county's fire department has nine fire engines, six wood trucks, six attack trucks, three water tenders and 10 specialty and staff vehicles, such as those for the chief and his battalion commanders.