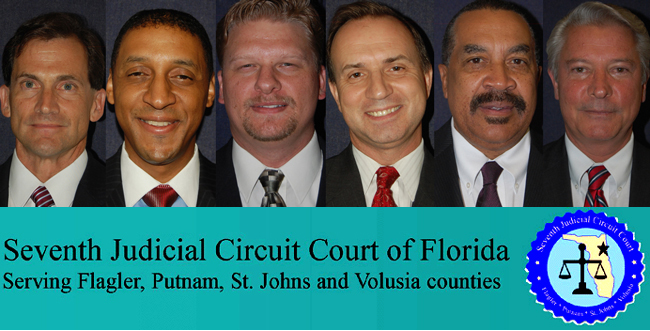 Arguably the most important decisions voters get to make beginning with early voting on Monday is the circuit judges they'll pick. Judges are elected to six-year terms. But once elected, they might get challenged when they run again, but rarely–as when, say, the elected judge has been hit by scandal. So unlike other elected offices, when first electing a judge, voters are essentially casting a ballot for something close to a lifetime's service, at least until forced retirement at 70.
Circuit judges have considerable power to affect the day-to-day lives of citizens (and non-citizens), who come in contact with the judicial system in far larger numbers than they do with other elected officials. It's not just individuals accused of crimes. It's family matters, divorces, adoptions, immigration issues, wills, real estate matters, foreclosures. Candidates running for judge work hard to convince voters that casting a vote in a judicial race is of critical importance. For all that, judges' races are usually the least covered by the press and the least understood by the public.
In the Aug. 24 primary (and in early voting beginning Monday) Flagler County voters—all registered voters, whatever party affiliation or non-affiliation—have choices in three judicial races, or groups, as three judges in the 7th Judicial District are retiring. (Voters may still be under the impression that they'll have to vote in just one judicial race, the one for long-time Circuit Court Judge Kim C. Hammond, who's retiring after 32 years on the bench. Not so. His is just one of three.)
In groups 3, just two candidates are running to replace S. James Foxman, who's retiring after 31 years. That seat is in New Smyrna Beach. In Group 10, three candidates are running to replace Arthur W. Nichols III. That seat is in Palatka.
The third race is more critical than the other two for Flagler voters because the circuit judge's seat is here, in Flagler County–Hammond's. That Group 5 race has attracted six candidates.
Surprisingly, and disappointingly, the races in all three groups attracted 11 men—no women. All are white except for two candidates in Group 5, who are black: Sid Nowell and Marc Dwyer. A judge's race is significant, because blacks are disproportionately wrung through the criminal justice system by an overwhelmingly white law enforcement establishment–white cops, white prosecutors and public defenders, white judges. Hammond's seat has never been held by a black judge, so a victory by either Nowell's or Dwyer would be historic at a local level.
The two lawyers were briefly partners early in Dwyer's career. Nowell says for three months. Dwyer says for longer than a year, as the formal incorporation lasted from late 2004 to the first quarter of 2006. The firm was called Knight, Dwyer & Nowell. You won't see it mentioned on either candidate's website.
Why the separation? "Generational differences," Dwyer says, and a different "management style." In Nowell's words: "Different philosophies on how to practice law." He specifies with a dig reflective of the two men's enduring rivalry: "Mark is into marketing. My focus is into practicing law. I've been at this a long time. His is a different generation, a different approach."
Their offices are a few blocks from each other in Bunnell. Their rivalry that may be splitting their base and enabling one of the other six, less known locally, to use his larger base in Volusia to take over either Nowell or Dwyer. Chances are, the race will not produce a clear winner–with a majority larger than 50 percent. In that case, the top two vote-getters would have to face each other again in a run-off.
Below are links to synopses of the candidates in Group 5–how they portray themselves through their websites and a recent forum featuring all six of them in Bunnell, or through their voluntary disclosure statements with the Florida Bar. These aren't recommendations or endorsements, though this much can be fairly said about all of them: they're all lawyers in good standing with the Florida Bar.
The bar's self-disclosure statement is another measure of quality and transparency. It can also be revealing: In Group 5, four of the candidates—John Selden, Sid Nowell, Ed Haenftling Jr. and Joseph Horrox—provided one. Dwyer and Dennis Craig did not. You can see the full disclosure statements alongside each candidate's synopsis, at least when they've provided it. The candidates are listed in alphabetical order.
Candidates for Circuit Court Judge (Click on the Name to Go to the Candidate's Page)