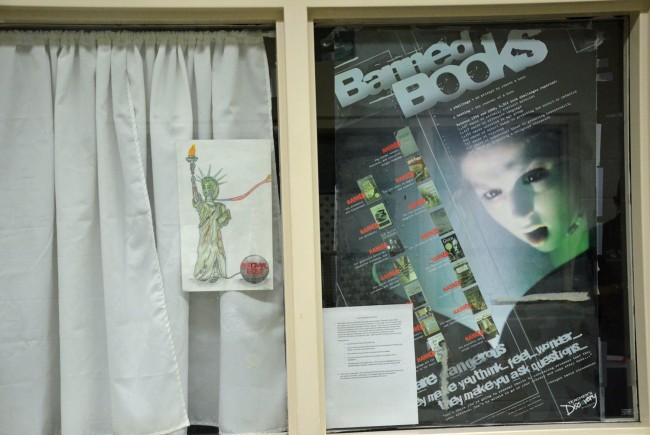 Students are said to be dumber than they used to be, ruder, more engaged with their navels and smart phones than with the world around them. I have my doubts on every count. And political disengagement isn't a problem only with the young. It's a national disease, the only kind that tapers off with age. If we have a problem of political engagement in this country, it's that cranky old geezers who have too much time on their hands are disproportionately more engaged than the rest of society. When the young do make a difference, geezers get all over them for having a mind of their own.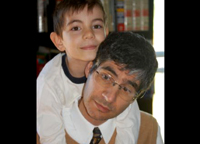 Witness what happened at the end of the last Flagler County School Board meeting Tuesday. Ted St. Pierre, a local veteran and flagophile, told board members that while ambling about the recent home show at Flagler Palm Coast High School, he was shocked to see a set of drawings outside a teacher's wall that showed the Statue of Liberty dressed, as he described it, as a hooker, or leashed, or with a ball and chain painted with the words "national debt." One other veteran at the meeting, and apparently others at the home show, reacted just as derisively of the students' work.
St. Pierre used words like "desecration" and seriously asked the board: "What are these teachers teaching?" He suggested that those who don't like America could go elsewhere (although none of the drawings remotely suggested "dislike" so much as disheartened irony). He wanted "clarification" from the board about the kind of teaching that would produce such things, as if an egregious wrong had been done because students were now capable of looking at the wreckage of their country a little critically—students who live in a county with one of the nation's highest unemployment rate, who attend a school where 59 percent of the population is on free or reduced lunch, students who either are living as the new poor or have friends who are, and whose high school years have been a graffiti of America pitifully less joyful than the George Lucas version. And more familiar to Emma Lazarus.
We can only wish that teachers are teaching economic realities in what class time they have left to teach. But students hear enough trash talk from tea party and Fox-trotting zealots about America, its national debt, its Socialist, Muslim, terrorist, gay-loving, Christian-bashing, welfare-worshipping, abortion-enabling, flag-burning black food-stamp president that it's a wonder the students didn't show him assassinating the Statue of Liberty in those images. Somehow I don't think St. Pierre and his platoon buddies would have minded that interpretation.
The drawings at FPC were nowhere near that daring. They were the sort of clever spoofs about Lady Liberty that you might see from a beginning cartoonist. But at least they had something to say. And the teacher, whose focus was a written exercise in literary personification (not that the veteran critics were interested in context) should be commended for encouraging her students to test the boundaries of their assumptions.
What was disturbing Tuesday evening was that neither the superintendent nor any of the school board members bothered to defend their teacher or the students. Great way to show your faculty and student body whose back you've not got. Even more disturbing: that veterans of all people would suggest that students' art and thought should somehow be suppressed or disallowed. St. Pierre's starry-and-stripy shirt notwithstanding, the school board meeting at that point felt awfully like the personification of a mullahs' meeting in Tehran or something worse out of Damascus.
Veterans have an annoying habit of speaking as if their status gives them a greater claim on the flag, or the "correct" portrayal of American symbols, than students or teachers (or anyone else). It doesn't. Being a veteran is honorable. But this society's unhealthy fetish for all things military aside (Rome in its degenerate days had a similar fetish), being a veteran is not an inherent virtue anymore than being a "Christian" or an American or a Floridian is an inherent virtue. Being a veteran is no more honorable and no less of a service than being a teacher, a firefighter, a physician, an artist, a CEO, a bus driver, a student, or whatever else keeps communities strong. It's meaningless to speak of defending one's country if that becomes an en end in itself, rather than a means—and a usually unfortunate, dehumanizing means—of protecting the sort of freedoms students exercise even when they're not painting daisies and writing greeting cards to veterans.
Here's a thought, Mr. St. Pierre and friends: perhaps you should be the ones to go back to school and relearn a thing or two about those American values you supposedly defended and those constitutions you distribute. These days, you're not defending them anymore. You're the ones desecrating them. Take lessons from the young students and their teacher. Or at least listen to what they have to say. They should be your heroes.

Pierre Tristam is the editor of FlaglerLive. Reach him here.