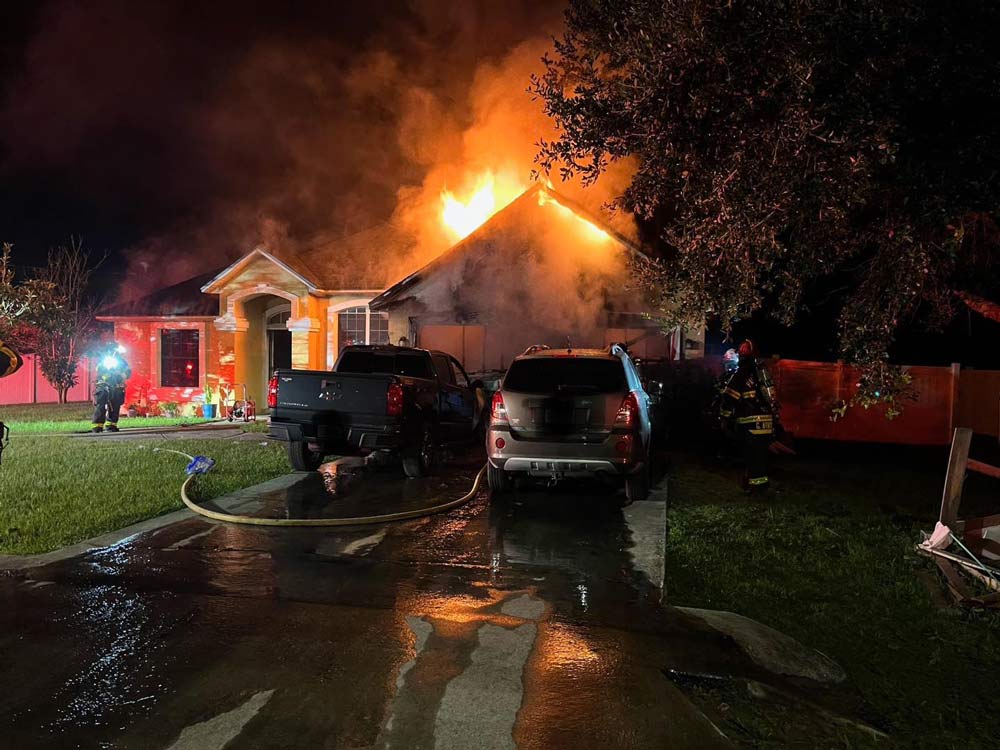 A fire caused by fireworks remnants seriously damaged a house at in Palm Coast's P-Section the night of July 4, authorities reported. There were no injuries.
The fire at 31 Point of Woods Drive, a 2300-square-foot house built 10 years ago, was reported minutes after 11 p.m. as a pickup truck parked in the driveway and the house itself were on fire.




"Resident advised that spent fireworks were left in the trashcan, in between the parked vehicles in the driveway, which caught fire, causing the fire to spread to the vehicles and then the garage," Flagler County Sheriff's notes to 911 indicate. The Palm Coast Fire Department noted that FD "nothing suspicious was observed, with the fire starting in the driveway where the trashcan was left."
Residents of the house quickly exited the structure as flames spread and units of the Palm Coast Fire Department and Flagler County Fire Rescue responded. The garage was fully engulfed in flames within six minutes of the fire being reported, and firefighters were actively fighting the fire within eight minutes, according to 911 notes.
Firefighters also reported active flames in parts of the interior of the house. Though the flames appeared contained to the garage very soon after firefighters were on the scene, the firefighters reported fire in the attic, and parts of the ceiling falling in.
"Crews diligently contained the fire damage to the garage, preventing further spread. The home sustained significant smoke and water damage," the Palm Coast Fire Department reported.
An hour after the fire was initially reported, the fire was reported out, and "dead out" at 2:42 a.m., the morning of July 5, with "all operations complete," when the house was turned over to its residents.
Units Involved were Engine 21, Engine 29, Ladder 25, and Battalion 25 from the Palm Coast Fire Department, and
Rescue 21, Engine 51, and Tender 92 from Flagler County Fire Rescue.
The house last sold a little over a year ago for $370,000, according to the property appraiser's records.