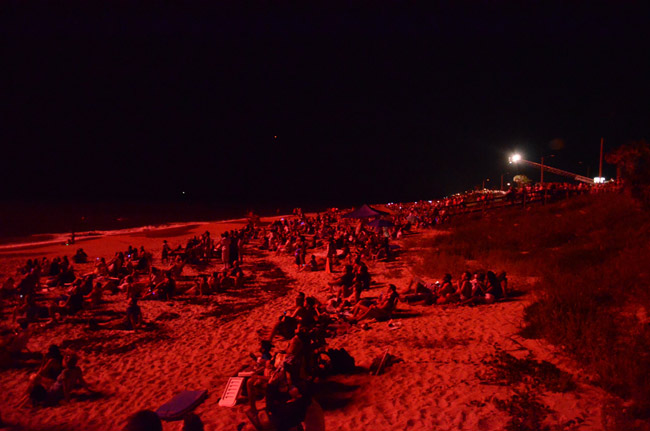 While fireworks are sold in Florida, and it is legal to buy them, it is illegal for people without a permit to set off fireworks other than sparklers. The rule comes down to this: "If it leaves the ground where it explodes, it's considered an illegal firework in the state of Florida," says Palm Coast Fire Chief Mike Beadle. That also applies to firecrackers that go boom.
Exceptions apply in narrow circumstances, as when farmers use firecrackers to scare off birds and protect vegetation or fisheries, says Palm Coast Fire Marshal Jeff Pattee. Palm Coast passed its own ordinance setting out restrictions and prohibitions on fireworks. That ordinance, Pattee said, is almost identical to state law on the matter.
The fact that numerous people set off fireworks illegally is not an allowance to do so. In Florida in particular, in drier seasons, fireworks' embers can set off wildfires rapidly.
The law in full is below. Independence Day fireworks schedules locally are available here.

Florida Statute Chapter 791: Sale of Fireworks
791.001 Application and enforcement.—This chapter shall be applied uniformly throughout the state. Enforcement of this chapter shall remain with local law enforcement departments and officials charged with the enforcement of the laws of the state.
History.—s. 6, ch. 87-118.

791.01 Definitions.—As used in this chapter, the term:
(1) "Distributor" means any person engaged in the business of selling sparklers to a wholesaler.
(2) "Division" means the Division of the State Fire Marshal of the Department of Financial Services.
(3) "Explosive compound" means any chemical compound, mixture, or device the primary or common purpose of which is to function by the substantially instantaneous release of gas and heat.
(4)(a) "Fireworks" means and includes any combustible or explosive composition or substance or combination of substances or, except as hereinafter provided, any article prepared for the purpose of producing a visible or audible effect by combustion, explosion, deflagration, or detonation. The term includes blank cartridges and toy cannons in which explosives are used, the type of balloons which require fire underneath to propel them, firecrackers, torpedoes, skyrockets, roman candles, dago bombs, and any fireworks containing any explosives or flammable compound or any tablets or other device containing any explosive substance.
(b) "Fireworks" does not include sparklers approved by the division pursuant to s. 791.013; toy pistols, toy canes, toy guns, or other devices in which paper caps containing twenty-five hundredths grains or less of explosive compound are used, providing they are so constructed that the hand cannot come in contact with the cap when in place for the explosion; and toy pistol paper caps which contain less than twenty hundredths grains of explosive mixture, the sale and use of which shall be permitted at all times.
(c) "Fireworks" also does not include the following novelties and trick noisemakers:
1. A snake or glow worm, which is a pressed pellet of not more than 10 grams of pyrotechnic composition that produces a large, snakelike ash which expands in length as the pellet burns and that does not contain mercuric thiocyanate.
2. A smoke device, which is a tube or sphere containing not more than 10 grams of pyrotechnic composition that, upon burning, produces white or colored smoke as the primary effect.
3. A trick noisemaker, which is a device that produces a small report intended to surprise the user and which includes:
a. A party popper, which is a small plastic or paper device containing not more than 16 milligrams of explosive composition that is friction sensitive, which is ignited by pulling a string protruding from the device, and which expels a paper streamer and produces a small report.
b. A booby trap, which is a small tube with a string protruding from both ends containing not more than 16 milligrams of explosive compound, which is ignited by pulling the ends of the string, and which produces a small report.
c. A snapper, which is a small, paper-wrapped device containing not more than four milligrams of explosive composition coated on small bits of sand, and which, when dropped, explodes, producing a small report. A snapper may not contain more than 250 milligrams of total sand and explosive composition.
d. A trick match, which is a kitchen or book match which is coated with not more than 16 milligrams of explosive or pyrotechnic composition and which, upon ignition, produces a small report or shower of sparks.
e. A cigarette load, which is a small wooden peg that has been coated with not more than 16 milligrams of explosive composition and which produces, upon ignition of a cigarette containing one of the pegs, a small report.
f. An auto burglar alarm, which is a tube which contains not more than 10 grams of pyrotechnic composition that produces a loud whistle or smoke when ignited and which is ignited by use of a squib. A small quantity of explosive, not exceeding 50 milligrams, may also be used to produce a small report.
The sale and use of items listed in this paragraph are permitted at all times.
(5) "Manufacturer" means any person engaged in the manufacture or construction of sparklers in this state.
(6) "Retailer" means any person who, at a fixed place of business, is engaged in selling sparklers to consumers at retail.
(7) "Seasonal retailer" means any person engaged in the business of selling sparklers at retail in this state from June 20 through July 5 and from December 10 through January 2 of each year.
(8) "Sparkler" means a device which emits showers of sparks upon burning, does not contain any explosive compounds, does not detonate or explode, is handheld or ground based, cannot propel itself through the air, and contains not more than 100 grams of the chemical compound which produces sparks upon burning. Any sparkler that is not approved by the division is classified as fireworks.
(9) "Wholesaler" means any person engaged in the business of selling sparklers to a retailer.
History.—s. 1, ch. 20445, 1941; s. 1, ch. 57-338; s. 1, ch. 84-201; s. 1, ch. 87-118; s. 36, ch. 89-233; s. 1906, ch. 2003-261.

791.012 Minimum fireworks safety standards.—The outdoor display of fireworks in this state shall be governed by the National Fire Protection Association (NFPA) 1123, Code for Fireworks Display, 1995 Edition, approved by the American National Standards Institute. Any state, county, or municipal law, rule, or ordinance may provide for more stringent regulations for the outdoor display of fireworks, but in no event may any such law, rule, or ordinance provide for less stringent regulations for the outdoor display of fireworks. The division shall promulgate rules to carry out the provisions of this section. The Code for Fireworks Display shall not govern the display of any fireworks on private, residential property and shall not govern the display of those items included under s. 791.01(4)(b) and (c) and authorized for sale thereunder.
History.—s. 1, ch. 96-285.

791.013 Testing and approval of sparklers; penalties.—
(1) A person who wishes to sell sparklers must submit samples of his or her product to the division for testing to determine whether it is a sparkler as defined in s. 791.01. Such samples must be received by the division by September 1 to be considered for approval the following year. On February 1 of each year the division shall approve those products which it has tested and found to meet the requirements for sparklers. All approved sparkler products are legal for sale until January 31 of the following year. The list of approved sparkler products shall be published in the Florida Administrative Weekly and shall prominently state the dates between which the products may be sold. The division shall make copies of this list available to the public. A product must be tested and approved for sale in accordance with the rules adopted to implement this section. Beginning February 1, 1988, only those products approved by the division may be sold in the state. The State Fire Marshal shall adopt rules describing the testing, approval, and listing procedures.
(2) Any person who alters an approved sparkler product, so that it is no longer a sparkler as defined in s. 791.01, and subsequently sells the product as if it were approved is guilty of a misdemeanor of the first degree, punishable as provided in s. 775.082 or s. 775.083. Any person who fraudulently represents a device as approved for sale as a sparkler product when it is not so approved is guilty of a misdemeanor of the first degree, punishable as provided in s. 775.082 or s. 775.083.
(3) For purposes of the testing requirement by this section, the division shall perform such tests as are necessary to determine compliance with the performance standards in the definition of sparklers, pursuant to s. 791.01. The State Fire Marshal shall adopt, by rule, procedures for testing products to determine compliance with this chapter. The division shall dispose of any samples which remain after testing.
History.—s. 2, ch. 87-118; s. 21, ch. 93-276; s. 1222, ch. 97-102.

791.015 Registration of manufacturers, distributors, wholesalers, and retailers of sparklers.—
(1) REGISTRATION REQUIREMENTS.—Any manufacturer, distributor, wholesaler, retailer, or seasonal retailer of sparklers who wishes to do business in this state or to otherwise sell, ship, or assign for sale its products in this state must register annually with the division on forms prescribed by the division. Any retailer who sells sparklers at more than one retail location may submit one registration form for all such locations but must provide the address of each location with the registration form; however, any retailer may submit multiple registration forms.
(2) REGISTRATION FORM.—The registration form filed with the division must be notarized and must include the following information: business name; address; telephone number; officers, if the business is a corporation; and an individual designated as a contact person.
(3) FEES.—
(a) Each manufacturer, distributor, or wholesaler must pay an annual registration fee to be set by the division not to exceed $1,000. Each seasonal retailer must pay an annual registration fee to be set by the division not to exceed $200. Each retailer shall pay an annual registration fee to be set by the division not to exceed $15 for each retail location registered. Each certificateholder wishing to have a duplicate certificate issued for one which is lost or to reflect a change of address shall request such duplicate in writing and shall pay a fee of $5.
(b) Revenue from registration fee payments shall be deposited in the Insurance Regulatory Trust Fund for the purposes of implementing the registration and testing provisions of this chapter.
(4) RULES.—The State Fire Marshal may adopt rules prescribing registration forms required by this section.
History.—s. 3, ch. 87-118; s. 37, ch. 89-233; s. 21, ch. 2000-370; s. 1907, ch. 2003-261.

791.02 Sale of fireworks regulated; rules and regulations.—
(1) Except as hereinafter provided it is unlawful for any person, firm, copartnership, or corporation to offer for sale, expose for sale, sell at retail, or use or explode any fireworks; provided that the board of county commissioners shall have power to adopt reasonable rules and regulations for the granting of permits for supervised public display of fireworks by fair associations, amusement parks, and other organizations or groups of individuals when such public display is to take place outside of any municipality; provided, further, that the governing body of any municipality shall have power to adopt reasonable rules and regulations for the granting of permits for supervised public display of fireworks within the boundaries of any municipality. Every such display shall be handled by a competent operator to be approved by the chiefs of the police and fire departments of the municipality in which the display is to be held, and shall be of such a character, and so located, discharged, or fired as in the opinion of the chief of the fire department, after proper inspection, shall not be hazardous to property or endanger any person. Application for permits shall be made in writing at least 15 days in advance of the date of the display. After such privilege shall have been granted, sales, possession, use, and distribution of fireworks for such display shall be lawful for that purpose only. No permit granted hereunder shall be transferable.
(2) A sparkler or other product authorized for sale under this chapter may not be sold by a retailer or seasonal retailer unless the product was obtained from a manufacturer, distributor, or wholesaler registered with the division pursuant to s. 791.015. Each retailer and seasonal retailer shall keep, at every location where sparklers are sold, a copy of an invoice or other evidence of purchase from the manufacturer, distributor, or wholesaler, which states the registration certificate number for the particular manufacturer, distributor, or wholesaler and the specific items covered by the invoice. Each seasonal retailer shall, in addition, exhibit a copy of his or her registration certificate at each seasonal retail location.
History.—s. 2, ch. 20445, 1941; s. 1, ch. 61-312; s. 4, ch. 87-118; s. 1223, ch. 97-102.

791.03 Bond of licensees.—The board of county commissioners shall require a bond deemed adequate by the board of county commissioners from the licensee in a sum not less than $500 conditioned for the payment of all damages which may be caused either to a person or to property by reason of the licensee's display, and arising from any acts of the licensee, his or her agents, employees or subcontractors.
History.—s. 3, ch. 20445, 1941; s. 1, ch. 61-312; s. 1224, ch. 97-102.

791.04 Sale at wholesale, etc., exempted.—Nothing in this chapter shall be construed to prohibit any manufacturer, distributor, or wholesaler who has registered with the division pursuant to s. 791.015 to sell at wholesale such fireworks as are not herein prohibited; to prohibit the sale of any kind of fireworks at wholesale between manufacturers, distributors, and wholesalers who have registered with the division pursuant to s. 791.015; to prohibit the sale of any kind of fireworks provided the same are to be shipped directly out of state by such manufacturer, distributor, or wholesaler; to prohibit the sale of fireworks to be used by a person holding a permit from any board of county commissioners at the display covered by such permit; or to prohibit the use of fireworks by railroads or other transportation agencies for signal purposes or illumination or when used in quarrying or for blasting or other industrial use, or the sale or use of blank cartridges for a show or theater, or for signal or ceremonial purposes in athletics or sports, or for use by military organizations, or organizations composed of the Armed Forces of the United States; provided, nothing in this chapter shall be construed as barring the operations of manufacturers, duly licensed, from manufacturing, experimenting, exploding, and storing such fireworks in their compounds or proving grounds.
History.—s. 4, ch. 20445, 1941; s. 1, ch. 61-312; s. 5, ch. 87-118.

791.05 Seizure of illegal fireworks.—Each sheriff, or his or her appointee, or any other police officer, shall seize, take, remove or cause to be removed at the expense of the owner, all stocks of fireworks or combustibles offered or exposed for sale, stored, or held in violation of this chapter.
History.—s. 5, ch. 20445, 1941; s. 1225, ch. 97-102.

791.055 Restrictions upon storage of sparklers.—
(1) Sparklers shall not be stored or kept for sale in any store:
(a) In which paints, oils, or varnishes are manufactured or kept for use or sale unless the paints, oils, or varnishes are in unbroken containers.
(b) In which resin, turpentine, gasoline, or flammable substances or substances which may generate vapors are used, stored, or offered for sale unless the resin, turpentine, gasoline, or substances are in unbroken containers.
(c) In which there is not at least one approved chemical fire extinguisher ready, available, and equipped for use in extinguishing fires.
(2) When sparklers are in storage to be offered for sale at retail, a sign shall be conspicuously displayed over the entrance to the room in which the sparklers are stored, which sign reads: "CAUTION SPARKLERS-NO SMOKING." No person shall be in such room while in possession of a lighted cigar, cigarette, or pipe.
History.—s. 2, ch. 84-201.

791.06 Penalties.—Any firm, copartnership, or corporation violating the provisions of this chapter shall be guilty of a misdemeanor of the first degree, punishable as provided in s. 775.083 or, in the case of individuals, the members of a partnership and the responsible officers and agents of an association or corporation, punishable as provided in s. 775.082 or s. 775.083.
History.—s. 6, ch. 20445, 1941; s. 756, ch. 71-136.

791.07 Agricultural and fish hatchery use.—Nothing in this chapter shall prohibit the importation, purchase, sale, or use of fireworks used or to be used solely and exclusively in frightening birds from agricultural works and fish hatcheries; and such use shall be governed entirely by the rules prescribed by the Department of Agriculture and Consumer Services.
History.—s. 1, ch. 29780, 1955; s. 1, ch. 57-336; ss. 14, 35, ch. 69-106; s. 1, ch. 82-109.
Note.—Section 10(5), ch. 2007-67, provides that "[p]ending completion of the Legislature's review of the task force's report and to ensure that fire prevention and safety standards are uniform, a new permanent retail sales facility engaged in sales otherwise permitted under s.791.07, Florida Statutes, may not be opened in this state after March 8, 2007, unless the permanent retail sales facility has received site-plan approval and construction has begun on or before March 8, 2007; the number of permits for temporary retail sales facilities, such as tents, engaged in sales otherwise permitted by s. 791.07, Florida Statutes, which are issued after March 8, 2007, by a county, municipality, or other unit of local government may not exceed the number of permits that such governmental entity issued for such facilities during the previous calendar year; and a municipality, county, or other unit of local government may not adopt an ordinance, rule, regulation, or other law after March 8, 2007, which directly prohibits or directly interferes with the safety standards established by state law or the right to purchase, sell, use, or possess consumer fireworks in this state. However, if the Legislature enacts legislation to provide for the comprehensive regulation of fire prevention and safety standards for the use of consumer fireworks to replace this subsection on or before July 1, 2008, this subsection does not prohibit opening any such facility, permitting any such temporary facility, or adopting any such ordinance or other law after such legislation is enacted."