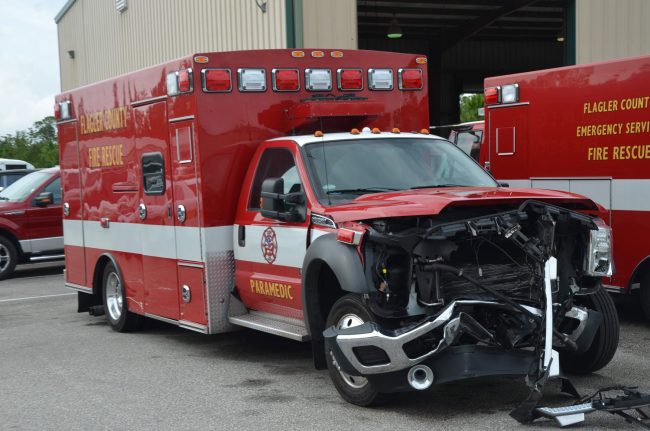 A few minutes before 2 a.m. Saturday morning (Oct. 6) Gabrielle Julia Connors, a 21-year-old Palm Coast resident, was traveling on Old Kings Road in the F Section when, at Farnum Lane, she crashed her SUV into a vehicle making an illegal U-turn.
The vehicle was a Flagler County Fire Rescue ambulance–Rescue 22, based at the Clubhouse Drive fire station.
Connors's SUV rolled and she was entrapped, requiring an extrication. She was injured but not with life-threatening injuries. Karl Froling and David Dufek, the two Flagler County Fire Rescue paramedics aboard the ambulance, immediately provided aid–as they would had they been dispatched to the call.
"They were on their way to a call, they were cancelled, and then once they were cancelled they were going to make a U-turn at Farnum and Old Kings," Flagler County Fire Chief Don Petito said, "and I don't know if they didn't realize it or they couldn't get out of the way of it, but another car hit them in the front end of their truck, causing the accident."
Froling, 45, of Port Orange, was at the wheel of the rescue. He'd been with the fire department roughly a year, but has experience with Volusia's and Broward's fire departments. He and Dufek were not injured. Trauma One, the emergency helicopter, was initially placed on standby for Connors. She was eventually transported to Florida Hospital Flagler by Rescue 41. Old Kings Road was shut down in both directions during the investigation.
The rescue, a 2016 Ford, had severe front-end damage Petito estimated at about $20,000. Details on Connors's vehicle were not made available by the Florida Highway Patrol, which investigated the case. "Our server has been taken down temporarily due to the incoming storm," an FHP spokesperson said after numerous requests for information Monday and Tuesday. "Servers are housed out west and IT is migrating them to satellite locations. No reports are retrievable at this time."
Froling was issued a $166 citation for the illegal U-turn. "We take him out of service right away, we send him for immediate drug and alcohol test and we wait for the results of that," Petito said. "We take him out of driver's status until the investigation with FHP and with us is done, and then figure out if there's disciplinary action warranted or not, and go from there." The drug and alcohol tests on Froling were negative. He remains off driving duty, however, as the investigation continues. the internal investigation entails looking at all reports from FHP, the sheriff's office and Fire Rescue and conducting some interviews. Dufek was cleared to return to full duty.
The sidelined rescue is at the county's fleet maintenance department, still awaiting a visit by the insurance adjuster. Its status is not affecting rescue operations in the county. Flagler County Fire Rescue operates eight ambulances on a 24-hour basis across the county.
"I don't know the length of time it'll be out of service but we have a total of four spare units that we can put into place and we have another one that's on order, we expect an April delivery," Petito said, "so it doesn't put us out of service, and depending on what type of damage is done to this one, if they can or cannot fix it, if they total it, we buy another one, if they can fix it, we get it fixed." The cost of the wreck will be covered by insurance, other than the county's deductible. The ambulance itself costs over $200,000.
Rescues are rarely in crashes. "We do a lot of training," Petito said. "We've reduced the amount of accidents that actually happened tremendously since I've been here. This is the first one that I can remember in a very long time." The last crash he remembers involving an in jury to another driver was a t-bone crash around 2005 or 2006. The victim was injured.