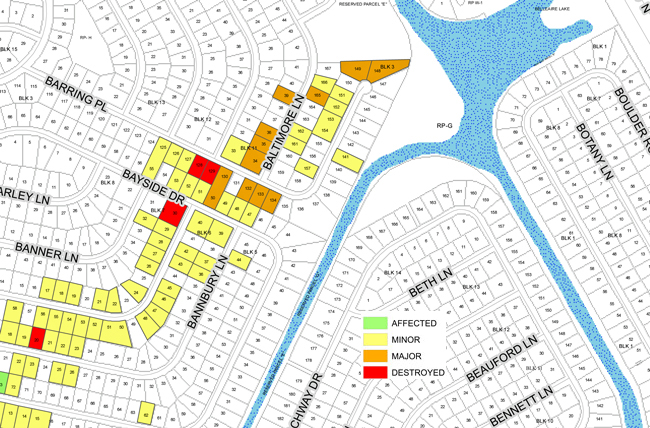 Thursday correction: the information below regarding FEMA, provided by the city of Palm Coast, is inaccurate: FEMA officials will not be in town. Rather, Small Business Administration officials will be touring the city on Thursday. A story on Thursday explains the confusion and the purpose of the SBA's visit.


Federal Emergency Management Agency, state, county and city officials will be in Palm Coast's B, C and F Sections starting Thursday morning to conduct an assessment of Saturday evening's tornado and decide what financial aide, if any, may be released.
According to FEMA's procedures, "if early damage reports lead the state to conclude that effective response may exceed both the State's resources and those of the
community, the State can request that FEMA regional officials join them in conducting joint preliminary damage assessments—known as PDAs—in areas designated by the State officials.
The data gathered in these joint assessments are used to determine the impact and magnitude of damage incurred, determine resulting unmet needs of individuals, families, and businesses as well as the impact to public property, document that the disaster is beyond local and State capabilities and support the governor's request for federal assistance, and provide the basis for FEMA's recommendation to the president. But the threshold for such declarations can be high: Flagler County did not qualify for a federal emergency declaration during the wildfires of 2011, for example, because the damage was contained to forests and never destroyed a single home.
Saturday's tornado, however, destroyed seven homes among the 170 to 180 homes that were affected by the 1.5-mile path of the twister, most of those homes sustaining mionor damage. The tornado at its peak was an F1 tornado.
The federal, state and local assessment task force will visit every house damaged. FEMA and the state are working with the City of Palm Coast, Flagler County Emergency Management and the Flagler County Property Appraiser. The assessments to begin Thursday are in addition to initial damage assessments conducted by the City.
Homeowners and rental occupants do not need to be home at the time of the visits from the assessment task force. But Palm Coast is asking all property owners in the B, C and F Sections to inspect their houses for damage, especially if they have not yet had the opportunity. Even minor damage such as loss of shingles and damage from debris should be reported if it has not already been reported or documented by a city damage assessment team. The number to report damage is the city's Customer Service number at 386/986-2360.
Based on the results of the assessment by FEMA and the state, qualified residents may be eligible for federal low-interest loans. Those loans–which would have to be re-paid–would provide stop-gap funding to help residents begin repairs before insurance money is received.
Mayor Jon Netts declared a state of local emergency as of Dec. 16. The city's initial damage assessment found that 171 homes were damaged or destroyed; that number continues to grow as homeowners return home or find damage that wasn't immediately apparent. As of this morning, the the city documented damage to 180 homes, with the value of the damage now estimated at $5.6 million. Of those, seven were destroyed, 22 received substantial damage, and 151 sustained partial damage.
Flagler County Volunteer Services has received a number of calls from businesses and individuals who want to volunteer to help with cleanup or make donations of furniture, clothing and household items. Victims of the tornado who would like to receive the assistance of volunteers or donated items should contact Flagler County Volunteer Services at 386-597-2950. The American Red Cross is still in Palm Coast assisting residents, as needed. Residents who need assistance should call 386-226-1400, ext. 5250. For more information, contact Cindi Lane, communications and marketing manager for the City of Palm Coast, at 386/986-3708.