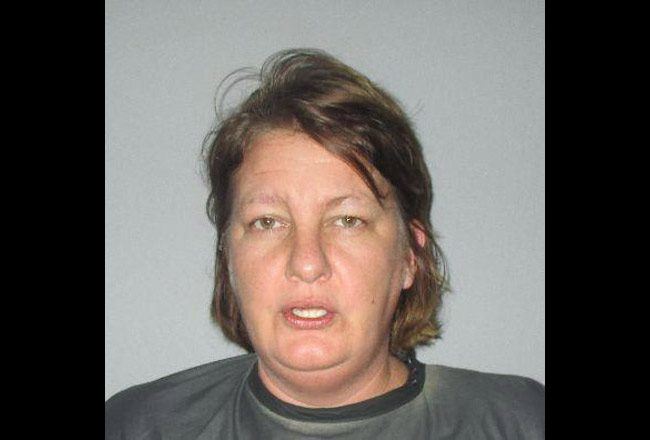 Two women are at the Flagler County jail facing child abuse charges stemming from separate incidents on Sunday and Monday. In one case, Julie Bruce, 52, who lives on Palm Coast's Burroughs Drive and on 230th Street in the Bronx, is facing a first-degree aggravated child abuse charge following allegations that she attempted to strangle her granddaughter.
But Bruce's alleged behavior may have been aggravated by a medical condition that has persisted long enough since that as late as noon today, jail authorities had not been able to secure her booking photo. A sheriff's spokesperson said today Bruce was experiencing a "medical episode."
Bruce was walking along Bird of Paradise Monday at mid-morning Monday when Flagler County Sheriff's deputies encountered her as they were responding to a call on Burroughs Drive. Bruce said she was going to the store. Deputies placed her in a patrol car and returned her to the Burroughs Drive home.
There, Bruce's 85-year-old mother told deputies that her daughter had been off her medication, acting erratically, being loud and cursing at her grandchildren. There were three children in the house: an 8-year-old girl, an 8-year-old boy, and a 14-year-old girl. The night before, one of the children told deputies, the television was on and children were watching when Bruce and her 8-year-old granddaughter got into an argument.
Bruce, according to her arrest report, was twirling two metal batons and crashing them together before she threw them down and rushed the couch, where the 8-year-old was sitting, grabbed a hold of the girl's neck, and allegedly began choking her as she cursed her out, prompting the girl to say she couldn't breathe. One of the other children then got between Bruce and the 8 year old, prompting Bruce to leave the house, slamming the door violently enough to cause a lock to fall off.
The 8-year-old girl later told deputies she feared her grandmother was going to strike her with the batons before being strangled.
In the patrol car, Bruce proved uncooperative, according to her arrest report, refusing to exit the car when asked, resisting deputies' attempts to handcuff her, and becoming dead weight as she refused to walk on her own. At the jail, deputies reported, she "became more agitated and violent toward Flagler County detention deputies."
Bruce faces four charges, including a first-degree felony charge of aggravated child abuse and two third-degree felony counts for aggravated assault domestic violence and battery by strangulation. She was being held on $21,000 bond, and remained at the jail today.
The separate incident took place early Monday morning on Palm Coast's Pleasant Lane. There, the 13-year-old daughter of Tina Seale, 40, told sheriff's deputies that the evening before the whole family had gone out for dinner, and when back home, Seale got upset because she couldn't find her keys: one of her children had hidden the keys to keep her from going to the store to get beer. The child was concerned about her drinking. (There are three children in that household as well: the 13-year-old girl, a 12-year-old girl, and a 15-year-old boy.)
The 12-year-old got upset, and one of the children told Seale to stop yelling. That redirected Seale's attention to that child, at whom Seale then started yelling and saying that she was a problem, and that Seale didn't love her anymore. Seale told her she had to leave the house and wouldn't be allowed to return. At that point, the other children said that because of Seale's behavior they too wanted to go to their father's house, a 35-year-old Palm Coast resident who lives in Palm Coast's L Section.
That "infuriated" Seale, according to her arrest report, and a confrontation erupted between Seale and one of the children, which turned physical: One of the children said she was in such fear of Seale that she grabbed a kitchen knife, telling her to stay away from her. The girl's 50-year-old uncle took the knife away from her.
One of the children then poured Seale's beer out, "because [Seale] is an alcoholic," according to the arrest report. (Seale's previous trip to the county jail last October was due to a drunk-driving arrest: a McDonald's drive-thru employee reported to a sheriff's deputy who happened to be not far behind Seale in the drive-thru line that the employee had seen Seale drinking beer in the car, that her speech was slurred, and a 14-year-old was in the passenger seat. That case is still pending in county court.) Seale was attempting to go to the store to get more beer when one of her children hid her keys. At that point Seale allegedly began strangling the child forcefully enough to leave red marks on the child's neck.
Seale's sister separated them. She and the children's uncle corroborated the allegation of strangling. The children's father arrived at the house that morning and took the children to his home. Seale herself was booked at the Flagler County jail just before 8 a.m. Monday, where she remains on $5,000 bond. She faces one felony count of child abuse.