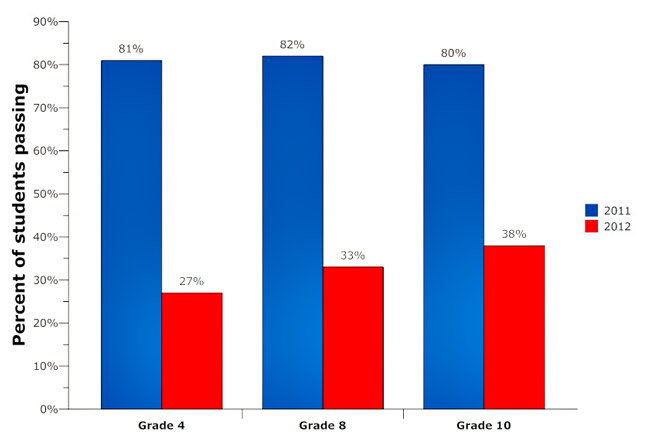 Preliminary FCAT writing scores for Florida's 4th, 8th and 10th graders have plummeted to record and unexpected lows. The grades on the high-stakes Florida Comprehensive Assessment Test are preliminary, with no district-by-district details yet. But they reflect a tougher FCAT test instituted this year. If reading and math tests results follow the same trend, those results will have with vast implications on student graduation or promotion rates, school grades, teacher evaluations and merit pay, and state school finances. Writing scores already factor into some of these criteria.
According to the Florida Department of Education, just 27 percent of 4th graders passed the writing FCAT this year, down from 81 percent last year. Just 33 percent of 8th graders passed, down from 82 percent, and 38 percent of 10th graders passed, down from 80 percent.
"We all knew that the standards were going to increase how students are being scored this year," Shawn Schmidli, Flagler County schools' assessment coordinator, said Monday afternoon. "I don't know if anybody expected the numbers to change this dramatically."
The FCAT is scored on a scale of 1 to 6. A passing grade until last year was 3.5. That was raised to 4 this year. So were the writing standards, which, by the state Board of Education's admission, had been too lax. Under the new standards, students were to be graded more rigorously on "the correct use of standard English conventions and the quality of details provided as support," in the state board's words. "Both of these elements had in the past been scored with leniency." In other words, the new standards were designed to be a better reflection of correct English usage, with more attention to punctuation, style and the use of evidence–basic writing tenets that in the past had not been applied as rigorously, essentially inflating students' scores while perhaps deceiving them, and their schools, about their aptitude.
"My gut reaction is that there is something drastically wrong with the test," Flagler County School Board member Collen Conklin said. "Our kids don't suddenly not know how to write a sentence and our teachers don't suddenly don't know how to teach overnight, and if this doesn't scream the need for everyone to stop this testing madness and reassess what everyone is doing, I'm not sure if we ever will." Conklin disputes the notion that the standards weren't rigorous already–not, she says, when kindergarteners are expected to finish the year ready to write three sentences in proper English. "So I'm not entirely sure if the issue is the standard or not. And if it is, then we have a bigger issue on our hand. But the fact of the matter is you can;t go overnight, change all the rules of the game, and not have concern."
Panicked by Monday's results, the Florida Board of Education called an emergency meeting with its members by phone at 10:30 a.m. Tuesday, specifically to address the scores' impact on school grades. (You can listen to the call at no charge by dialing 1 (866) 304-6786, Conference ID #81596641). "Based on preliminary results of the 2012 writing assessment," the state board wrote in preparation of the emergency meeting, "applying the 4.0 threshold in addition to the heightened scoring rules may have unforeseen adverse impacts upon school grades, warranting emergency review by the State Board of Education."
One of the proposals the board will consider on Tuesday: lowering the passing grade (which educator lingo defines as the "cut score") again from 4 to 3.5. A much higher number of students would then have passing grades, but still a far smaller number than in 2011. In 2012, 48 percent of 4th graders passed with a 3.5 or above–still almost half the passing rate of the previous year. Among 8th graders, 52 percent passed with a 3.5 or better, and among 10th graders, 38 percent passed.
Conklin commended the state board for taking swift action. "That to me says they realize as well how out of whack this truly is," she said, though she cautioned: a task force had produced some 35 recommendations on how to improve the FCAT. The board adopted only three to five of those recommendations.
For the first time this year, teachers' merit pay is in part based on FCAT scores. Teachers who get unsatisfactory ratings two years in a row may be fired. The state's and county teacher unions are likely to cite the new batch of FCAT scores as one more reason why the overly complicated formula behind teacher evaluations is flawed.
"There have been a lot of parents over the years who have been unhappy with the assessments," Mark Pudlow, a spokesman for the Florida Education Association, the teachers union, told the News Service of Florida. "Hopefully this will give us a real opportunity to see how we should evaluate students and evaluate teachers"
Conklin concludes: "While I think it's alarming everybody needs to take a deep breath including myself, and we need to truly assess the situation and find out what's happening, because at the end of the day we need to figure out how this is going to affect students and teachers, because now you're talking about tying compensation to test scores."