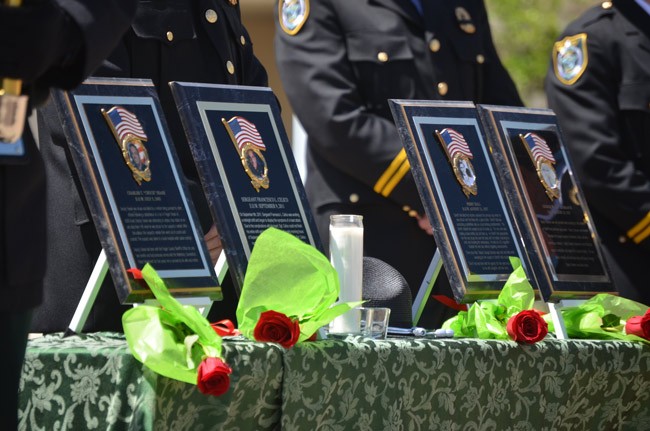 Just this week, four police officers died in the line of duty in the nation: Paul Koropal, an investigator ina Pennsylvania agency, had a heart attack while serving a warrant. Greg Moore, a 14-year veteran of the Coeur d'Alene Police Department in Idaho, was shot and killed by a suspect while investigating car break-ins. Lieutenant Eric Eslary, a 17-year veteran in a Pennsylvania police agency, was killed when a vehicle driving the wrong way struck his head on. He was one of 17 officers killed this year from vehicular crashes. And Brian Moore, a 25-year-old member of the New York City Police Department and the son of a veteran and well-known cop in the city, died from a gunshot wound to the head, two days after he tried to question a suspect in Queens, N.Y.
They were among the 34 police officers or corrections officers who have died so far this year in the United States, one of them in Florida: Jared Forsyth of the Ocala Police Department, who was killed at a firing range when another officer accidentally fired his weapon, hitting Forsyth, 33, in the chest. He was one of eight officers killed by gunfire. In addition, eight K9s, who are included in the official line-of-duty rolls, also died.
Last year, 107 law enforcement and corrections officers died in the line of duty, six of them in Florida. Another 20 K9s also died in the line of duty.
"The thin blue line in law enforcement is symbolic of the line that divides good from evil," said Jeff Hoffman, the Flagler County Sheriff's chief deputy, this morning at the department's annual ceremony marking National Police Week and Peace Officers Memorial Day (which actually fall next week, but the department has traditionally held its ceremony early so those who want to attend ceremonies in Washington could do so).
"Real heroes, heroes that never identify themselves as such, stand on that line every day, selflessly protecting us from that evil," Hoffman continued. "Today, we memorialize the heroes not only from our agency, but from agencies here in Florida and across the nation who made the ultimate sacrifice protecting their communities so that their communities could live in peace."
The ceremony this year, more lightly attended than in past years—Bunnell was hosting its annual Day of Prayer at the same time—was held on the steps of the county courthouse, also known as the Kim Hammond Justice Center, as construction of a new jail has altered the landscape near the old operations center on Justice Lane, where the ceremony has usually been held. Nevertheless four judges, two county commissioners, one Flagler Beach city commissioner, the clerk of court and one school board member attended.
"Today we remember those who made the ultimate sacrifice in law enforcement," Cmdr. Steve Cole said, opening the ceremony, "But we also pay a very special tribute to the surviving family members who have been left behind. Together we mourn them as individuals of unmistakable integrity unshakable character, and infinite kindness. They gave much and asked little, and their memories have not faded."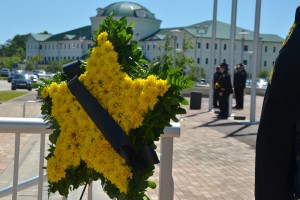 The broad spaces and austere lines of the courthouse's plaza added to the solemnity of the occasion as the honor guard placed, near the plaques of Flagler's four fallen officers, the memorial star for all law enforcement and detention officers nationwide killed in the line of duty. Then a single rose was placed before each of the four images as the names of the fallen were spoken: Sheriff Perry Hall, killed on Aug. 21, 1927; Deputy Gregory Durrance, killed on Aug. 25, 1927, Charles "Chuck" Sease, July 5, 2003, and Sgt. Frank Celico, Sept. 9, 2011. (In previous ceremonies, Florida Highway Patrol Trooper Darrell Haywood, who died Oct. 2, 2004, was recognized, but not today.)
Then Taps, followed by the sounds of the Ancient City Pipes and Drums, playing "Amazing Grace," filled the air in front of the cliff-like façade of the courthouse.
It's been a tense year for police across the nation, going back to last August's shooting by a Ferguson, Mo., police officer of Michael Brown, several similar shootings of unarmed black men in the interim, and the execution-like murders of two New York City police officers–Wenjian Liu and Rafael Ramos–in December by a man claiming to be "avenging" earlier killings. Last week sections of Baltimore devolved into riots after the funeral of the latest black man to die in police custody, though the six officers in that incident are facing charges. State Attorney R.J. Larizza, who has attended fallen officer ceremonies before, was not present today because he's in Washington, taking part in training regarding new approaches to diffusing situations. But the past months' controversies didn't color any of the speeches today.
Sheriff Jim Manfre closed the ceremony: "It has been said that family means no one gets left behind and no one is forgotten," Manfre said. "Both the military and law enforcement have embraced this concept. In the Flagler County Sheriff's Office, we subscribe to that same belief. That is the object of this annual ceremony, that those who gave the ultimate sacrifice are not forgotten nor are their families. We acknowledge them today and we share in your grief."