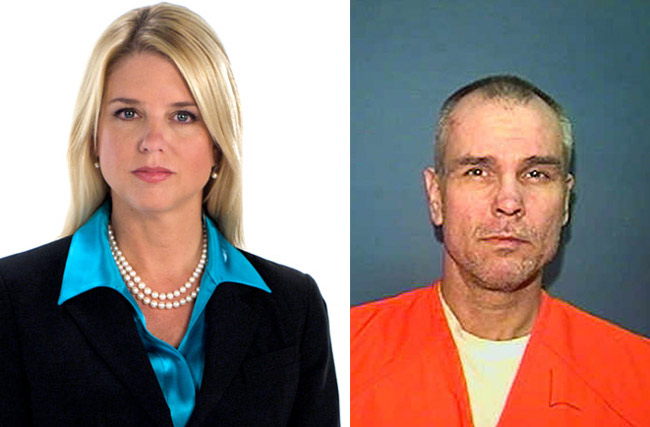 Attorney General Pam Bondi said Monday she should not have requested an execution be rescheduled from the night of her "campaign kickoff" fundraiser.
Bondi's statement came after Gov. Rick Scott said he was unaware that the waterfront Tampa fundraiser, scheduled for Tuesday, was the reason she had requested the delay in the execution of convicted murderer Marshall Lee Gore.
"As a prosecutor, there was nothing more important than seeing justice done, especially when it came to the unconscionable act of murder," Bondi said in a release. "I personally put two people on death row and, as attorney general, have already participated in eight executions since I took office, a role I take very seriously."
"The planned execution of Marshall Lee Gore had already been stayed twice by the courts, and we should not have requested that the date of the execution be moved," Bondi added.
On Aug. 13, Scott had scheduled Gore's execution for 6 p.m. Sept. 10. But less than a week later, Scott advised Florida State Prison Warden John Palmer that he was moving the execution to 6 p.m. Oct. 1 "at the request of the Attorney General."
Speaking to reporters Monday outside the Capitol, Scott said he was simply complying with a request from a state Cabinet member when he rescheduled the execution.
"Her office contacted my office and asked for a postponement, and that's what we did," Scott said. "No, I did not know (the reason)."
When the execution date was rescheduled, a spokeswoman for the attorney general said the event conflicted with another previously scheduled event. On Friday, a different spokeswoman for Bondi confirmed that the Tampa fundraiser is the event that had been scheduled before Gore's execution was set for the same night.
"We set the date, the attorney general's office asked for a postponement, so we went along with that," Scott responded when asked Monday if he thought the reason for the delay was proper. "We try to comply with when other cabinet members ask for something. We try to work with them."
An invitation to the event lists members of the host committee, including House Speaker Will Weatherford, R-Wesley Chapel, and Sens. Jack Latvala, R-Clearwater, Bill Galvano, R- Bradenton, Tom Lee, R-Brandon, Wilton Simpson, R- Trilby, and Jeff Brandes, R-St. Petersburg, and Tampa Mayor Bob Buckhorn.
Bondi has yet to receive a challenger to her 2014 re-election.
Gore, whose sanity has been the focus of efforts to block the execution, was convicted of killing two women in 1988 in Miami-Dade and Columbia counties.
Gore's death warrant is for the murder of Robyn Novick, whose nude body was found in March 1988 in a rural area of Miami-Dade.
–News Service of Florida