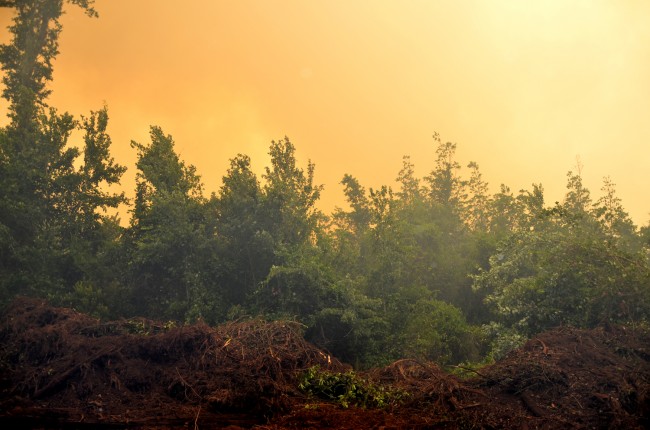 Lt. Richard Bennett is the Flagler County Fire Department's operations chief on all the half dozen active forest fires devouring parts of the county for the past several weeks. He coordinates the department's forces, ensuring that units are where they have to be, that they have what they need, and that they're working in unison with other units spread around the same fire or at other fires.
Bennett also patrols the fires, as does Fire Chief Don Petito, from ground and air, using weather and ground analysis to stay ahead of the blazes in order to control them, when–as in the Espanola fire–they cannot be contained. The Espanola fire is the county's largest, most dangerous, and least predictable. At 1,500 acres on Monday, it was still growing, and may reach double that size before it's through. There was inaccurate information today that firefighters had evacuated the fire. They had only been briefly pulled away from the southern end of the fire around midnight, where the situation got too dangerous, were repositioned at other edges of the fire, and returned to its southern end later.
"They didn't evacuate the fire," Bennett said. "We pulled the firefighters off the line because it was too dangerous to fight–for a little bit. They went back to the fire. That got blown out of proportion a little bit."
On Monday, at midday, the Espanola fire's western front, where it was advancing slowly, was teeming with personnel from the Flagler County Fire Department, the Florida Division of Forestry, the Flagler County Public Works Department, whose men were digging tractor lines, its fleet management department, whose men were bringing fuel to working crews, and even Florida's park services division.
Bennett took FlaglerLive inside the fire's perimeter to show the devastation the fire has caused in the last 24 hours and the danger it poses to firefighters as trees, weakened from the roots, are falling all over the forest and along the fireline–along roads–endangering personnel without warning. At one point, as Bennett spoke while surveying the edge of the fire on east Grade Road, a road on a private property that fire fighters hoped would be the end of the line for the fire, a pine tree crashed across the road, some 120 feet away.
A more detailed account of the Espanola fire and other fires, along with an extensive photo gallery illustrating today's advances of the fire, will post later. Here's Lt. Bennett explaining the extent of the Espanola fire and what firefighters have been doing to try to stay ahead of it. (Click on the expansion quadrant at the lower right of the video for larger view.)
---
Inside the Espanola Fire[media id=211 width=500 height=400]