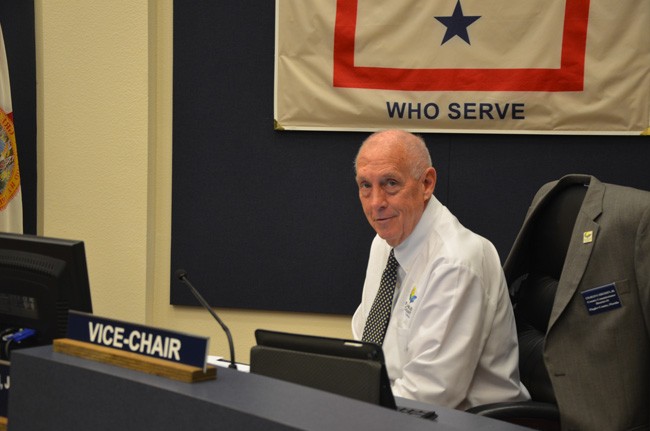 For months it was uncertain whether first-term incumbent Flagler County Commissioner Charlie Ericksen would file for re-election. He went through two surgeries this year, he's 72, his grandchildren have been clamoring for more playtime with him, and for a while he was considering moving out of the county to accommodate them. But at a Republican Club Christmas party Thursday evening, he made it official: he'll run.
"I decided that as long as I was in company of 90 friendly Republicans and introductions of other known candidates, that I would step up and clear up the questions that people had," Ericksen said this afternoon.
The announcement follows the decision two days ago by Mark Richter to withdraw from that race, where he would have been a challenger of Ericksen's in the Republican primary. But Ericksen had never taken Richter seriously. His health was his primary concern.
"I thought that what health issues I had are behind me and I've had confirmation from the doctor that I'm in as good a shape as I was before the incident and the health was no longer a consideration, but good health is no longer a guarantee either," Ericksen said. "I am what, 72, and even as much as I enjoy bicycling that wears out legs and the knees and stuff like that, it also has its good health benefits. As a doctor told me after I recovered from the brain surgery, if I wasn't as dedicated a biker I probably would not have survived the surgery and the event." (Ericksen had a brain bleed in January, and days later had his gallbladder removed.)
The surgery had also affected Ericksen's memory. "About the only trouble I have no is sometimes I remember your first name sometimes I remember your last name," he said. "That's all something else a 72-year-old goes through also." He'd had memory tests and passed them, Ericksen said.
Ericksen's decision was surprising for another reason: "He called me and told me that he wasn't running," Jason DeLorenzo, the Palm Coast City Council member, said today, referring to a conversation a few months distant. "He called me and told me if you're going to run I'm not going to run." DeLorenzo, a Democrat, has not announced a run for the Ericksen seat, but he is leaning heavily in that direction and will make an announcement in January.
Ericksen recalls it differently. "I don't recall ever telling him that I wasn't going to run, I told everybody that I still hadn't made up my mind," Ericksen said.
"It's not going to have an effect on me," DeLorenzo said of Ericksn's decision. "It doesn't surprise me because the Republican party was going to run somebody, and even if it was Richter, they were still going to run someone, I don't think they would have had Richter alone in the field, that wouldn't have made them look good, would it."
Neither man harbor any animosity toward the other, neither trades in political scurrilities: the race, if it comes to one, would be similar to the one shaping up between incumbent commissioner George Hanns and Donald O'Brien–opponents who respect each other and are on record saying flattering things about each other, leaving them to focus on policy and ideas instead of personalities.
"I would expect Jason would be a formidable opponent with his ties to the housing and building areas, which I also had a lot of support from when I ran the first time," Ericksen said. "I hope we can keep it all on a friendly basis, here's my good points, here's your points and sell those to the voters out there."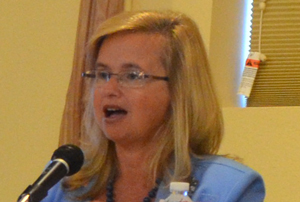 The same day Ericksen was making his announcement to the Republican club, Kimble Medley was making her announcement about her second run for the Supervisor of Elections office. The move was long expected: Medley virtually shadowed the former administration of Kimberle Weeks, and was one of Weeks's harshest critics. Controversies have vanished from the office since Kaiti Lenhart took over, but that hasn't diminished Medley's interest in the position so much as reduced what targets she could aim for.
"The Office of Supervisor of Elections, regardless of its location, is the cornerstone of democracy and has been since our founding," Medley said in a statement emailed to media. "I am running because our residents deserve the fullest opportunity to register and vote; and, by implementing long overdue reforms needed to bring the office into the 21st century, I will create an environment and office all voters and candidates can trust."
The statement said she "knows the job inside out," citing her former service as deputy supervisor of elections, when she had experience with "election security; voting machine failsafe operations; poll worker training; voter registration and party change; petition verification; and, certification of precinct voting sites and equipment."
Medley did not respond to questions emailed to her this morning–asking about her analysis of Lenhart's administration of the office–other than to say that "voters will determine candidate qualifications."
Responding to the announcement, Lenhart, who has not worked with Medley before, noted that Medley worked in the office only between January and August 2009, "which is equal to approximately seven months of employment. Her resignation date was a month prior to the Special Primary Election in 2009. I am not surprised that she has filed to run again this year and I admire her dedication. I was appointed Supervisor of Elections and I believe it is important for the voters to have a choice. The freedom to choose our elected leaders is the foundation of democracy."
Since her appointment as supervisor of elections in January, Lenhart said, she has conducted two successful county-wide elections, and as a deputy supervisor in previous years assisted with 17 elections in six years.