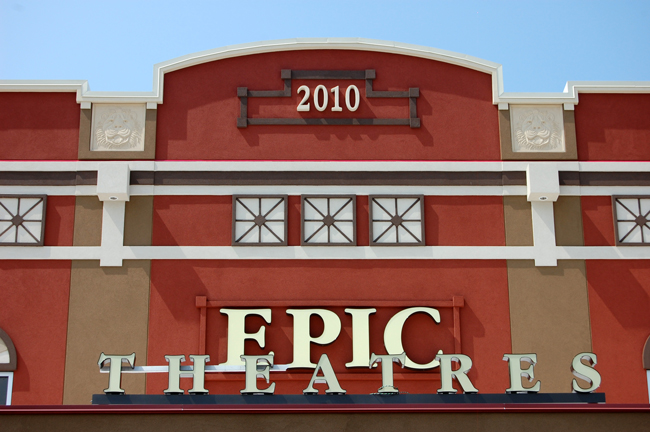 "Family business" and "finishing touches" were not figures of speech at the Epic Theatre in Town Center this afternoon.
Outside, workers were literally squaring away fresh sod at the theater's entrance, blowing dust from sidewalks, removing rocks from flower beds, eying anything that might be out of place as the glossy postered mugs of Adam Sandler and Liam Neeson and Mr. T looked on.
Inside, a man was mopping the vast, marbled-purple lobby floor. That would be Frank DeMarsh, president of the DeLand-based company that's opening in the 14-screen theater in Town Center. A woman came by, grabbing from his hand: "Can I take the mop? The president is on his way, and I need to get the mopping done." That would be Edie Lawrence, deMarsh's sister and the company's chief financial officer. She wasn't kidding: she got to mopping a different part of the floor.
It was about 75 minutes from showtime–a special invite at 6 p.m. for anyone who qualifies as high, influential or elected society in Palm Coast and its political suburbs.
A white-cloth buffet was being set up in the middle of the lobby, a counterpoint to the pop-corn machines and pop dispensers being readied in the concession zone. "It gets us an opportunity to get the place ready," deMarsh said of the evening gala. "We have some movies here so we'll make sure we show movies, pop popcorn, serve sodas. They come in, they get to enjoy those events, and then we have a day when we clean up and then we open to the public on Friday."
On tap: "Grown Ups," "Hex," "The A Team," "Marmaduke," "Prince of Persia," to name a few, for either $9.75 or $10 a ticket: even that hasn't been set yet. The six 3-D enabled screenings will got for $3 more. For the bigwigs Wednesday evening: "Night and Day," featuring the ever flaky but marketably tough Cameron Diaz opposite a Tom Cruise who jumps on more self-parody mines than couches in this one. Also: "Alice in Wonderland," "Clash of the Titans" and "How to Train Your Dragon," all in 3-D, so the "VIPs," who could be featured in their own movie, have choices.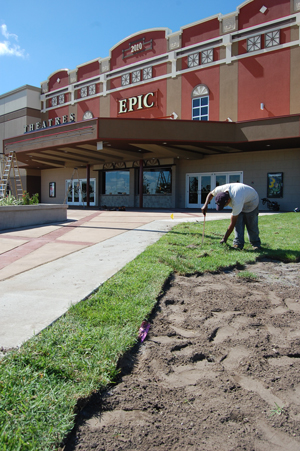 The movie theater has been the talk of almost every Palm Coast City Council meeting for the past couple of months. It's perceived as yet another jump-start to a Town Center that, dragged down by the housing collapse and the recession, has grown more "reduced Prices" sign than prospects in the past 18 months. The theater itself will employ about 30 people, almost all part-time and earning Florida's minimum wage of $7.25 per hour, or roughly the equivalent of 15 full-time employees, though the theater will provide many hours of work for those willing to put in more. The economic stimulus to the area won't quite come from those jobs, but from what the theater may trigger beyond its walls by its mere presence.
"The intention was that we'd open the theater and it'd be a catalyst for other retail developments. That's still our hope, is that other folks will follow," deMarsh said. "We've had some calls, other folks interested in retail space, and so we think it's about to happen. We think the tide has turned."
The movie industry, anyway, is not experiencing a downturn: "For our industry it's kind of interesting. We haven't been impacted by the downturn in the economy. We still have our own cycles of product, but the people still tend to find this an affordable way to go out for entertainment, so we've been fortunate that we haven't felt what a lot of other folks have felt as far as sales."
And an empty theater doesn't mean much, should you notice more empty seats than filled ones. At least not to the company: "We are contractually obligated to show a certain number of shows per day," deMarsh said, "so whether there's nobody in there, or 100 people in there, we show the show. Once we program it for an advertised show time, that ticket machine tells the computer to come on and show the movie."
The theater has a party room that seats about 25 for those who may want to celebrate one thing or another before heading to the movies. The theater's actual auditoriums have leatherette, rocking chairs with cup holders, ample leg room and love-seat capabilities (up to you how you interpret that one beyond the retractable arm-rests). It's a digital movie theater: no more gigantic projectors that churn through enormous film reels. The movies are delivered to the theater on hard drives, they're hooked up to each projected through a USB connection, downloaded quickly, then programmed and shown at specific hours. The projection area is no more than a small walk-up space that contains a projector and a computer.
The theater will soon be equipped with the capability to show live sports, concerts and opera performances piped in from anywhere in the world. "That will be available at some point—I'd say within the next three months," deMarsh said. "We're scheduled for the installation of that satellite at the end of September."
It's not just a movie theater, in other words. And it bears its Epic name rather well. For now, it's the only epic in town. But those things do have a way of starting great stories, not ending them.