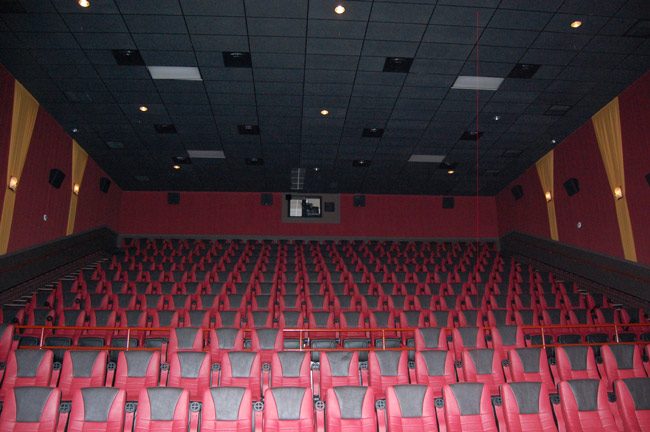 Update: The charges against the three teens will be dropped, the sheriff's office reports. See the follow-up investigation, "As Their Accuser Is Implicated, 3 Teens Linger in Jail Even Though Charges of Armed Robbery at Epic Theater Will Be Dropped."

Two teen-age boys and a girl were arrested and charged with allegedly robbing a 15-year-old boy at gunpoint in front of Epic Theaters, the movie house, in Palm Coast's Town center Friday evening (Jan. 6).
The three alleged assailants were quickly apprehended as they traveled down Bulldog Drive after the alleged robbery, carried out to take the victim's belt and cell phone.
The three teens arrested were Trenton Nix, 15, of Palm Coast, Jahseem Jackson, 15, of Brandon, and Latiria Lewis-Hartline, 16, of Bunnell. Lewis-Hartline and Nix are students at Matanzas High School. The alleged victim is a student at Indian Trails Middle School.
At one point the alleged assailants had pointed two guns, one on each side of the 15-year-old's head. But no guns were recovered from any of the teens when they were arrested.
"He was targeted over a $70 belt. These kids held a gun to my son's head, two guns, to each side of his head," said Michael Straub. "Something has to be done, they need to step up or get more police officers involved at the movie theater or this kind of incident is going to continue happening."
The alleged victim identified Jackson as being "armed with a small black handgun that he retrieved from the front of his waistband, charging the action and subsequently aiming the firearm" at the boy's head and demanding his property, according to a Flagler County Sheriff's incident report. The middle school student "further alleged that Latiria Lewis-Hartline also retrieved a large black handgun from the front of her waistband, charging the action and aiming the weapon at his head."
Nix, the victim said to deputies, was also present during the alleged robbery, but was unarmed. The boy said he was "extremely scared" and submitted to the alleged assailants' demands as they rummaged through his pockets.
Nix later provided the following account to deputies: that he, Jackson and Lewis-Hartline went to Epic Theaters to meet the alleged victim to buy a small semi-automatic handgun from him. The boy set the original purchase price at $250, according to Nix, though the trio only had $150, which the boy supposedly refused, so the meeting ended and the trio started walking to McDonald's. Nix, the report states, "alleges at no time was [the boy] robbed, nor did any of the three individuals have a firearm in their possession or control. Trenton [Nix] vehemently denies all accusations of armed robbery and theft."
Straub, the alleged victim's father, said he had just dropped off his son at the theater so he could join up with friends who'd gone into the theater. He says there were four assailants, not three, as the deputies' reports indicate. "He was walking up and they obviously saw his belt," Straub said, referring to the Fendi belt he'd gotten at Christmas. Imagine getting that phone call from your son, saying, Dad I was just robbed, two guns to my head, over my belt. That is just horrible, man."
Nix, Jackson and Lewis-Hartline, were all charged with armed robbery, as well as petit theft. Lewis-Hartline declined to provide a statement. Jackson at first agreed to provide a statement then invoke his right to counsel before any questioning occurred. The three teens were subsequently transported to the Department of Juvenile Justice in Volusia County.