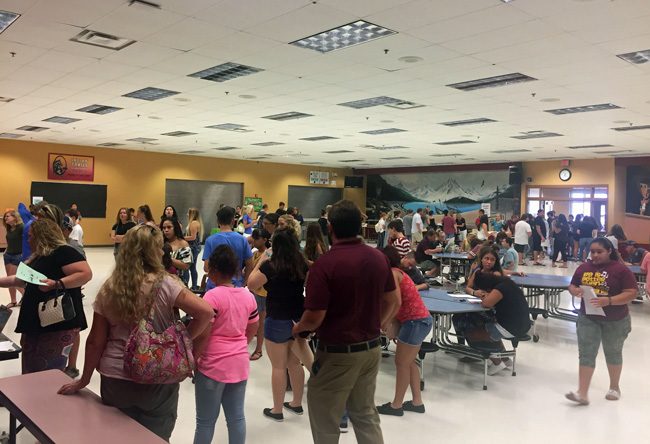 Enrollment in Florida's public schools is projected to grow by fewer than 17,000 students in the 2019-2020 academic year under a forecast approved Tuesday by state analysts.
The projected increase for 2019-2020 is not as robust as in prior years, in part, because of the expansion of voucher-like scholarship programs that could send more students to private schools.
Enrollment in Flagler County has been flat for a decade, hovering at or just below 13,000 students since 2007. Until then, the district's population had been growing strongly. At the end of April, Flagler's public-school population was 12,833, down from 12,875 a year earlier. The district's current capacity is 15,688, according to figures provided by the district's finance department.
Of that, almost 1,000 students were enrolled in the district's two charter schools, which are publicly funded but privately run–Imagine School at Town Center, with 878 students, and Palm Harbor Academy, with 101. Palm Harbor will close by October. Some of its students are expected to return to traditional schools, but some are also expected to remain at a newly constituted private school within Palm Harbor, and others are expected to return to schools in Volusia, from where many came.
The new forecast shows 2.86 million students attending Florida's pre-kindergarten-through-high-school system, up from the estimated 2.84 million students who will attend public schools during the 2018-2019 academic year. That reflects a projected increase of 16,943 students, or a 0.6 percent increase in total enrollment.
For comparison, K-12 enrollment for the 2018-2019 school year —- which will see children return to classes next month — represented an increase over the prior year of some 20,127 students, or a 0.7 percent increase.
State analysts meet periodically to project enrollment for future years. Lawmakers use those projections in making budget decisions.
A factor in the slowdown of enrollment growth is new laws that will expand the use of publicly funded scholarships that allow students to attend private schools. Among them is the newly approved Hope scholarship program, which will allow students who are victims of bullying or other violence to transfer to private schools.
When fully enacted in the 2019-2020 academic year, analysts project the Hope scholarships could result in a reduction of more than 6,400 students who would otherwise attend public schools.
The new laws will also allow businesses for the first time to voluntarily shift sales taxes they normally would pay on commercial leases to help fund two other voucher-like scholarship programs.
The change is expected to initially increase the number of low-income students using Florida Tax Credit scholarships, which historically have been funded by tax credits related to corporate income taxes, insurance premium taxes and several other state taxes.
In the longer term, the new sales-tax credits on commercial leases will be used to increase the number of students using Gardiner scholarships, which provide education options and services to disabled students.
But while the new forecast showed a slowdown in the 2019-2020 enrollment growth, the annual increase is projected to rise above 27,000 students in both the 2020-2021 and 2021-2022 academic years. It is projected to drop down to just under 21,000 students in 2022-2023.
Another forecast trend shows an increased use of dual-enrollment programs, which allow high-school students to take classes at nearby colleges and universities or to take college-level classes at their schools.
A projected 29,818 students are expected to take dual enrollment classes in 2019-2020, a 36 percent increase from the 21,890 students who took those classes in 2016-2017. The forecast shows continued growth in the program, reaching just under 43,000 students by the 2023-2024 academic year.
Analysts attributed the increase in dual enrollment to demographic trends in the K-12 system, with larger classes in middle schools eventually moving into the high schools.
For instance, this year's 206,000 12th-graders will graduate in the spring, with an eighth-grade class of more than 218,000 students moving into high schools next fall, the forecast showed.
The K-12 enrollment forecast was approved as part of conference process including the Legislature's Office of Economic and Demographic Research as well as representatives from the House, Senate, the governor's office and the Department of Education.
–Lloyd Dunkelberger, News Service of Florida, and FlaglerLive