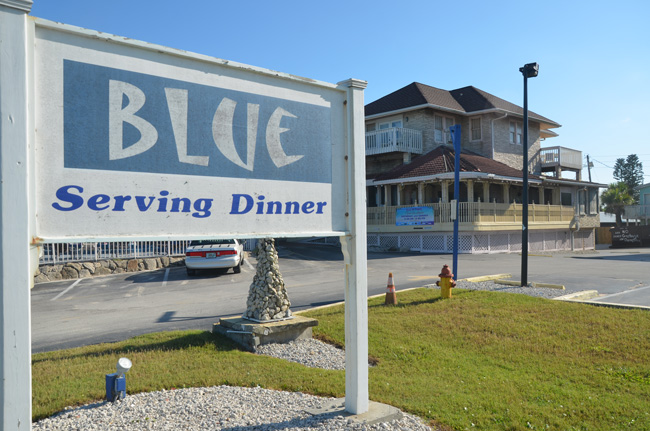 When any restaurant closes, it's a loss in choice, a loss to the business landscape, a loss to taste buds.
When Blue at the Topaz announced this week that it had served its last meal on Sunday, it was a shock. Eighteen people had lost their job. An untold number of people had lost a gastronomical cardinal point in a landscape of rarefied choice restaurants (though clearly not enough people to have kept the restaurant in business).
To anyone who's had lunch or dinner there in the 12 years it'd been open—or few dozen, and in some cases a few hundred, lunches and dinners—the loss of Blue provoked something closer to bereavement than mere loss, even if it was only the loss of herb baked brie or mahi mahi almondine, or the only escargots in a 30-mile radius.
"Blue was kind of a favorite destination of mine," Rebecca DeLorenzo, president of the Flagler County Chamber of Commerce, said this afternoon. "We used to go there quite a bit and visit Kelli, so when I heard the news I was pretty upset about it not just for her but for the locals who used to enjoy going there over the years."
Kelli is Kelli O'Reilly, though she's known to everyone as Kelli (just as no one refers to Pelé as Edson Arantes do Nascimento), who opened the restaurant 12 years ago with her now-ex-husband Gary Maresca thanks to generous backing from her uncle, a patriarchal sort of father figure who wanted to make sure she was taken care of: Kelli's father had died when she was 19. The economy was booming. So was the 80-seat restaurant. So was the family. Kelli managed to run the restaurant even as her first child was born three weeks after opening day, with a second child following a year later.
"Then everyone knows what happened," Kelli said this afternoon in her only interview since the announcement. "After four, five years, things started to not go so well, we started to accumulate debt, and there's just no way sometimes to get out of that."
Then there was the divorce a couple of years ago, even though Maresca, who was the wizard behind the gastronomy, remained the chef for a year after that. "It did play into it because Gary was the face of that restaurant for a long time, he was the person people came to see, he was an amazing chef," Kelli said. Right around when he was about to leave the operation, Kelli's uncle died, adding to the blows.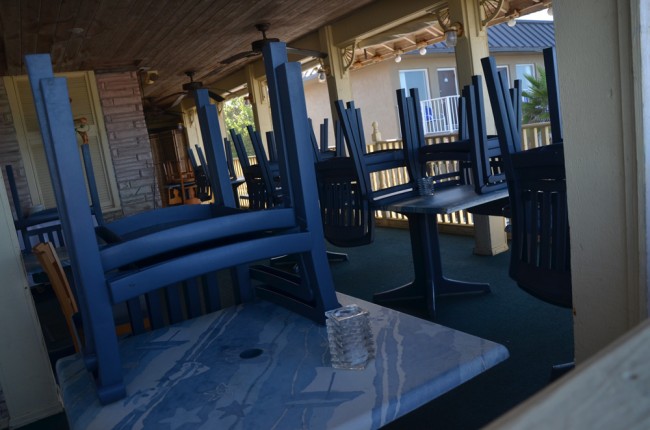 She was a single mother working the brutal hours a restaurant demands  and contending with those difficulties. She had a great staff, she says, much of it family-like and cohesive over a dozen years, including the chef who learned from Maresca and took over well enough that to most patrons, the food was either as good or better than ever. But in the end, despite the staff, it was not enough.
"We've been together for 12 years and I can't say I didn't have enough support from staff because I did, but at the end of the day I had to stand alone," Kelli said.
Her next venture will not be another restaurant. She hails from a  non-profit background. It'll be something along those lines, and she intends it to be in Flagler. As for the restaurant itself, which she had leased from the Topaz motel, "there's already interest in the place."
Meanwhile, surrounding community members, fellow business owners and even government officials were reacting to the news the way they might over the death of a favorite personality they might have thought immortal.
"Isn't this awful?" Kim Carney, the Flagler Beach city commissioner, said. "I'm saddened, she's a friend of mine. I had no idea. I had no idea." Carney and Kelli had worked on many events together, both being immersed in chamber of commerce activities. "I think it's horrible, but you know, it's the result of a divorce, the partnership fell apart when the divorce fell apart. I feel so bad. Great place, great food, great everything. I can't believe it. We'll miss her. She lives here in Flagler Beach so it's not like I'll miss her personally."
Carney noted that the resale shop next to Friends' Café on South Flagler Avenue, Charsons Treasures, also went out of business after many years and was converted into apartments. "Everyone wants to live here but no one wants to shop here," Carney said.
Mark Gerling, the owner of Gerling Travel in Flagler Beach and the chairman of the chamber's Flagler Beach council, took a less jaundiced view of the business trend, preferring to see the closure of Blue as signal loss but not one with broader business implications. "As far as the general economy of Flagler Beach as a whole," Gerling said, "I'd say the closure of Blue would not reflect the overall economic development gain or growth of the business community itself. As a small business owner here at Gerling Travel we're busy, we're keeping busy, a lot of my other colleagues whether it be Joseph Puzzuoli at his architect firm, other restaurants," they're all keeping busy, Gerling said, even as seasonal slowdowns can be seen in some, but not all, restaurants: he'd had lunch earlier today at Flagler Fish Company, the Flagler Beach restaurant closest in style and ambition to Blue, and every table was filled.
But Gerling also understood the challenge of running a small business. "We all know how hard small business is to sustain no matter what business you're in," he said.
DeLorenzo, too, looking at the broader business landscape in Flagler, cautioned against seeing a trend in the business closure. "I don't think I've heard it that regularly," the chamber president said. "I think there's some businesses in some industries that weathered the storm a little bit better but when it comes to restaurants, when the economy goes, that's certainly where people start tightening their belts, they eat at home more frequently."
Other than shock and sadness, there's been bewilderment.
"I was surprised," Flagler Beach City Manager Bruce Campbell said. "I mean it seemed from an A1A driving by standpoint with the barometer of how many cars are in the parking lot they seemed to be doing well. It was good food, it was probably one of the more upscale restaurants in Flagler Beach, and there were a lot of people that frequented it from Palm Coast, almost on a weekly basis. I'm sure they'll be missed. I'll personally miss them not being there, wish them the best in the future and sorry they decided to close after 12 years of being in our wonderful city."
The name of the restaurant was in essence the result of being and nothingness. Kelli and  Maresca couldn't think of a name. One day she was standing on her porch. Everything was blue. The ocean, the sea, maybe even the breeze, though blue, ironically, is "the rarest color in nature," according to Alexander Theroux, the essayist.
But Blue it would be, and was, until it wasn't.
Kelli herself said, as if speaking for Blue's fans, she'll obviously miss the food, but she also spoke of that other dimension of going to a favorite restaurant: "It's a very important way of how we enjoy ourselves." And with Blue's closure, that's gotten a little bit more difficult.