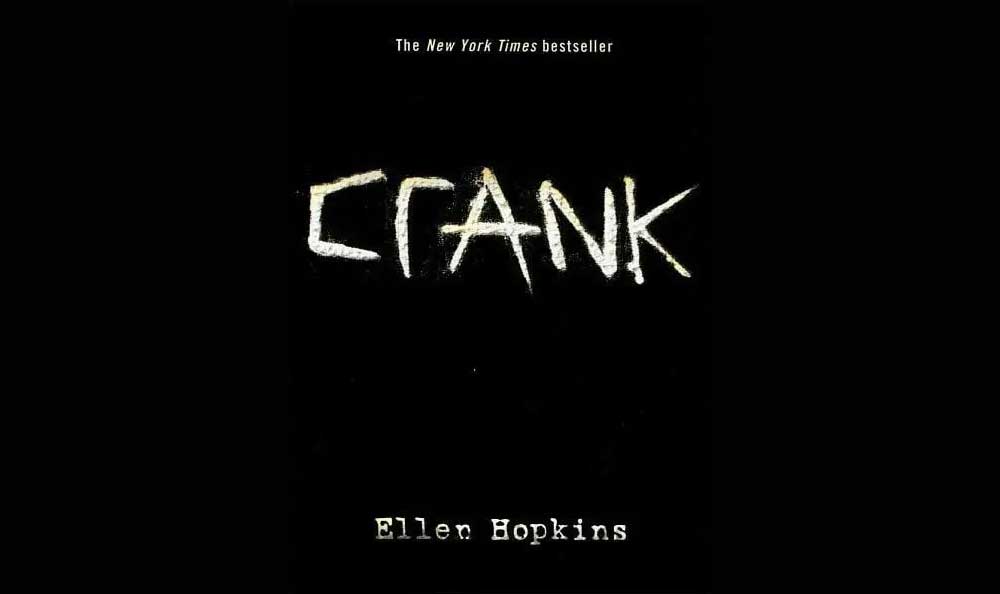 Ellen Hopkins's "Crank" (Simon & Schuster, 2004) is among the 22 books so far this school year that a trio of individuals have sought to ban from high school library shelves. A joint committee of Flagler Palm Coast High School and Matanzas High School faculty and community members meet at 3 this afternoon at Matanzas High School to decide whether to retain or ban the book. The meeting is open to the public but not to public participation. The following review by FlaglerLive Editor Pierre Tristam is presented as a guide.






Crank is the first book by Ellen Hopkins, a very popular young adult novelist, and the first in an autobiographical trilogy centered on her daughter's crystal meth addiction: crank is a street euphemism for the drug. The book takes us through the summer when Kristina, verging on 17, discovers the drug the summer she visits her loser father in Albuquerque, and gets pregnant from a rape.
Crank has been among the country's most banned titles in public schools and libraries since its publication in 2004, not because of sex–there's not much of it, and what there is couldn't shock a nun–but because of the visceral descriptions of addiction to what Kristina calls "the monster."
For addicts, I imagine, the book would read like a personal memoir or the diary of a familiar journey. For those lucky enough not to have been claimed, it's a front seat to the abyss, with no guard rail. It's not as if a loving mother or straight A's or middle class comforts are buffers to what, Hopkins seems to say, could claim you as arbitrarily as cancer, without the equivalent benefits of chemo or radiation to pull you through. The opioid crisis of the last two decades keeps proving with intensifying grimness that anyone is vulnerable: twice as many Americans died of overdoses in 2021 alone than did in 15 years of war in Vietnam.




As Hopkins writes in Kristina's voice toward the end, in a poem called "Crank, You See,"
isn't any ordinary
monster. It's like a
giant octopus,
weaving
its tentacles not
just around you,
but through you,
squeezing
not hard enough to
kill you, but enough
to keep you from
reeling
until you try to get
away. Try, and you
hunger for its
grasping
clutch, the way its
tendrils prop you
up, your need
intensifying
exponentially
every minute you
refuse to admit its
being.
Like so many of the titles that have been challenged this year, the book is written entirely in free, often pointlessly shaped verse. It's not poetry. It's poor, clunky writing using the veil of verse to hide behind and hoping that the different shapes on the page will distract you or impress you with their attempts to convey a sense of Kristina's mindset. Disjointed lines are supposed to reflect her disjointed life, and so on. Maybe, but I wasn't convinced, and I found the technique to be more of an annoying affectation lacking poetry than sounding it out.




I also found Kristina uninteresting and aggravating despite her two personalities. She is Kristina to her mother and normal high school life. She is Bree when she wants to be bad:
Alone,
there is no perfect daughter,
no gifted high-school junior,
no Kristina Georgia Snow.
There is only Bree.
But the difference between Kristina and Bree is an illusion. The only difference is the name. It's not Kristina-Bree's fault. Her author convincingly creates a character as self-absorbed as a black hole. But that's all she creates. There's no depth to Kristina. She describes her addiction. She doesn't penetrate it. Nor does the reader. It feels too much like a 90-second local TV news segment about an addict, with that blanched out shallowness of TV news, but over and over again for however many pages.
Kristina places herself between two bad boys, two poles, both of them druggies. Brandon is the rapist ("Can't rape the willing," he says, a line straight out of The Nowhere Girls, another book on the ban list that Flagler County's burners successfully got removed from high school shelves, when the superintendent overrode three unanimous decisions to keep it).
Chase is the sensitive lover, though not so sensitive as to seal the deal on Kristina's addiction, when he could have possibly stopped it, or to keep from cheating on his girlfriend with Kristina and send the girlfriend into a coma after an attempted suicide. The whole thing reads like a device to get the girlfriend out of the way so Kristina and Brandon can get in on in peace. Neither seems too concerned with the other girl's fate as she vegetates. Every other character in the book, including the deadbeat dad and the supportive if oddly uninvolved mother and step-father, are stick figures. Her father may be "the King of Cliché," but so is she, even when the situations lend themselves to more searching writing than Hopkins gives us:
I mean, there I was,
snorting crank
with my dad,
my boyfriend,
and his other
girlfriend.
Something majorly
wrong with that picture.
But that's where the picture end. I wanted to have more sympathy for Kistina or Bree. But I just couldn't wait for this short book to end. That's just me of course. Crank was fabulously popular in its day. "When I taught English from like '06  to '14, these books flew off the shelves, like by reluctant readers and intensive reading kids," Mandy Kraverotis, an assistant principal at Flagler Palm Coast High School and a recurring member of challenge committees, said last month during the review discussion of Tilt, another Hopkins book. "I remember my time in the classroom like , she was it. It was this and it was Twilight and John Green stuff." That's fallen off since. I have not read the two other Hopkins books in the trilogy, Glass (2007) and Fallout (2010).




In this context–a review of a book with a recommendation to a committee reviewing its challenge–it's worth pointing out that, subjectivity aside, a book's bad quality doesn't make it a better candidate for bans. One has nothing to do with the other. It's hard to get more awful than books like Robert James Waller's Bridges of Madison County, those backyard pavers posing as books by Ayn Rand or even Herman Melville's Mardi, which could have made black sites and the Guantanamo concentration camp unnecessary: just lock up the alleged terrorist in a comfortable room with a posh bed and choice catering, but with Mardi piping in all day. He'd confess by the third hour just to end the intellectual waterboarding.
That doesn't mean these titles, still frequently found on school library shelves, are disposable, or any less worthy of defense against bans. Rand still gets challenged here and there, alas not because the quality of her writing is a crime against humanity, but for the ideas in the book. Imagine that.
The following questions in bold are reproduced here exactly as they appear on the Flagler County school district's school-based Review Questionnaire for media advisory committees taking up book challenges–or attempts to ban books–at the school level. Committees fill in their answers as they reach a decision on each challenged book, after a lengthy committee discussion. The answers below are provided as an amendment to the preceding review, in the more focused context of the district's question, and are of course only the reviewer's own–in this case, FlaglerLive Editor Pierre Tristam. Committees may reach vastly different conclusions. Those will be appended below, once they are issued.


Title: Crank
Author or editor: Ellen Hopkins
Publisher: Simon & Schuster
Basis of objection:This book contains explicit excerpts involving sexual intercourse and sexual battery involving minors and explicit excerpt sensationalizing illegal drug use.
1. What is the purpose, theme or message of the material?
Ellen Hopkins wrote Crank to describe, in fiction, her daughter's descent into drug use, and its consequences on her daughter, her family and friends.
2. Does the material support and/or enrich the curriculum?
As part of an anti-drug message, yes.




3. Does the material stimulate growth in factual knowledge, literary appreciation, aesthetic values, and/or ethical values?
Not by much. The book is light on the facts surrounding drug use. It is written in free verse, but the poetry is often plodding and the book's literary quality is not high.
4. Does the material enable students to make intelligent judgments in their daily lives?
It is a frightening look at the ease and lure of addiction. Kristina/Bree makes repeatedly poor choices once she falls in the grip of addiction. The book does not provide much of an answer on getting away from addiction, leaving the ending open-ended enough to suggest that Kristina has not conquered it. The book is the first in a trilogy. The subsequent books confirm that addiction continues to define Kristina.
5. Does the title offer an opportunity to understand more of the human condition?
Yes. Addiction is rampant to the point of lowering Americans' life expectancy, with overdoses claiming over 100,000 lives in 2021. The book provides an inside look at an addict's struggles and helplessness.
6. Does the material offer an opportunity to better understand an appreciate the aspirations, achievements and history of diverse groups of people?
No. Kristina is a self-absorbed, white, middle class girl who cares little about anything other than herself. She spends time with addicts and
CONTENT
1. Is the content timely and/or relevant?
Yes. As noted earlier, the opioid epidemic has claimed nearly 1 million lives in two decades, and is accelerating. It has no regard for age, race or sex.
2. Is the subject matter of importance to the students served?
Yes. Addiction affects students.
3. Is the writing of high quality?
Not particularly. There are occasional passages rich in lyricism. The grip of addiction is described well enough. But it is emotionally stunted and literarily shallow.




4. Does the material have readability and popular appeal?
It is readable, if annoyingly so: the free verse is more of an affectation than a necessity–a way to fill lots of pages with few words, giving the reader the impression that lots of reading is getting done. But Hopkins has been extremely popular, so this reviewer's opinion should be taken with a grain of salt.
5. Does the material come from a reputable publisher/producer?
Simon & Schuster is among the major American publishers.
6. I presented as factual, is the content accurate?
The novel is not presented as fact, though the addiction described is its central reality, and there's no disputing it. If anything, the book misses a chance to paint that picture a little beyond Kristina, the central character.
7. If the text is informational, is the text comprehensive?
Not applicable.
APPROPRIATENESS
1. Does the material take in consideration the students' varied interests, abilities and/or maturity levels?
Yes. Students will be familiar with the subject matter, and curious students, or even students struggling with addiction, or their friends and family, would find the book useful. It is written at a basic enough level for middle schoolers to understand, though it's not necessarily a middle school book, except for more advanced readers.
2. Does the material help provide any of the following:

A resource that represents a level of difficulty accessible to readers at the school? Yes.
Diversity of appeal? No.
Representation of diverse points of view? Not at all: the self-absorption of the main character ensures against that.
3. Does the material help to provide representation for various religious, ethnic, and/or cultural groups and the contribution of these groups to American heritage?
No.




4. Does this material provide representation to students based on race, color, religion, sex, gender, age, marital status, sexual orientation, disability, political or religious beliefs, national or ethnic origin, or genetic information?
Sadly, no.
5. In a Yes or No answer only, do you feel the material has a purpose for a school library collection?
Yes, for the reasons stated above.
Comments specific to the objection: The cranks objecting to this book obviously have not read it, have no compassion for addicts, have no understanding of a novel's value in reflecting a tragic reality and experience that could, in the hands of teens, help them make better choices or understand their friends or family members who are struggling with addiction. The objection is not only misinformed. It is cruel, and potentially aids addiction.
Additional comments: None.
Recommendation (retain, remove, other): Retain.