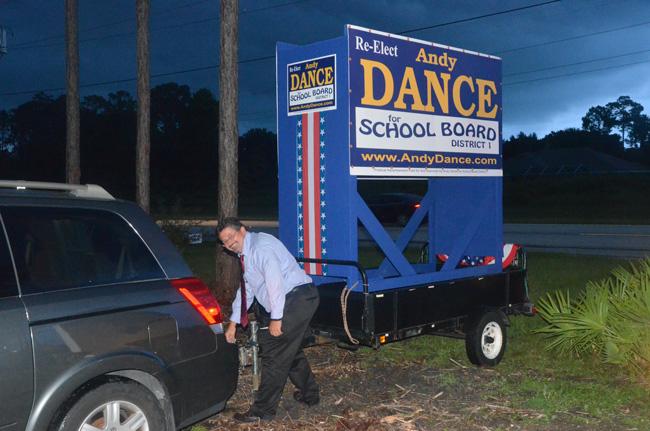 Last Updated: 9:14 p.m.
To skip the blather and jump straight to the results, click here.
With all votes counted, Andy Dance is the big winner in School Board District 1, and incumbent Trevor Tucker barely survived against Michael McElroy, a big surprise in a race Tucker was confident he could win without much campaigning.
Both incumbent county commissioners were in a neck-and-neck race with their Republican primary challengers until later in the evening when Nate McLaughlin pulled ahead of challenger Mark Richter and won by just 235 votes. Frank Meeker barely edged out Dennis McDonald by 208 votes, or 2 percentage points.
McElroy at the beginning of the evening was ahead of Tucker by 0.28 percent, but by 7:43 p.m., with more than half the precincts counted, Tucker had pulled ahead by 1 point. McElroy was beating Tucker in such upscale precincts as Grand Haven (where McElroy got 52 percent), but not Flagler Beach, where Tucker got 54 percent.
"I have no idea," a clearly susprised Tucker said this evening. "McElroy apparently ran a very good campaign, and I apparently did not campaign hard enough." Tucker ran radio ads, had campaign signs and participated in forums. "I didn't think it'd be that close. I mean, it's really impressive that McElroy being here a year and a half got that many votes. That's incredible. I don't think I can go some place in a year and a half and get that many votes."
A manual recount may be ahead: on Thursday, the canvassing board will count five provisional ballots that could, depending on the outcome, trigger a manual recount in the Tucker-McElroy race.
Janet McDonald finished 24 votes ahead of incumbent John Fischer in the District 2 race, where Lynnette Callender and Toni Baker were eliminated. Fischer and McDonald will face each other in a run-off in November.
Andy Dance, the school board chairman, was the evening's biggest winner as he defeated Maria Barbosa with close to a 60 percent total.
"I just am very humbled again that the voters are entrusting me with this responsibility and will continue to work on their behalf," Dance said, downplaying the margin of victory. "I don't think it says anything. I think people are familiar with my track record and my availability to be able to meet them out in the public. So that probably contributes more to maybe the percentage than anything else."
Dance was celebrating at Woody's with family, including his mother, who had been a school board member in Flagler from 1984 to 2000.
In Palm Coast races, Anne-Marie Shaffer won 41 percent of the vote in District 2, ahead of Heidi Shipley by almost 7 points, with Joel Rosen eliminated. Steven Nobile led District 4 with almost 37 percent of the vote, with Bill Lewis, the incumbent, 8 points behind, and Woody Douge and Norman Weiskopf eliminated.
Both city races are headed for a November run-off.
The county commission races were deciding only the Republican primary winner. In each case, the winner is facing an independent in the November general.
The results were reflective of an electorate heavily weighted by Republican voters, who had more races to vote on than Democrats or independents. The results also show deeply divided local Republicans, with Ronald Reagan Republican Assembly candidates polling well and more traditional Republicans barely hanging on. Richter, both McDonalds, McElroy, Shaffer and Nobile are the Ronald Reagan Assemblies' candidates. Win or lose, those candidates produced strong showings, albeit showings buoyed by a primary that favored them, as it attracted a disproportionate number of Republicans, and in primaries of late, right-wing Republicans are more likely to vote than moderate Republicans.
"My sense is that a lot of people discount the primaries," Netts, himself a Republican, said. "They don't see that as meaningful. I suspect that many people don't realize that there are some decisions made at the primary level. Somebody gets 51 percent, that's the end of the story. But I suspect many people see that as a preliminary."
Nobile had felt confident on his last day of campaigning that he'd be at least in the run-off. He'd hoped for an outright victory, what he termed a ":mandate," but failing that, he analyzed how he'd take on Lewis.
"I have to look at what it is about what Lewis has done that people like, and what it is they don't like, and then move in that direction if that's acceptable for my principles," Nobile said, looking ahead to the run-off. "Of all the councilmen, he has the least input in bringing anything forward, so he's pretty much backed whatever Mayor [Jon] Netts has put forward. So the accomplishments I look at are not just what you voted on but what did you actually bring forward and move forward. So I don't see anything there. That's kind of how I'm going to move forward with Lewis."
Netts, who spoke by phone when all the results were in, said there will be clear choices in November's run-offs: "At least at the city level you've got some clear ideological differences. You gets what you vote for. Interesting."
Reflecting on Nobile's comment, Netts said: "I look at Palm Coast as a developing, growing city. I like the direction that we've been going in, so I have not created any new, huge direction. I moved here because I liked the good mix of environmental concern and a city with amenities, and it was a nice place to live. That was a direction set by the first city council. I like it, that's the direction I like us to be moving in. If somebody thinks that Lewis is following in the direction I'm setting, well, there is a certain vision for Palm Coast," to which Lewis has adhered. Netts referred to Prosperity 2021, the council's blueprint for the city's long-term, development. "If people don't like that, well, they need to change it, and that's perfectly OK. The majority rules. But if you look at the track record of the city overall, very low tax rate, very high approval rating from outside publications, organizations and whatnot, I think that's a vote of confidence."
Netts added: "Regardless of who wins this election in November, they're going to have to sit down and look at the realities of the budget and the cost of maintaining the infrastructure and decide. It's the old story of pay me now, pay me later. What can I tell you, it is what it is."
Even before polls closed at 7 p.m., this much was clear about the 2014 primary: turnout was low despite early voting's surprise showing for Flagler: many of the county's principal polling sites were seeing anemic activity, and the VFW precinct, the busiest in the county, had seen just 300 voters in early afternoon, against some 7,000 registered in that precinct.
Other certainties: Rick Scott, Charlie Crist and George Sheldon won their primaries (Sheldon is the Democratic candidate for attorney general). So did John Thrasher, the incumbent state senator representing District 6, who was running against fellow-Republican Derek Hankerson.
Locally, at least two candidates in competitive elections were not breaking a sweat as they campaigned for one last day. One was Trevor Tucker, the incumbent school board member, who barely campaigned and did not find it necessary to stand at any corner today waving a sign, saying it wasn't going to make a difference. He spoke with the confidence of an assured winner, the sort of candidate who could recline on his west-county roots and assured constituency, against a relative newcomer, Michael McElroy.
McElroy was campaigning with signs this afternoon at the county library in Palm Coast and already was taking the likeliest outcome in stride. "I understand it's tough when you're trying to get an incumbent's seat," McElroy said. I think I messaged. I hope I messaged. And if I lose, that's democracy. What else can I say?"
The other candidate who wasn't breaking a sweat was Nate McLaughlin, the incumbent Republican representing District 4 on the County Commission. His sweatless feat was more remarkable than Tucker's. McLaughlin had been under the sun for a while, waving signs and arms vigorously at passers-by at one of the two or three prime locations for politicians on Election Day: in the median at the intersection of Old Kings Road and Palm Coast Parkway. McLaughlin was facing Mark Richter, another newcomer, but whose candidacy was weakened by his own refusal to document boastful claims about his past. But early results were showing McLaughlin's confidence to have been possibly overstated.
Frank Meeker, the incumbent in the other county commission race, was slightly less confident but still predicting a win by a sizable margin over second-time challenger Dennis McDonald, the Ronald Reagan Assemblies candidate just weakened by a different sort of blow: a circuit judge on Monday ruled against McDonald's case against the City of Palm Coast for the second time. The first time was to declare McDonald's lawsuit over Palm Coast's construction around Palm Harbor shopping center groundless (or frivolous, if you prefer). Monday, the judge ruled in favor of Palm Coast's motion to recoup attorneys' fees charged up by McDonald's suit. The actual fee total hasn't been worked out, but could run up to around $20,000.
The Andy-Dance-Maria Barbosa race for school board would have been surprising only if the outcome had not returned Dance to a second full four-year term. But Dance didn't taking anything for granted, and campaigned for much of the day.
The remaining races–for Palm Coast City Council, District 2 of the school board and the three races for circuit judge were not in the predictable category.
The election itself appears to have taken place without significant issues, and no law enforcement issues.
"We had no reported issues at any voting location today," Undersheriff Rick Staly said less than an hour before the polls closed. "We do have a deputy assigned starting at 6 p.m. to the supervisor of elections' office at the request of Mrs. Weeks, so we're providing that, just because as returns turn in emotions run high, just as a precaution. We also have a deputy assigned to judge [Melissa] Moore-Stens, only because she's part of the canvassing board and by law we have to protect the judges. As soon as the returns come in, they finalize them, then our deputies will go home."
Dave Sullivan, who heads the Flagler County Republican Executive Committee, had posted poll watchers in all precincts. "Today the only problems were we still had a few times where they gave a few person the wrong ballot and they immediately returned it," Sullivan said. There were a few reports of jammed ballots but nothing that would invalidate any votes. "At least where I was and what I've heard from reports, no significant problems, but I haven't read all reports yet," Sullivan said. He also noted: "I want people to stop saying this wasn't a good turnout. This was a good turnout in a primary in a non-presidential year."
The numbers, however, are not bearing out the optimism: even for a non-presidential primary, the turnout was close to similar 20-year lows in Flagler.
Tucker likely spoke for all the incumbents who nearly lost tonight when he said, at the end of the evening, "I'm just happy it's over."
Below, the chart will show the election results as they are produced by the supervisor of elections and the state Division of Elections, and will be updated accordingly. The numbers for the judicial and state senate races reflect multi-county results, not just Flagler County's numbers, and the numbers for governor and attorney general reflect statewide results. Flagler County's tallies in those cases will appear in parenthesis.
Primary Election 2014 Results: Flagler County's Local Races and State Races
| Candidate and Race | Votes | Percent |
| --- | --- | --- |
| Flagler School Board, District 1 | | |
| Maria Barbosa | 4,928 | 39.89 |
| Andy Dance (incumbent) | 7,425 | 60.11 |
| Flagler School Board, District 2 | | |
| Toni Baker | 1,510 | 12.05 |
| Lynnette Callender | 2,822 | 22.53 |
| John Fischer (incumbent) | 4,086 | 32.61 |
| Janet McDonald | 4,110 | 32.81 |
| Flagler School Board, District 4 | | |
| Michael McElroy | 6,006 | 49.75 |
| Trevor Tucker (incumbent) | 6,066 | 50.25 |
| Palm Coast City Council, District 2 | | |
| Joel Rosen | 2,314 | 24.17 |
| Anne-Marie Shaffer | 3,952 | 41.27 |
| Heidi Shipley | 3,309 | 34.56 |
| Palm Coast City Council, District 4 | | |
| Woody Douge | 2,153 | 22.27 |
| Bill Lewis (incumbent) | 2,765 | 28.6 |
| Steven Nobile | 3,529 | 36.5 |
| Norman Weiskopf | 1,222 | 12.64 |
| Flagler County Commission, District 2, Republican Primary | | |
| Dennis McDonald | 3,121 | 48.39 |
| Frank Meeker (incumbent) | 3,329 | 51.61 |
| Flagler County Commission, District 4, Republican Primary | | |
| Nate McLaughlin (incumbent) | 3,246 | 51.89 |
| Mark Richter | 3,009 | 48.11 |
| Circuit Judge, Group 18 | | |
| Karen Foxman | 59,568 (6,984) | 64.11 (59.07) |
| Steve Sands | 33,346 (4839) | 35.89 (40.93) |
| Circuit Judge, Group 20 | | |
| Steven DeLaroche | 23,725 (2,908) | 25.95 (24.56) |
| Adam Warren | 26,455 (3,271) | 28.94 (27.62) |
| Kathy Weston | 41,240 (5,663) | 45.11 (47.82) |
| Circuit Judge, Group 23 | | |
| Kellie Jo Killebrew | 47,022 (5590) | 53.3 (48.09) |
| Thomas Portuallo | 41,201 (6,035) | 46.7 (51.91) |
| Governor, Democratic Primary | | |
| Charlie Crist | 572,059 (3,676) | 74.16 (78.55) |
| Nan Rich | 199,334 (1,004) | 25.84 (21.45) |
| Governor, Republican Primary | | |
| Yinka Adeshina | 15,847 (77) | 1.77 |
| Elizabeth Cuevas-Neunder | 94,678 (490) | 10.56 |
| Rick Scott (incumbent) | 786,214 (5672) | 87.67 |
| Attorney General, Democratic Primary | | |
| George Sheldon | 427,075 (2328) | 61.4 |
| Perry Thurston | 268,472 (1630) | 38.6 |
| State Senate District 6, Republican Primary | | |
| Derek Hankerson | 7,915 (1,930) | 29.18 (29.84) |
| John Thrasher (incumbent) | 19,210 (4,538) | 70.82 (70.16) |
Note: For statewide and multi-county results, as in the races for governor, senate and judicial races, the total tally appears first, followed by the Flagler-only tally in parenthesis. Statewide tallies will not be available until after 8 p.m.