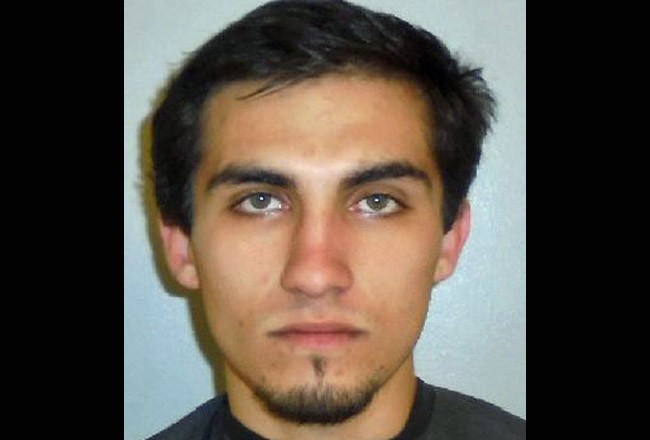 An odd incident had drawn four Flagler County Sheriff's deputies to Palm Coast's R Section, near Ralph Cater Park, late Tuesday evening: someone had called 911 to report a loud banging "coming from his bedroom window." An even odder incident unfolded as deputies investigated, resulting in the arrest of Anthony Fennick, 20, of 13 Richardson Drive, on four counts of aggravated assault on law enforcement officers, among other charges.
Fennick is accused of throwing eggs and a potato at the cops as he hid.
The four deputies were dispatched to 1 Ritchie Place at close to 11 p.m. Tuesday to investigate the alleged window-banging. A perimeter check of the property produced nothing. But Fennick was outside his house, inquiring about the cops' presece. They explained it. He thanked them and went back in.
As deputies spoke together, standing by a patrol car, one of the deputies noticed that a potato wedge had landed behind them. They looked around the property at 15 Richardson but saw nothing. As they spoke further, an egg struck the front passenger side door of a patrol car, nearly striking two of the four deputies.
They conducted a further search of the area, again turning up nothing. But by the time they were done, three more eggs had landed on the street, along with a piece of citrus. Someone was messing with the cops. Just after 11:30 p.m., more deputies arrived at the scene as two of the deputies made contact again with Fennick, behind his house. One of them told him that if he was throwing things at police, he should stop and go back in his house, according to an incident report. Fennick complied, though it wasn't long after that that Fennick found hismelf under arrest.
The incident report doesn't explain what had taken place between the time Fennick had gone back in his house and when he was handcuffed. But the report states that a deputy called for an additional unit to investigate the area of 4 Richelieu Lane, where Fennick was later found again. Deputies searched him and found an egg in a pocket of his. They'd spotted him near an air conditioning unit at 4 Richelieu.
Fennick lives with his step-father, Daniel Williams, and his mother, Erika Williams, who showed the cops the carton of eggs Erika had bought the previous day. It was missing five eggs. A knife smeared with what looked like potato moisture from a recent slicing was on the kitchen counter.
Based on that evidence, Fennick was arrested and booked at the Flagler County jail, where he remained Wednesday afternoon on $3,000 bond.