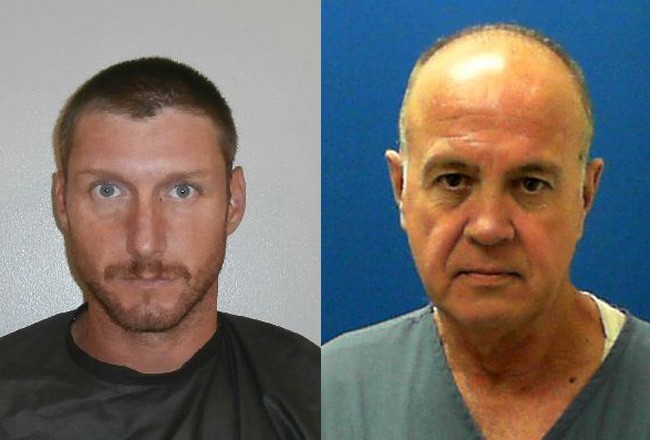 Bunnell's Edmond Welch, convicted by a Flagler County jury on three felony charges at a trial last month, was sentenced to life in prison on charges of Home Invasion Robbery, Burglary with a Battery, and Battery on a person 65 or older. Circuit Judge J. David Walsh imposed the sentence Tuesday afternoon.
Prosecutors sought and won the designation of Welch as a Prison Releasee Reoffender, which made a life sentence mandatory based on the charges.
"The defendant's criminal past and his cruel and violent crime earned him a life sentence," State Attorney R.J. Larizza said following the sentencing. "May the victim and the victim's family find some measure of peace knowing that the defendant will never victimize our community again."
Assistant State Attorney Christina Opsahl of the Career Criminal Unit prosecuted the case. Welch was defended by attorney Garry Wood.
The previous story with full background on Welch's case is below.

Edmon Welch Found Guilty of Home Invasion and Battery on 88 Year Old, Faces Life in Prison
Jan. 26–Edmon N. Welch, one of the men involved in the home invasion and assault on an 88-year-old man in his Bunnell home in June 2013, was found guilty of three felony charges at the end of a jury trial in Flagler County Circuit Court Friday.
Welch, 34, a repeat offender with nine prior felony convictions and 22 prior misdemeanor convictions, faces the possibility of life in prison when he is sentenced on Feb. 24 by Circuit Court Judge J. David Walsh. (An earlier version of this story mistakenly noted that Walsh had been reassigned to Volusia County: it's Judge Dennis Craig who was reassigned this month, not Judge Walsh. We apologize about the error.)
Prosecutors will seek to have Welch designated a "Prison Releasee Reoffender," which if accepted by the court will make a life sentence mandatory. His previous felony convictions include two prior burglaries, a grand theft over $20,000, and a conviction for acting as an accessory after the fact to robbery. On Friday, he was found guilty of home invasion robbery, burglary with a battery, and battery on a person 65 or older.
Another man involved in the robbery, Jodie Medders of Bunnell—also a repeat offender who'd had three stints in state prison previously—was sentenced to five years in prison last August.
The day before the June 29, 2013 robbery, Bunnell police had assigned extra patrols in the area of Mercer's home after reports that Jody Medders had been harassing him.
The morning of June 29, just before 2 a.m., an officer was dispatched to Mercer's home on reports of a home invasion. Mercer was bleeding from both arms. Two men had come to his door, he told police, one of them becoming violent with him as he forced his way in while the other stood at the front door. Mercer said there'd been a third man outside. He took one of the men to his bedroom and gave him about $200. The man then apologized to Mercer and said the other men were making him do this. The three men then fled. Mercer identified one of the three as Medders.  But the men had covered their faces.
Medders was arrested later that morning. He told cops about meeting Welch that night and, walking off, noticed Welch meet up with Julio Allen, who'd been in the woods. Medders claimed to have followed the two men because he found them suspicious—and watched them as they made entry into Mercer's home before running off.
Welch was arrested as he was walking on U.S. 1, shortly after Medders was arrested. He was carrying a small amount of cocaine. Based on Medders's account, Welch was arrested. Medders himself was not charged in that robbery until later, though he was arrested on a probation violation charge and possession of ammunition by a convicted felon. Allen was charged with possession of methadone, a third-degree felony.
Allen was found guilty last August and placed on probation for six months as adjudication was withheld.