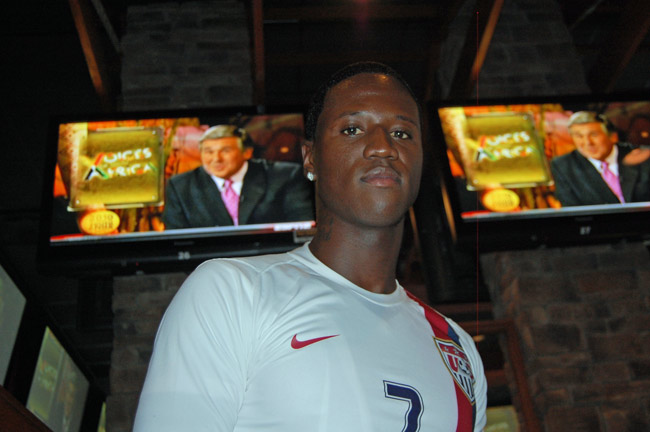 Bunnell's favorite son looks weird as hell–he dyed his trademark scalp-short hair blond a few weeks ago, and just added a lightning bolt–but Eddie Johnson was on the field barely 14 second Sunday as a sub midway in the second half when he soared over Salvadoran defenders and slammed a header in the upper corner of the goal to give the U.S. a 3-1 lead.
U.S. coach Jurgen Klinsmann made the substitution for Chris Wondolowski in the 61st minute just before Landon Donovan's corner kick into the Salvadoran penalty area. Donovan would finish the day with a goal and three assists, and the U.S. won the quarterfinal CONCAF Gold Cup match 5-1. Five different players scored the five goals in Baltimore.
The U.S. plays Honduras in the semifinal at Cowboys Stadium in Arlington, Texas, on Wednesday (July 24) at 7 p.m. Eastern. The championship game is on July 28 at Soldier File din Chicago.
Sunday's was the team's fifth straight win, but all those wins have been at the expense of relatively weak teams–Costa Rica (1-0), Cuba (4-1), Belize (6-1) and Guatemala (6-0).
Johnson, 29, made his first international appearance in 2004 against El Salvador. Sunday's was his 54th appearance in an international match, and his 16th goal. He's currently playing for the Seattle Sounders, where he has four goals in 12 games.
Johnson is battling for a spot on the U.S. national team's squad for the 2014 World Cup in Brazil. Johnson has eight goals in nine World Cup qualifying appearances, but while his blazing speed and electrifying presence on the field have made him a crowd favorite, he's had checkered success in international appearances and in MLS play, though he's riding renewed success: he was the 2012 MLS Comeback Player of the Year.
Watch yesterday's goal: