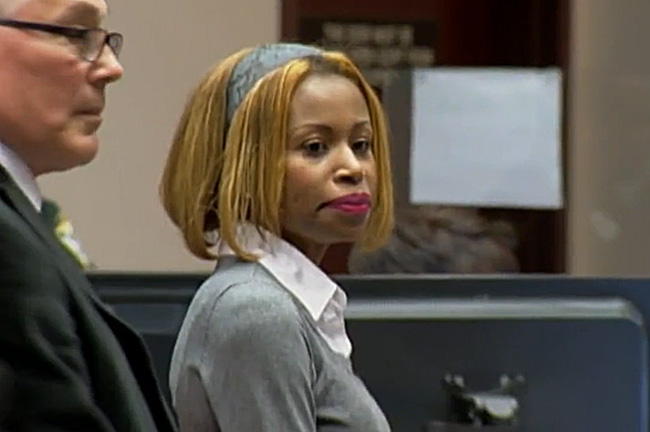 Ebony Wilkerson, who invoked God as she drove herself and three children into the surf off the sands in Daytona Beach in early March, was committed to a state psychiatric hospital for an indeterminate amount of time on Tuesday even as Circuit Judge Leah Case described the 33-year-old woman as "dangerous."
After a review of all medical reports, evidence, expert testimony, and after the court found Wilkerson not guilty by reason of insanity–she'd faced three counts of attempted murder and three counts of child abuse with great bodily harm–prosecutors' position was that Wilkerson needed to be committed for her own safety and that of her children.
Case ruled that Wilkerson met the criteria for forensic commitment. "We respect and agree with the decision made by Judge Case in this situation," the State Attorney's office said in a statement released this afternoon. "From the beginning of this case, our primary goal was to act in the best interests of Ms. Wilkerson's children, Ms. Wilkerson herself, and the community at large."
Although Wilkerson's actions were inherently dangerous and could have resulted in several fatalities that day, she was found insane at the time of the act. All evidence in this case, including evidence provided by experts retained by the state, the prosecution said, agreed that Wilkerson could not appreciate that the actions she was committing were wrong. Upon receipt of the expert findings, the state embraced and adopted those findings.
Wilkerson, who was pregnant at the time, drove herself and three children, ages 3, 9 and 10, into the ocean as bystanders rushed to stop her and rescue the family. As rescuers did so, Wilkerson implored them to leave her be, as she told her children that she was taking them to "a better place."
After evaluating expert opinions, prosecution and defense agreed to modify the criminal charges against Wilkerson, after confirmation by officials with the Department of Children and Families that treatment options and recommendations would not be affected. In doing so, a lengthy trial was avoided that would have caused unwarranted emotional trauma on the children in this case, the prosecution stated today.
"From the outset of this case, our office took affirmative steps to work with the defense to provide all the evidence in a timely fashion in order to reach a just and reasonable result," the State Attorney's office said. "This office never sought hospitalization as a punitive measure but as the treatment option recommended by our experts. Ms. Wilkerson will receive the crucial medical and mental treatment she needs to return to her children as a mother who can completely and safely raise her children."