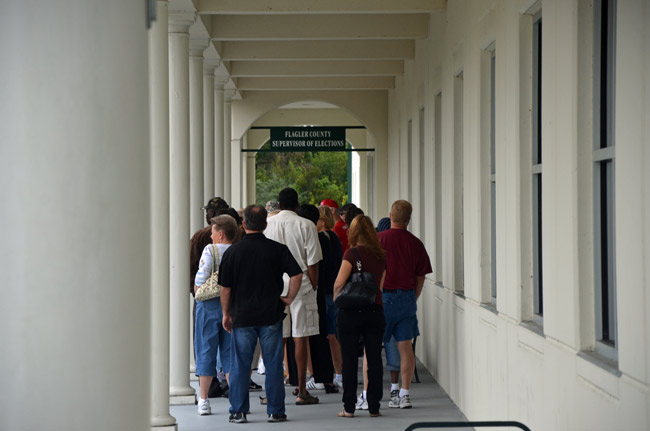 What voter enthusiasm?
The eight days of early voting in Flagler County were marked by long lines at the two locations where early voting was offered–the Flagler County Public Library in Palm Coast and the supervisor of elections' office at the Government Services Building in Bunnell. But compared to the outpouring of voters in 2008, the lines were deceiving: when the numbers were tallied, early voting had fallen significantly in Flagler County, in actual numbers and as a proportion of registered voters, when compared with 2008.
There are almost 7,000 more registered voters in Flagler County than in 2008, a 12 percent increase. Yet 2,552 fewer people cast a ballot in early voting, not counting absentee ballots. Proportionally, 36.6 percent of voters cast in-person early voting ballots in 2008, but only 28.9 percent did this year.
There's been an early-voting decline across Florida. But it was more pronounced in Flagler County. In Florida, 23.3 percent of registered voters cast a ballot in early voting in 2008. That was down to 20.4 percent this year.
Two factors contributed to the decline, and a third very likely did: First, the Florida Legislature cut back early voting days, from 14 to a maximum of eight. That lengthened lines and reduced opportunities to vote for many.
Second, Flagler County Supervisor of Elections Kimberle Weeks eliminated one of the the county's three early voting locations: the Flagler Beach City Hall, which was popular among Flagler Beach, Beverly Beach and Hammock residents. (The number of precincts county-wide was also reduced from 38 to 22, in part to save money, in part because, Weeks said, early voting has reduced the need for that many precincts.)
Third, voter turnout of 58.2 percent in the 2008 election, pitting Barack Obama against John McCain, struck a 40-year high. The previous high was the 1968 election, between Hubert Humphrey and Richard Nixon, that drew a 60.8 percent turnout. With Democrats far less enthused about Obama this year, and Republicans enthused, but not enthralled, with Mitt Romney, most analysts predict a lower turnout than in 2008.
The bottom line for voters on Election Day (Nov. 6) is that lines at polling places in Flagler County are expected to be shorter than during early voting, particularly since, in all, 43 percent of local voters have already cast a ballot, when absentees are included.
Some 1,700 more people actually filled out absentee ballots than in 2008, a healthy 18 percent increase. But the increase is much smaller (just 1.1 percent) when compared, proportionately, to the share of the voting population that cast absentee ballots in 2008: 12.9 percent percent did so back then, as opposed to 14 percent this year.
Overall, when combining early voting and absentee voting, 29,565 Flagler County voters cast a ballot before Election Day (out of 68,933 registered voters), or 42.9 percent. In 2008, 30,406 voters cast ballots, or 49.5 percent of the registered electorate.
Overall, 30.6 million Americans have already voted across the country, with some early voting and absentee ballots still to be tallied. In Florida, 4.5 million voters have cast a ballot, with Democrats holding a small edge over Republicans (of 167,000 ballots, well below the 2008 edge). When looking at just absentee ballots, Republicans hold a 79,000 ballot edge.