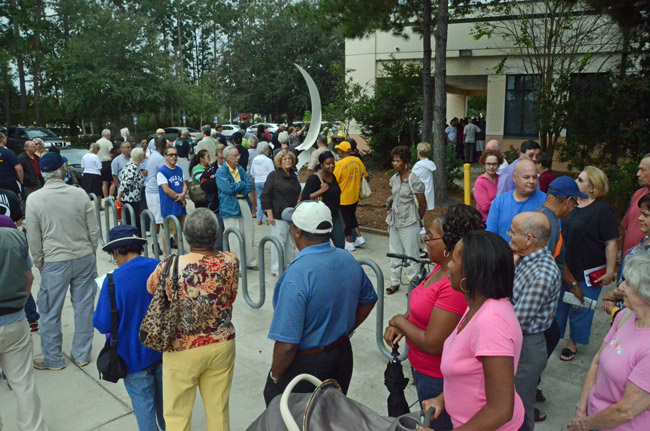 Some pushed strollers, some held their toddlers, a few had iPads, some had their sample ballot or a newspaper, but most had nothing at all and just stood, waiting their turn as a long line snaked out of the early voting site at the Flagler County Public Library and around the building. For much of the day it took an hour or more for voters to make it from the end of the line to the voting booth.
Similar story at the Government Services Building, where another early voting site was set up inside the Supervisor of Elections' office, though the line there was shorter even as it thickened with people migrating from the library in hopes of voting more quickly.
By the time polls closed at 5 p.m., 2,172 people had voted on the first day of Flagler County early voting.
"It was a very nice atmosphere. Everybody is happy, everybody is pleasant," Mary Lipa of Palm Coast said after voting at the library with her husband, Bill. It had taken them almost an hour to make it into the voting booth. But the weather was just right: overcast, mild, a cool breeze.
"I'm glad there's lines," said Supervisor of Elections Kimberle Weeks. "It means people are voting. Lines are good, lines aren't a bad thing. It's when you wait out here all day and 200 people vote that it's a bad thing."
Weeks, a Democrat, is herself a candidate and has one overwhelming advantage over her opponent, Republican Trey Corbett: she gets to be inside the voting precinct that she's managing at the Government Services Building, where she can (and does) show her face to voters, speak to them, take their ballots. She gets to do that because she's the supervisor. Any other candidate is prohibited of stepping within 100 feet of a voting precinct. Florida law has yet to resolve the contradiction involving supervisors of election.
Corbett was at the library, outside the 100-foot line, campaigning with a sign and taking in the long lines.  "I love seeing democracy in action. I've felt a sense of resurgence with people who want to vote and have their voices heard at the polling places," Corbett said. "As a veteran, it warms my heart to see people who care this much."
It's not unusual for Flagler County. Still, despite the appearance of a large turnout, early indications are that it may not necessarily match that of 2008: Saturday's turnout may turn out to be deceiving.
In 2008, when Flagler County's voter turnout of 82.1 percent ranked fifth out of 67 counties, some 30,500 of the 49,300 ballots cast were either through early voting or absentee ballots. In other words, 62 percent of the ballots were cast before election day.  By the time election day rolled around, wait times at polling stations did not often exceed 10 minutes.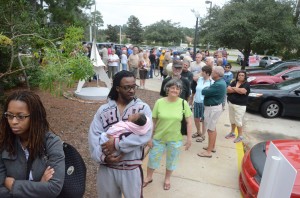 In August, about twice as many voters took part in early voting as did voters who cast an absentee ballot in the primary election. If the same break-down holds for the general election, early voting tallies would have to add up to at least 2,500 per day just to match the tally of 2008. But they would have to be well above that number to match the early voting turnout of 2008, since there are 7,500 more registered voters in the county. (In 2008, some 61,400 Flagler County residents were registered to vote. For this election, 68,933 Flagler County residents are registered to vote, an increase of 7,533 voters, or 12 percent.)
In sum, 44,800 voters would have to vote early or by absentee ballot to match the early or absentee turnout of 2008. Excluding absentees, about 30,000 people would have to cast a ballot in eight days of early voting to match the 2008 turnout. That's an average of more than 3,700 voters per day—nowhere close to today's tally.
In 2008, Flagler County had three early voting locations. The third was at the Flagler Beach City Hall. This year, it only has two. Weeks told the Flagler County Commission that turnout at the Flagler Beach site was not high enough to justify it as an early voting location.
The Legislature is to blame for cutting down the number of early voting days. In 2008, Flagler County voters (and voters across the state) had 12 days of early voting. Not this year, when they'll have just eight, though in contrast with 2008, voters are getting weekend early voting hours, including Sundays.
Despite Saturday's relatively large turnout, there will not be a third location added for this election. Weeks said she tried to get the Palm Coast Community Center added as a location but the state would not agree, because the community center, she said, is not an official government location such as a city hall or a public library. What about the Flagler Beach City Hall? Not an option, Weeks said, because she would have had to give the state 30 days' notice for it to be approved.
The August primary, which also offered voters just two early voting locations, a total of 5,108 voters cast a ballot during the eight days of early voting (or 7.6 percent of registered voters), and 2,505 (3.7 percent) cast an absentee ballot.
All statistics aside, early voters like the Lipas were intent on making their mark. "The guy that's in there now hasn't done a really good job for us," Mary Lipa said, "the guy running against him, the only thing you can say about him is, he's not Obama, and maybe he'll get a chance to do something different."
"I'm personally opposed to the two-party system," Mary's husband William said. "I think everybody should run as an independent so that the person who's elected is only beholden to the electorate."
Both Palm Coast voters, originally from Maryland, had cast their first ballot in the 1964 election opposing Barry Goldwater to Lyndon Johnson—for Goldwater. They laugh now about that vote (Johnson won in a landslide, taking 486 electoral votes to Goldwater's 52, and 43 million votes to Goldwater's 27 million).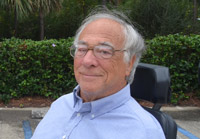 So does James Richardson, 66, who also cast his first vote for Goldwater. But he was turning out to vote for Barack Obama Saturday, at the library, with his wife Cindy. "I want to make sure that we give the president four more years because I believe he's the first president in my lifetime who really cares about the poor and the middle class, and also I'm ardently opposed to Romney enriching the rich more."
What about that vote for Goldwater in '64? "I guess he was the last of the real conservatives," Richardson said.
"Then they became the conservatives without a conscience," Cindy Williams said, citing the book by John Dean, the Nixon White House counsel.
As a reporter was standing in front of the library, an older man with a Mitt Romney bumper sticker plastered to his chest walked by, angrily fulminating about a Romney sign that wasn't being prominently displayed somewhere, and stating that the election was very important to "get rid of this crap that we've got now," presumably Obama.
Rawle and Nadine Stephens had also turned out to vote early, both standing in line almost an hour by the time a reporter spoke to them—Rawle with a his 15-month-old daughter Ariana in his arms. The election, Rawle said, is "very important, because first of all it's about the kids. If the country is headed in the right direction, then the kids will be fine. If not, then the kids will be struggling."
Ariana was asleep as her father and mother waited to make their choice.
"No matter what happens or how this turns out," Mary Lipa said, "at least we're better off than any place in the world."
The outcome on November 6 may yet cast doubt on that certainty.