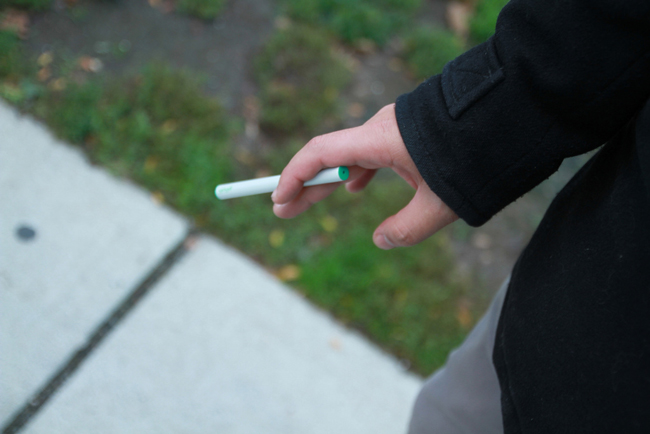 Nobody in the Capitol, it seems, wants minors to buy electronic cigarettes.
But an effort to ban sales of the trendy nicotine-delivery tubes to people under 18 has run into controversy in the state House.
Health groups and local governments are criticizing a bill (HB 169) that would ban e-cigarette sales to minors because the measure also would prevent cities and counties from passing their own regulations on the sales of electronic cigarettes and tobacco products.
Palm Coast, Bunnell and Flagler Beach last year year all passed resolutions aimed at discouraging the sale of candy-flavored tobacco products. The resolutions did not have the force of law. But the proposed bill would make local government intervention in such matters illegal.
The House Regulatory Affairs Committee on Thursday voted 12-5 to approve the bill, after the proposed ban on local regulations — known in Tallahassee-speak as state "preemption" — drew criticism from groups such as the American Lung Association, the American Cancer Society, the Florida League of Cities and the Florida Association of Counties.
Rep. Frank Artiles, a Miami Republican who is sponsoring the bill with Rep. Ronald "Doc" Renuart, R-Ponte Vedra Beach, said the bill seeks uniformity in the regulation of sales. Among the backers of the bill is the Florida Retail Federation.
"We can't have 415 cities and 67 counties doing different ordinances," Artiles said.
Electronic cigarettes have become increasingly popular as they allow users to inhale vaporized nicotine without all the health risks of smoking regular cigarettes. While supporters point to those health benefits, critics of "e-cigarettes" warn that the devices can hook people on nicotine, which could lead to use of other tobacco products.
The Senate has already unanimously passed a bill (SB 224), sponsored by Senate Majority Leader Lizbeth Benacquisto, R-Fort Myers, that would ban the sale of e-cigarettes to minors. But that bill does not have the controversial preemption of local regulations.
A House analysis said several cities and counties, including Clay County, Alachua County, Indian River County and Marion County, have passed local regulations about e-cigarettes. As an example, Clay County passed an ordinance in 2013 that regulates the sales, marketing and public use of the devices, according to the analysis.
Casey Cook, a lobbyist for the Florida League of Cities, objected to the part of the House bill seeking to prevent local regulations, saying cities and counties should be able to "respond to their constituents."
Artiles said his preemption proposal only addresses regulation of the sale of e-cigarettes and tobacco products, not other issues such as the use. Also, he said the proposal is aimed at preventing local governments from passing new regulations and would not affect already-existing local regulations.
But preemption has long been controversial on smoking-related issues. For example, state law bars smoking in most indoor workplaces but also does not allow local governments to pass tougher smoking restrictions.
Brenda Olsen, chief operating officer of the American Lung Association in Florida, said such preemption laws interfere with efforts to help protect people's health.
But Rep. Jose Felix Diaz, R-Miami, questioned opposition to the bill, pointing to growing use of electronic cigarettes among middle- and high-school students.
"This bill is getting these products out of the hands of children up to the age of 18," Diaz said.
–Jim Turner, News Service of Florida