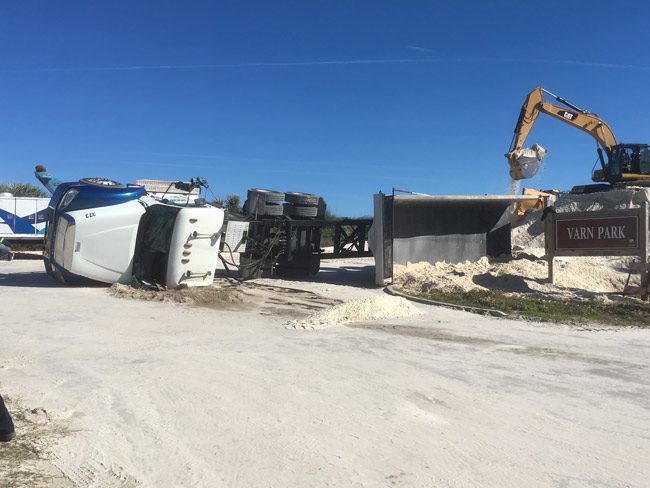 A dump truck used in the year-long project to rebuild Flagler County's dunes along the shore overturned while dumping a load of sand at Varn Park this morning. The driver was shaken up but unhurt.
"We responded but there were no injuries," Flagler County Fire Chief Don Petito said.
The 42-year-old driver had a minor laceration on the forehead. There was also a small fuel leak, according to the sheriff's dispatch notes on the incident. The Flagler County Sheriff's Office initially responded to the crash scene, then turned it over to the Florida Highway Patrol, which called in a heavy wrecker. The truck overturned at 10:10 a.m.
Varn Park off State Road A1A north of Flagler Beach, closed weekdays since mid-February, is the staging area for 26 dump trucks that have been making 100-mile round-trips three to four times a day to Gainesville to bring in what will total nearly 800,000 tons of sand that several tracked crawler trucks then redistribute along the shoreline (see the trucks in the image below). The $28 million project is led by Flagler County government's public works department. Dunes demolished or diminished after hurricanes Matthew and Irma are being rebuilt over 12 of the county's 18 miles of shoreline.
The driver was dumping the load within the park's parking area, not on A1A. "He got out on his own, no hazards, we responded just out of precaution," Fire Rescue's Richard Bennett, the battalion chief at the incident, said, noting that incidents of the sort are not uncommon at construction sites.
Work began on the project on Jan. 22 at Washington Oaks Gardens State Park and has been progressively moving south since. Vulcan Materials Company contractor is providing the sand from Gainesville and the drivers who truck it in. A crew of about 10 county workers logging some 50 hours a week carries out the work beach-side, dumping 3,000 tons of sand per day and building 14-foot dunes.
"Just glad everyone was ok," County Administrator Craig Coffey said in a text this evening, saying it was his understanding that there'd not been injuries in connection with the dunes project so far.