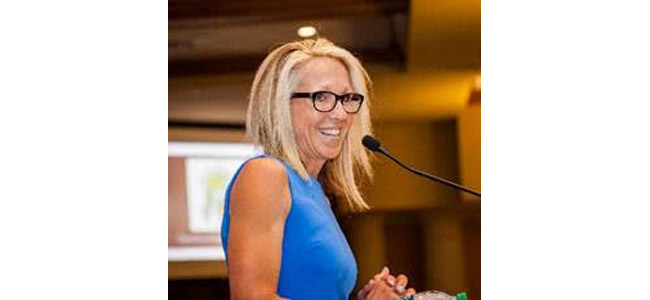 Daytona State College's Center for Women and Men kicked off its 41st year of serving the area's most vulnerable adult populations at the annual Women's History Month luncheon that recognized its founders and honored local activist Cherise Wintz for her fundraising efforts on behalf of Operation Changing Lives, a Daytona Beach-based non-profit medical service organization.
The March 30 luncheon also served to announce a matching challenge grant by longtime DSC friends and patrons Andrea and Larry Frank, who agreed to match donations aimed at supporting programs offered through the Center for Women and Men.
For nearly a decade, Wintz has helped raise thousands for Operation Changing Lives, which is dedicated to providing reconstructive surgeries to disadvantaged men, women and children suffering from facial disfigurements. Through a variety of annual fundraising events, the longtime owner of Cherise's Salon and Cherise's Heavenly Fitness has helped support the organization's ability to expand its scope and bring toys and holiday cheer to hundreds of special needs children attending area schools.
"Today we honor a true trailblazer in Cherise Wintz for her dedication and service to others," said DSC President Tom LoBasso in welcoming the capacity crowd to the event, held in the college's DaytonaBeach Campus Hosseini Center. "When she sees a need, she steps up to make a difference."
Also stepping up at the luncheon were the Franks, who committed to match dollar-for-dollar donations to the DSC Foundation dedicated to the center – up to $10,000. "Andrea and Larry, we can't thank you enough for your generosity and commitment to our mission," said center Director Erin LeDuc. "On behalf of the entire college community and, in particular, the students served by the Center for Women and Men, please accept our sincere thanks and gratitude."
The Franks noted they were moved to support the center's most recent extension of services to DSC students and the community. "Larry and I are excited to kick off this challenge during today's luncheon," said Mrs. Frank. "We have witnessed first-hand the work that is done here and the way the Center for Women and Men is now expanding its programs and services to reach out and help lift the lives of even more people. It is truly life-saving for so many, and we are delighted and honored to be a part of that effort."
By the time the luncheon ended, other donors had already committed nearly $1,300 to the challenge.
The theme for Thursday's luncheon was "Celebrating Trailblazers in Our Community." Fittingly, program organizers also recognized the center's founders Ellen O'Shaughnessy and Deortha (Dot) Moore. In 1976, the now retired faculty members shared a vision to help remove barriers to education for women. Theirs was a mission founded on the premise that education and workforce training in a supportive and nurturing environment can lead one out of poverty and uncertainty into a life of independence, self-sufficiency and purpose.
Originally called the Women's Center, for decades its focus was on helping displaced homemakers with little-to-no work experience, women who because of divorce, widowhood or other circumstances would come to learn new life skills, gain self-confidence and train for employment. Today, the Center for Women and Men reflects an expanded mission and scope dedicated to serving the needs of all students seeking to find their place in the ever-changing social and economic landscapes of our communities.
In addition to anchor programs such as Fresh Start, New Directions and CCAMPIS, the center has become a hub where all students in need can seek out services and help in one central location. The center's new Falcon Fuel food pantry is helping to mitigate food insecurity among DSC students, an issue that, along with homelessness, has become a growing concern with colleges and universities across the nation. The center also provides temporary emergency bus passes to help students get back and forth to classes, and a lending library helps students offset the cost of textbooks. Further, students wanting to achieve a professional image for job interviews can use the center's Clothes Closet to look their best.
For information on how to donate to the challenge grant, visit donate.daytonastate.edu or call (386) 506-3110.