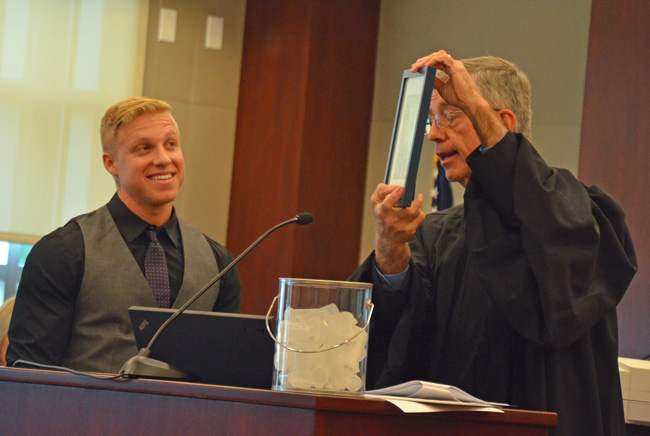 It's one of the rare times you'll hear sincere applause in a courthouse, and see more smiles than scowls, and hear a judge hand down more congratulations than punishments, and see the most remarkable metamorphosis of all: individuals who only a year or so ago had been in shackles and orange jump suits, charged with felonies, facing jail terms and looking the part of their jail-booking mug-shots–grim, downcast, resentful–now looking their best, in suits, ties, business dresses, and wearing the surest smiles of the afternoon.
It's Drug Court graduation, when ex-convicts see their probation terms ended, their felony conviction thrown out, and the lives they'd seen spin out of control now reclaimed. It isn't an occasion without tears and sniffles. You can hear and sense those in the audience—audiences larger than for most court proceedings. But they're the same sort of emotions that drench high school and college graduations, when pride and celebration skirmish with relief.
So when Flagler County Circuit Judge J. David Walsh described today's graduation ceremony as "quite a thing to watch in the way that we do things," he was not exaggerating. "It's great being part of something greater than yourself," said Randy Burke, a member of the Drug Court foundation board and until a few weeks ago the second in command at the Bunnell Police Department.
Five men and women graduated today: Claudia Payes, Jacob Robertson, Amanda Parker, Morgan Morris, and Adam Calandra (who was absent). They accumulated 1,824 clean days between them, paid back all or most of the restitution they owed, hold jobs, attend school, and in two cases are in the process of regaining custody of the young children they had lost because of their addiction. In sum, they were resilient proof of County Commissioner Charlie Ericksen's theme, when Ericksen—who always attends Drug Court ceremonies–delivered today's keynote speech: "Drug Court works."
The first people to say so are the graduates.
"It was truly an honor to be able to participate in this program a second time, and I know that's something that doesn't usually happen," Jacob Robertson, who turned 24 on Wednesday, said. "It's given me a second chance at life. It wouldn't have been as easy without the beautiful support I had from my family." He spoke of the importance of participants' commitment. "It's something you really need to think about because chances like this don't come around all the time, and it's a beautiful thing. Thank you."
Payes left many in the audience in tears as she described her journey from addiction to recovery by way of addressing the people her addiction affected along the way, not least herself, and dedicating her words "to all the families and friends of addicts."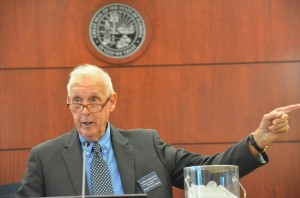 "I wanted to let you know as loved ones that we are so incredibly sorry for everything we've put you through," Payes continued. "Even if we haven't expressed it, yet, we are sorry for the wrong, the sleepless nights, broken promises and stealing of money and time. We're sorry for ruining holidays and special occasions and the embarrassment we've caused. We're sorry for all of the pain, arguments and stress. Please understand that we never intended to hurt you all. Those of us who have been burdened with addiction know it's a disease. It's not an excuse for our behavior. But I want you to know that drugs and alcohol are capable of completely controlling our lives and all of our actions."
She concluded with her harshest words—addressed to her addiction: "You have overstayed your welcome. It's time to go. While you were here you changed me, not for the better. I invited you in and created a monster. I protected you, glorified you and made excuses for you. You took over and I lost all control. But now it's different. Your power no longer controls my life. Day after day I get stronger."
The applause was quite loud, and even the judge, it appeared, was moved.
---
Saving thousands of dollars per graduate while repairing lives away from the degradation of prison.
---
Walsh presides over every ceremony, which are actually official court sessions, though he doesn't preside from the bench. He stands alongside the graduates, at the same dais from where the accused and the convicted usually face him. The dais in these ceremonies is turned to face the audience. The graduates are seated along the bay windows. The Drug Court Foundation's board members and drug court staff sit where the clerks usually sit. Walsh introduced every graduate by listing their accomplishments on the way to recovery, he handed out graduation certificates, a small engraved medallion ("where treatment and justice meet"), and that small but significant gesture convicts ex or no ex, rarely get: the judge's handshake.
Every graduate spoke, a former graduate—Jenel Buxman, class of March 2012—and another performer, Stefanie Fawley, sang, and several people in addition to Ericksen spoke. Among them was a Putnam County judge, Elizabeth Morris, whose own niece, Morgan Morris, was a graduate. Morris broke new grounds: her case was overseen by Walsh because she lives in Putnam and the Drug Court judge there is, well, Morris. "This is just an example that drugs can touch every family and every life," Morris said. Morgan herself could not speak for long, tears having cut her off. "I know I put you through a lot, but this time I'm changing for the better," she told her family.
Drug court began in Florida in 1989, in Miami-Dade County, and is now a nationwide diversionary program. The concept celebrated its 25th anniversary this year. Drug courts number 2,700 in the United States, and annually refer more people to successful program than any other diversionary program in the country. Participants have to be non-violent felony offenders. The State Attorney's Office and the presiding judge must be willing to send them to drug court. They must be willing and have to be accepted in a strict treatment program. They have to succeed in the program. "We want everyone to succeed but if one does not succeed in drug court, then the likely outcome will be a term of incarceration," Walsh said.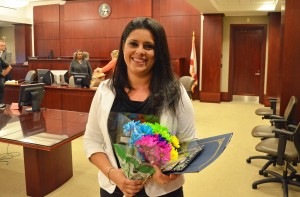 Flagler County's Drug Court has enrolled 213 participants, including 36 currently, graduated 101 and transferred 25. Walsh said 64 percent of new graduates have stayed clean of new charges, 75 percent have had no new felony charges, and 92 percent have had no new drug charges. Some $4,000 to $12,000 is saved per client, by eliminating jail and other court costs. A January 2014 report by the non-partisan legislative Office of Program Policy Analysis and Government Accountability summarized the findings of so-called "expansion drug courts" in eight counties, established in 2009 with a $19 million federal grant. The Florida Legislature picked up the cost in 2013-14, appropriating $5.8 million. The report found that drug courts significantly reduced the likelihood of re-offending, though it also found that counties with more access to treatment had far higher success rates than counties with poor access to treatment. (See the full report here.)
"[I]f all of the 769 successful completers had been prison bound, the state would have saved $7.6 million by assigning those offenders to drug court," the report found. (But the savings are reduced when drug courts serve non-prison bound offenders.) Walsh cited some of the report's findings but kept it to a minimum, focusing instead on the graduates' achievements, as did all speakers.
When Liz Williams, president of the Drug Court foundation, spoke—the foundation pays, through donations, for gifts and incentives to drug-court participants—she knew every graduate beyond their names. "You guys have given me so much inspiration and enjoyment watching you grow over the past year," Williams said, calling Morris "my little soul sister," Payes a "ray of sunshine," Parker "the most kind soul," and reserving for Robertson "a special place" in her heart.
Ericksen concluded his words with tenacity advice of his own. "I'd like to emphasize to you that the thought process that you have just completed can be used again," he told the graduates, "with other life challenges, by employing the same techniques"—identifying challenges, involving others for guidance, not accepting anything but maximum effort, staying on plan, "and get it done." He was speaking from experience. Ericksen a week ago completed a nearly 25,000-mile bike trek he began in 2008, equivalent to the circumnavigation of the globe at the equator. "In closing though, it is you the graduates who are the shining stars today," Ericksen said. "You are the big winners."