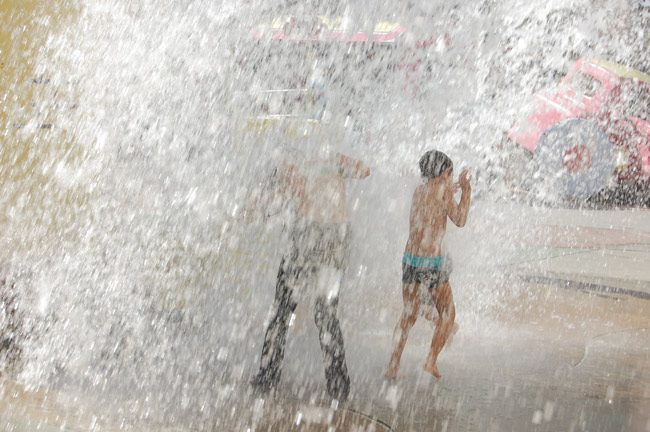 The heavy rains of the last three days did more than sweep away burn bans in Flagler and many other counties. It ended, or at least significantly reduced, drought conditions that have been taxing the region, leading to water restrictions, brown lawns and heightened fire dangers.
According to Flagler County Emergency's Bob Pickering, northwest Palm Coast got 3.84 inches, Northeast Palm Coast got 3.77 inches, Bunnell got almost 3 inches, and Flagler Beach got just under 2 inches. The figures are based on weather spotters' reports. According to the National Weather Center, northeast Palm Coast topped 4 inches.
And those were the lower totals, compared to other areas of Northeast and north-central Florida, where storm totals topped 8 inches in parts. Counties especially drenched were western Putnam, central Alachua (with 6.6 inches in Gainesville), and Gilchrist counties. Interlachen got over 5 inches.
When the Climate Prediction Center released the weekly drought monitor this morning, as it does every Thursday, it indicated a big decrease in counties affected by dry or drought conditions throughout the Southeast–and those numbers are actually understated, because they only take into account rains that feel through Tuesday. A lot of rain fell on Wednesday into Thursday as well.
At the start of the year, 74 percent of counties in the region reported abnormally dry conditions, and 58 percent had either moderate to severe drought conditions. (The numbers don't add up to 100 because many counties generally have two to three different conditions within their geography.) As of today's report, fewer than 25 percent had abnormally dry conditions, and only 21 percent of counties had either moderate or severe drought conditions. The next update will be published on June 15th, and it will more accurately depict the remaining drought across the area. Still, the widespread heavy rain greatly benefited counties in a state of drought.
According to the National Weather Center's briefing this afternoon, "The combination of a deep tropical air-mass and an anomalous trough of low pressure provided an ideal heavy rainfall scenario that substantially decreased the drought across the area over the last three days. Overall, severe weather, outside the flooding, was minimal with only one tornado, which was a confirmed EF-1 tornado in St. Johns County, near US-1 and 206."
Some areas, specifically across Gilchrist and Alachua county, received flooding due to the high rainfall rates that came in multiple waves. These locations as well as others in the nearby counties saw rain totals from 5 to 8 inches. Portions of Duval county, including the I-295 corridor and eastward toward the beaches, avoided the heavy rain. Despite this, the majority of the area saw heavy rain which will ultimately lead to the much desired drought relief across the region.