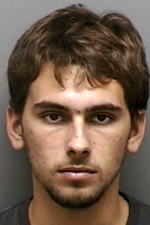 Donald Flynt, the 25-year-old son of Bunnell City Commissioner Jimmy Flynt, was jailed on Friday (Feb. 11) on a charge of obtaining property by fraud, according to a Flagler County Sheriff's Office report.
On June 11, 2009, Flynt, of 600 East Holden Ave. in Bunnell, drew up a lease agreement with Z-Best for a 50-inch Sanyo plasma television valued at $719. Flynt never paid for or returned the television, according to a charging affidavit filed in October. The store attempted to contact Flynt by phone and certified mail without success, then opted to file charges.
Flynt posted $2,500 bond.
Jimmy Flynt, 51, owner of Saxon's Wrecker service in Bunnell, has been a city commissioner since March 2003. He is running for reelection in next month's city commission race, along with Commissioner Jenny Crain-Brady. Three challengers have filed, in addition to the two incumbents, for the two seats.