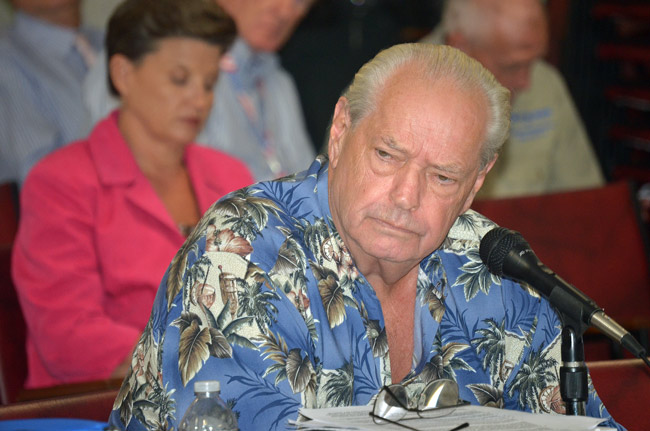 There's something about Dick Holmberg and information. Three local government agencies have been asking him (or his proxies) for details about what he does, how he does it, how he ensures that what he does works. The agencies have a right to ask: Holmberg proposes to conduct an analysis as a pre-requisite for an erosion control system for Flagler Beach, but at a cost of $50,000. Flagler County taxpayers would be billed.
So the Flagler County Commission, the Flagler County Tourist Development Council, and the Flagler Beach City Commission have been asking questions about making Holmberg's proposal accountable. He's not been forthcoming with answers. (Holmberg technologies would use what Holmberg calls underground "stabilizers" along the shore that would, over time, rebuild the shore's sands.)
Flagler Beach City Manager Bruce Campbell has been at the forefront of trying to get the questions answered, with little success, even though the Flagler Beach City Commission agreed on April 23 to have Holmberg do the analysis. But Flagler Beach wants the county's tourism council to put up the money.
When Campbell was ready to appear—without Holmberg—before the tourist council a few months ago, the council pulled the item from the agenda, and instead sent Campbell (and Holmberg) a list of 13 questions that revealed Holmberg's dearth of transparency. The council and the county don't award grants absent rigorous measures that take in account the scope of the work, timelines, insurance, examples of previous works, and so on.
Flagler Beach City Commissioner Steve Settle, the city's representative on the tourism council, took issue with the item's withdrawal, and got into a bit of a tussle with Milissa Holland, the county commissioner and chairman of the tourism council. She explained that before Holmberg's proposal could even be considered by the council, it had to meet minimum requirements of disclosure. And she said the tourism council, the county and the Flagler Beach commission could meet together to hear Holmberg present. Settle was satisfied.
That joint meeting took place today. It was not entirely reassuring to the members of the three panels sitting around a set of tables, as Holmberg alternately lectured, hectored, cajoled and even reprimanded them for asking certain questions or bringing up some of his history, such as his technology's removal from a beach in Florida in the 1980s. "I don't know what your problems are, but they're not my problems," Holmberg said, disputing a series of questions asked of him.
That got a rebuke from Holland, who reminded Holmberg that all the panel were asking for is reliable information about budgets and other essentials of any contract. Alan Peterson, the county commissioner, was seeking peer-reviewed studies showing that Holmberg Technologies' product works. Holmberg referred him to Save Flagler Beach, the web site set up by his advocates locally.
"I'm not really looking for a website covered with pictures, I'm looking for actual studies," Frank Meeker, the Palm Coast City Council member who represents the city on the tourism council, said. Meeker is also running for the county commission. (Both of his opponents, Dennis MacDonald, whose wife is part of the Save Flagler Beach movement, and Abby Romaine, were in the audience.)
And when Holmberg passed off questions to Campbell, Jane Mealy, who chairs the Flagler Beach City Commission, said: "Bruce is no more able to answer these questions than I am or Kim [Carney, another city commissioner] is or anyone else is. Mr. Holmberg is able to answer these questions." That was toward the end of the meeting, by which time there was no more clarity about the panels' questions than at the beginning. In the interim.
Holmberg had made a presentation about his works, and was frequently and visibly annoyed by interruptions—common at such workshops, being designed to enable questions and understanding—for various explanations, causing him to rebuke panelists for "getting off track." Barbara Revels, the county commissioner and chairman, also attempted to keep him focused on answering questions, but with little success.
Holmberg several times referred to the innumerable projects he'd worked on. "I've done a lot of this work, thousands," he said, noting that he'd worked with senators and congressmen and knew his way around "getting these projects placed." On his website, two projects are used to illustrate his company's success: in an area of the Great Lakes, and along a private section of the Saudi Arabian shore, where he says he developed a project for Saudi Aramco, the world's largest company (by wealth value), but also one of its most secretive.
A check of Holmberg Technologies through NewsBank, a database of several thousand worldwide newspapers, newswires, business journals, government documents and other sources going back a few decades, reveals just 58 mentions of Holmberg Technologies since 1998, most of them related to his attempt, for the past seven years, to win converts and a contract in Flagler Beach. He has converts. He almost has a contract. But he is still far from having the sort of long-term contract that would see his technology in seawater locally.
The U.S. Army Corps of Engineers, among other agencies, would have to permit the project. Holmberg does not have a good track record with the federal agency, his recurrent bête noire over the years. Holmberg has long claimed that the corps has a vested interest in dredging, which is why it opposes Holmberg's own, allegedly simpler, less expensive and more effective alternative.
Corps representatives at another meeting in Flagler Beach on the issue, back in September, at which Holmberg was present, said that Holmberg was not forthcoming with information they'd required, and so were not likely to permit his project. Holmberg disputed the claim. But today's meeting brought out the same refrain, itself a repeat opf what several Flagler Beach city commissioners had complained of at a meeting of their own a few weeks ago—after granting Holmberg the potential $50,000 analysis go-ahead.
"I can't make much sense out of it whatsoever," Flagler Beach City Commissioner Joy McGrew had said then. "If we decided to give the $50,000 or put the $50,000, he's going to have to earn it." Mealy had compared Holmberg's proposal to "two pieces of paper with child-like drawings on it."
Gov. Rick Scott's administration is not keen on Holmberg, either. "The Holmberg Undercurrent Stabilizers have not been thoroughly tested or evaluated by appropriate scientific methods to demonstrate the product's potential for success," Andrew Grayson, a policy coordinator in the governor's policy and budget office, wrote Patricia Brown of Save Flagler Beach in October. "Nor has the product been evaluated for potential adverse impacts associated with deployment along an open coast shoreline such as Florida's Atlantic coast." Grayson said it was local government's responsibility to pursue design alternatives, but then noted Holmberg's one Florida project that did not end well. "That project was constructed in violation of the issued permit and was eventually ordered to be removed by the governor and cabinet," Grayson wrote.
Holmberg wasn't without friends, then or today. Settle, the Flagler Beach city commissioner, has been his staunchest advocate. His supporter on the county commission is Nate McLaughlin, who at one point went so far as to suggest that the coast was nearly clear for Holmberg, if a few questions were answered. "If you bring that clear picture back, you may end up with a go-forward here," he told Campbell, the Flagler Beach city manager. "If this is what you've chosen, you have my support. It's out of the box." McLaughlin's point: "Either we do nothing or we do something. If we do something, maybe we're wrong, but if we do nothing we'll never know," McLaughlin says.
What today's meeting achieved wasn't entirely clear, other than to repeat a request to Holmberg to be more forthcoming with information and to report that information to Campbell, who would again attempt to win the tourism council grant by presenting what he has. So far, Campbell is himself not convinced he has much to work with. "There's not a lot of meat around the bone in my mind," Campbell said.