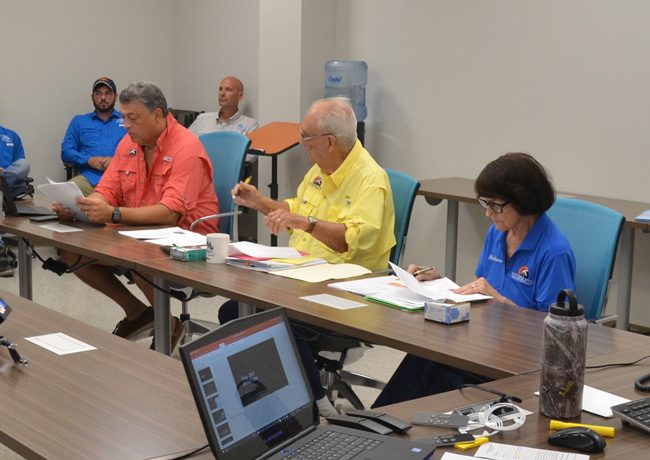 Florence Fruehan, the former physician elected to the East Flagler Mosquito Control District board in 2016, is no longer serving on the board, pending the resolution of two felony battery charges against him.
Gov. Ron DeSantis signed an executive order on Jan. 28 suspending Fruehan from the three-member board. The order states "it is in the best interest of the residents of Flagler County, and the citizens of the State of Florida, that Florence Robert Fruehan be immediately suspended from the public office."
The order adds that Fruehan is "prohibited from performing any official act, duty or function of public office," including receiving any pay or privileges emanating from his service at the district.
Fruehan is still listed as the three district commissioners on the district's website, but he hasn't been attending meetings, Mark Positano, the district executive director, said today. The board in effect now consists of long-time member Julius Kwiatkowski and Barbara Sgroi, who seldom if ever disagree: Positano said there is little risk of tie votes at the district board's monthly meetings. "There's very little dissent on the board," Positano said. 
Fruehan was for many years a busy and relatively popular physician in Palm Coast, known in particular for "pain management." His fortunes collapsed precipitously starting last year, when a female patient in a complaint to the state Department of Health accused him of groping her inappropriately when she was visiting his clinic for a prescription. The complaint led to a state investigation that Fruehan ended by agreeing to surrender his physician's license and never practicing medicine in Florida or elsewhere.
Fruehan had until then faced three criminal charges–two battery and one for a sexual assault-but the charges were dropped each time. The Flagler County Sheriff's Office filed a fourth charge in light of the Health Department's investigation. It was also dropped. The Sheriff's Office in January arrested him on two new felony battery charges against Fruehan–felony, because the alleged victims are over 65. Both were alleging inappropriate touching during visits to Fruehan's clinic.
Fruehan was due for arraignment in circuit court on both charges Tuesday, when the cases were set for pre-trial conference on April 10. He's being represented by Winter Park attorney Warren Lindsey. The prosecution filed an intent to introduce additional evidence from several other patients reporting similar allegations of inappropriate behavior by Fruehan.
He was elected to Seat 3 of the district board in 2016 by defeating  Aynne McAvoy with 56 percent of the vote. It's a four-year term.