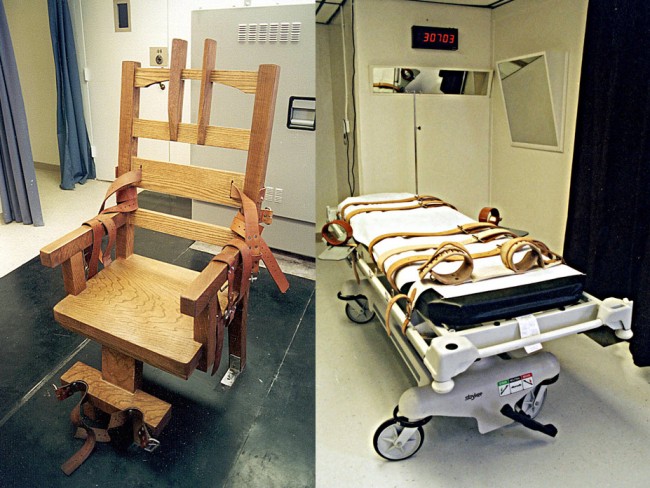 Read the story of the March 23 workshop here.
Surely you've seen her. Every time Florida executes a prisoner—as it's done six times in the last three years and will do so again on April 10—Jackie Morelewicz stands with her husband or a few others on State Road 100, in front of the Flagler County Courthouse, with signs protesting the death penalty.
It's a long-standing effort with a few distant local echoes. Father Phil Egitto, the pastor at Our Lady of Lourdes in Daytona Beach, takes a bus to Starke, the state prison and death chamber, every time an individual is put to death, and joins vigils there. Mark Elliott, a property manager, also joins the vigils and leads the Clearwater-based volunteer group called Floridians for Alternatives to the Death Penalty, advocating for life without parole rather than the death penalty, a move that would save the state $51 million a year that could be better spent on victim services or pursuing colder murder cases.
Elliott points to the 24 people exonerated from Florida's death row, the highest number in the nation—and one exoneration for every three executions—as evidence that the state's capital punishment machinery is fatally broken. Among those exonerated: Seth Penalver, who was sentenced to die for the 1994 triple murder of a nightclub owner and two others in Miramar, until the Florida Supreme Court ordered a new trial. In December, Penalver was found not guilty on all counts, and was freed. Similar story with Herman Lindsey, who spent three years on death row for the murder of pawn shop clerk Joanne Mazollo in 1994. He was exonerated in 2006.
On Saturday, Morelewicz, Egitto, Elliott, Penalver and Lindsey will all be at Santa Maria del Mar Catholic Church in Flagler Beach for a day-long community workshop entitled "Florida Death Penalty: A Broken System." The panel will also be joined by Natishia Stevens, a regional organizer with the Florida ACLU. The workshop begins at 10 a.m. and concludes at 3 p.m., with an hour's break for lunch, which is included in the $5 registration price.
The workshop is the third in an annual series Morelewicz has been organizing with a dozen people from the church to "make our community and our church aware of social issues," she says. Last year's workshop focused on human trafficking, drawing 50 people. The year before a workshop on homelessness drew 80 people.
"I think morally ethically, financially, it's bad policy," Morelewicz says of the death penalty. "If you look at the countries that have the death penalty: China, Iran, Iraq, Pakistan and the United States. There's a total disconnect right there."  She added, "I welcome the dialogue at the workshop. I don't have the answers. I hope that people listen to Mark and to Seth and to Herman. But I love dialogue. Dialogue is very important."
The American Catholic Church is more categorically opposed to the death penalty (on the same ground that it is opposed to abortion) than the Vatican, which leaves a very small door open for executions in "very rare" cases, in Pope John Paul II's words. "We the Catholic Bishops of Florida affirm the dignity of every person, both victims and offenders," the Florida Catholic Conference of bishops announced last October. "We reject state sanctioned killing and ask the State of Florida to join the growing number of states who have rejected execution and enacted the option of life in prison without possibility of parole." Ironically, the Catholic Church instituted the death penalty for heresy in 382, though the first incineration of a heretic did not take place until 1022.
Last year Florida imposed 21 new death sentences out of 78 nationally, or more than a quarter of all death sentences in the country. The Jacksonville area alone—where the annual number of murders by firearm exceeds the annual number of murders in England–handed down a quarter of all new Florida death sentences. "The state picks up the tab, so areas like Duval County burden all Florida taxpayers with their extreme use of numerous, big-ticket death penalty prosecutions," Elliott said in a news release last December, following Penalver's exoneration.
Since Florida resumed executions in 1979, 74 people have been executed in the state, the last one on Dec. 11, when Manuel Pardo was executed. Some 400 people are on Florida's death row. They spend an average of a little over 13 years on death row, with an average of 14 years between offense and execution, conducted these days by lethal injection or the electric chair. ("The electric chair will be unbolted from the floor in the execution chamber and moved outside when the chamber is used for lethal injection," the Department of Correction says. "The electrical apparatus used with the electric chair will remain unchanged.")
Since the United States Supreme Court reinstituted the death penalty in 1976 (after declaring it cruel and unusual punishment, in violation of the Eighth Amendment, in 1972), 1,320 people have been executed in the country, with an average of 50 executions a year in the last 10 years. Only China, Iran, Iraq and Saudi Arabia execute more people.
In Florida, the imposition of the death penalty has a long history of racism. "In the entire history of our state," Elliott points out, "there has never been a white person executed for the killing of an African-American. That actually goes back to 1786."
But capital punishment has a long and undistinguished history in the United States as a whole. Colonial America, which had plenty in common with the modern-day Taliban in matters of capital punishment, imposed that penalty for perceived offenses such as idolatry, blasphemy, man-stealing, adultery with a married woman, perjury with intent to secure the death of another, the cursing of a parent by a child 16 or older, being a rebellious son, and any third-time burglary or highway robbery—all of which, with two exceptions, would not be considered so much as misdemeanors today.
Capital punishment has even been used as the expedient compromise for certain sects' self-preservations: Quakers, known for their pacifism, were opposed to taking oaths. In a compromise with authorities during colonial days, they agreed to add more capital crimes in exchange for avoiding taking oaths, showing how, as the historian Daniel Boorstin wrote, "zealous men might sacrifice the welfare and even the lives of their fellow-men to the overweening purity of their own conscience."

The workshop on Florida's death penalty will be held at the Community Hall at Santa Maria Del Mar Catholic Church on Saturday, March 23, between 10 a.m. and 3 p.m., for a $5 registration fee. Contact Jackie Morelewicz by email here or by calling 386/569-0099.


Witness to Innocence: Herman Lindsey