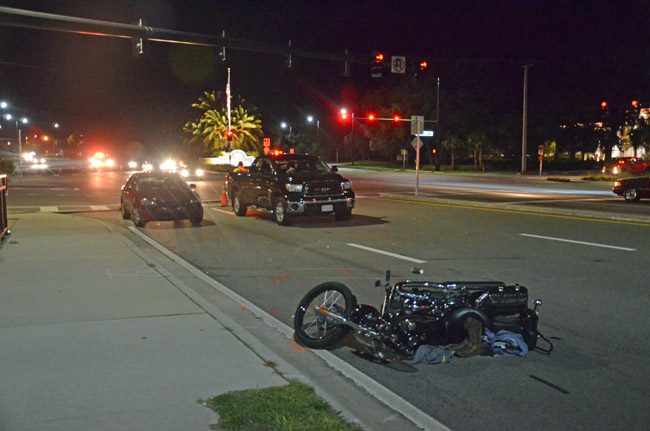 David M. Shute, a 47-year-old resident of Palm Coast's W Section is in critical condition at Halifax hospital in Daytona Beach after a Sunday evening motorcycle crash on Palm Coast Parkway.
There was no collision with another vehicle, and it is still not exactly clear what led Shute to "lay down" his motorcycle, as authorities are describing it, near the intersection of Old Kings Road with Palm Coast Parkway.
The crash took place in mid-evening, as dozens of local authorities, including the Florida Highway Patrol, were busy with the emergency plane landing on the Flagler Beach bridge, so investigative resources were limited at the motorcycle crash. It's being investigated by the Florida Highway Patrol.
What is clear, according to an investigator at the scene, is that Shute had been riding south on Old Kings Road. He had stopped at a red light, according to a witness who was behind him, then pulled out again, making a right on red, which is legal there. But some change in traffic patterns may have caused him to jerk his motorcycle down as he was riding west, an investigator said–he may have seen a vehicle in the middle lane make a right into his lane.
He laid his motorcycle down on its left side and caused it to slide west along Palm Coast Parkway for a short distance, as several scrape marks on the pavement indicate. He fell off the bike as it slid. The bike stopped in the far-right lane, blocking it. Shute himself rolled a bit further than the bike. Shute had been riding a 2015 Harley Davidson.
There are conflicting reports about his condition immediately after the crash. One report was that he was conscious and screaming in pain, another that he was unconscious. Authorities immediately listed his condition as critical. An emergency helicopter landed on Palm Coast Parkway and flew him to Halifax.
Dispatch notes from Flagler County's 911 center indicate that Shute was wearing a helmet at the time of the crash, that he was conscious but having trouble breathing, and was found face down. Seven minutes after the crash was reported, he lost consciousness, and Trauma One, the emergency helicopter, was called in. The helicopter landed at 9:20 p.m. (The crash was reported at 8:52 p.m.)
Investigators had not been able to interview Shute by Tuesday.
Aside from the Florida Highway Patrol, the Flagler County Sheriff's Office, Flagler County Fire Rescue and the Palm Coast Fire Department responded, and the Palm Coast Fire Police regulated traffic., which was not severely impeded by the crash. Traffic had to be stopped in both directions of the parkway momentarily, to allow the helicopter to land. The crash took place at 8:50 p.m. on Aug. 20.