For a man who became CEO of his first hospital at 28, who took over Florida Hospital Flagler five years ago at 33, and shepherded it into the $140 million, 900-employee business it is now—the third-largest business in Flagler County—while making it an innovative business and medical hub among the Adventist Health System's 43 hospitals (we'll get to that in a minute), David Ottati is a disarmingly unassuming man. He doesn't go for ostentation of any kind, in words or demeanor.
His office at the hospital could be that of a mid-level employee at a modest firm. It's small and spare, its blue walls decorated with four scenes of azure seas: no show-off degrees, though he has them, no self-applauding awards and recognitions racks, though he could probably line up few of those.
Enthusiasm, Curbed
Born in Michigan as one of four children to an Argentinean mother and Ecuadorean father—a pastor—he and his family lost it all when their home in Houston burned down when he was about 12. Firefighters took 45 minutes to answer the call. By then it was too late.
"Growing up with nothing, even though I have a nice house and stuff today, it's not what drives me. For me there's no material value that drives me. I enjoy stuff, I have a little iPad, I have gadgets, but none of that makes you content. My family probably does the most," Ottati says in the course of a 90-minute interview about the state of the hospital a few days ahead of tonight's similarly themed dinner reception there. The family—he has four young children, including eight-year-old twin daughters, a 7-year-old daughter and a 5-year-old son—has been away in Argentina, so the older children could be immersed in a Spanish-language program for a couple of weeks. He Skypes them two or three times a day.
Unlike most CEOs or top government types who like to advertise their perch with height, Otatti's office is on the first floor, his windows giving onto nothing more spectacular than parking spaces where, one particular afternoon this week, a driver kept grinding his pickup truck back and forth over a curb, catching Ottati's attention and bothering him for the unnecessary wear on the concrete, however minute the potential damage to his hospital's infrastructure: don't be fooled by the affability. He zeroes in on the slightest breach in his business' operation the way he grabs opportunities, sometimes at great risk of failure, when he sees them.
It's not a short list.
FAF's Recent Portfolio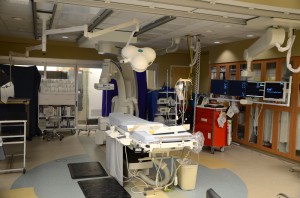 The hospital has just invested $2 million in robotic surgery anchored around the da Vinci surgical system, used for minimally invasive hysterectomies, for example, and $4 million in doubling the capacity of a lab where patients can get angioplasties and heart stents, enabling the hospital to keep patients (and dollars) here instead of sending them out of the county. That lab added 10 to 15 jobs. The hospital also just acquired the state's most advanced CT scanner, primarily used with cancer patients. As Duane Price, the hospital's director of cancer services, explains it, the scanner combines the capabilities of two scanners into one, reducing patients' shuttling from scanner to scanner and making imaging of the results far more efficient. Ottati keeps hiring physicians, with 32 of the hospital's 140 active doctors directly employed by the hospital (as most emerging doctors want to be, because private practices have become untenable hassles).
The hospital is about to break ground on its first expansion beyond its State Road 100 campus, to Palm Coast Parkway, where it'll build a $15 million Outpatient Medical Center. Ottati says the move is not to preempt other providers from filling that market need, but merely to have a presence on the Parkway. Still, the move also fits in with Ottati's evident drive to look for new revenue at a time when hospitals' reimbursements from Medicare and Medicaid are falling, and are about to fall further with the advent of Medicaid reform in Florida, which is drastically redefining the way the health care program for the poor is administered and paid for, and Medicare reform across the country, as federal health care reform trickles down over the years (assuming the Supreme Court, likely to hear the case next year, finds it constitutional). Meanwhile there's more demand on the hospital for services by the poor.
"We're seeing a lot more Medicaid through our doors and uninsured folks through our doors," Ottati says, "which means the entire job loss is having an impact not only on local businesses but on us as well, because they're coming in to get treatment, and many of them can't afford to get treatment, so running a hospital is more difficult."
Off-Campus Ventures
A more immediate and little-known example of Ottati's strategy of going after revenue not typically associated with hospitals, and beyond its walls: Florida Hospital Flagler's venture into home health care on one hand, and hospice care on the other, two extremely competitive fields.
In home health, the hospital runs Florida Hospital Memorial Health Service in the east side of Volusia and all of Flagler County, and a much bigger hospice division, now operating in Flagler and Volusia, and next month expanding into Orange and Osceola counties. Think of that operation as a company's offshore branches: revenue is generated elsewhere but still profits headquarters' bottom line. The hospital has spent more than $100,000 in attempting to obtain certificates of need in other counties—a regulatory requirement by health care providers in Florida, who can't just add beds or open a care facility without state approval, based on market need. The new jobs that'll be added by the hospice expansion will not be in Flagler. But Florida Hospital Flagler is the only one among Florida's Adventist hospitals with a hospice program, with about 80 to 90 patients under its care. Other hospitals tried. Florida Hospital Flagler succeeded.
Credit that to Ottati's eye for opportunity: it's not just that curb he's interested in protecting. He tries to be diplomatic: "For long-term purposes in order to be cost-efficient in health care you have to have economies of scale," he says. "That's really my sell, is: more and more hospice divisions are going regional across Florida or across the state in order to get economies of scale, and for me I believe that's the best thing for Adventist Health Systems, is to have one division that runs all hospice programs and obtain the best economies of scale, so you don't have to replicate directors and marketing and all the overhead costs. That's the strategy behind that."
That's also the thinking behind the hospital's heavy investment in what Ottai calls R&D—research and development. The research end is more of a pilot-programming type of approach that the local hospital has managed to be for the Adventist system. It'll be one of two hospitals where the so-called Positive Patient Identification device will be tested: before giving medication to patients, their bar-coded wrist-bands will be scanned along with the medication for double verification, to make sure it was ordered and being delivered to the patient in the right dose. It adds cost up front, but presumably lowers it in the long term. The hospital is also considering whether to jump into becoming an Accountable Care Organization. That's a very small part of the new health care law, but it's attracting a disproportionate amount of attention. It's a form of managed care for Medicare, where the organization's network of doctors—and hospitals—would agree to provide all care, from primary physicians to specialists to hospital needs, to at least 5,000 patients while ensuring that the one-stop system works to the benefit of those patients. It's supposed to make all the component parts of the health care world work more effective together and save money, though it takes an overall manager. Enter Ottati.
Riskier Business
It's not all a straight line, especially when hospitals try to navigate the brave new world of health care, which few—even among providers—understand, since the rules are being written as it all goes: the Obama administration released Accountable Care Organization rules just a few months ago. And there are inherent risks of the business whatever the circumstances.
"I do take risks and I don't mind taking risks, and some of them are good, and some of them aren't as great. I have to dodge a little bit on the ones that aren't as great," Ottati says. "There are some that you want to put on a presentation and say this is how we're doing, and then like, what about that one? You kind of keep that to your corner because it's not doing as well."
Can you give a hint? "I can't, because I'd get myself in all kinds of hot lead if anything like that gets thrown out there. The fact is that there is. There are things that don't go as planned and cost more than anticipated and budgeted, but it's a risk. Without taking it you get nothing. So you have to take a risk."
Speaking of which, Ottati is also the relatively new president of Enterprise Flagler, the public-private partnership whose halting history and dysfunctional relationships are at odds with Ottati's managerial habits and expectations, to say nothing his demeanor. But that's a story for another day.
20/20 Society
Thursday evening Ottati set all that aside to present the "State of the Hospital" to about 70 invited guests, and more broadly introduce the Florida Hospital Flagler Foundation's 20/20 Society, a planned $1 million fund-raising drive aiming to draft 100 donors who'll pledge $1,000 a year each for the next 10 years. That a $140-million-a-year business is raising $1 million over 10 years should not be a surprise, given the hospital's non-profit status: fund-raising and reinvestment of those funds in the hospital and its broader community is part of the organization's mission. "we're communicating to the community to invest in health care," says John Subers, the foundation director and the creative mind behind the 20/20 Society.  Some 30 people have already pledged their support, essentially meeting a quarter of the goal. In many instances the hospital cannot provide for a slew of demands by doctors or labs or support operations. The foundation steps in. (The cancer Resource Library, for example, was enabled through a $100,000 gift to the foundation. A children's rehab center is about to open at the hospital, too, thanks to the foundation and a particular donor.)
Thursday evening, Subers, Ottati and the 20/20 Society's two co-chairmen—the lawyer Michael Chiumento and the banker Bruce Page—made their pitch to their guests after Ottati's presentation about the hospital. He'd been pacing beforehand while guests ate, he'd shaken a few hands, tied both his shoelaces, and looked perhaps a little less comfortable than he usually does: speechmaking doesn't appear to be his favorite stage. Or maybe he was trying to make do with being a bachelor for a few days, with his family away. He mentioned his family's trip to Argentina, the empty house, the Skyping, then got started, going all business and culminating his presentation with introductions of a half dozen physicians.
Early in his presentation he told the story of going to a local store. "As I was going through the check-out line, one of the guys came up and said, 'You're the guy that works at the hospital, aren't you?' I said well, I'm one of them. I do work at the hospital. And he said, 'You know, my wife has cancer, and she came into the hospital and had an excellent experience. But it was the icing on the cake when we were down here ready for surgery, a physician came in and prayed with my wife and I,' and he said, 'you don't know how that changed our lives.'"
The Adventist system is an explicitly religious institutions, as much mission as hospital. "He lives the mission of the hospital every day, which is extending the healing ministry of Christ. He says it and he lives it," Subers said of Ottati during the interview earlier in the week. Ottati put his belief system this way: "I think a religion is much bigger than any given day. I think you have to live it every day. It's not just a matter of going to church one day. It's a matter of what you do the other six, seven days. I mean, that's my thought process, so I think in the health care ministry, we can touch people's lives every day, and for me this is probably a bigger ministry than going to church."