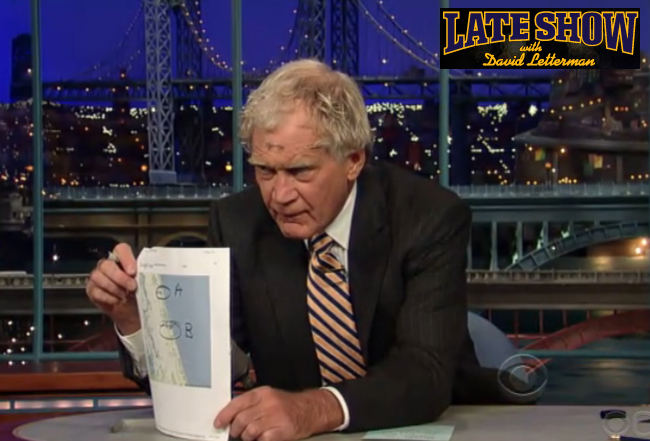 It's the most—and certainly best—national attention Palm Coast has received almost since being the subject of a sprawling article in The New York Times on Jan. 6, 1974, when trees still outnumbered real estate agents in town.
---
Letterman Does Palm Coast: The Audio (edited to relevant bits)[media id=95 width=250 height=150]
On Oct. 15, Palm Coast was the banter of choice on David Letterman's Late Show, which is watched by an average of 3.8 million viewers every night. Letterman and Paul Shaffer on three occasions during the show's "Small Town News" segment wondered about Palm Coast, guessed about its location, its beauty, its palm trees, its proximity to Fort Lauderdale or St. Augustine. Letterman's guesses were accurate. Shaffer's were clueless.
Give credit to the Palm Coast Observer, the Flagler County Sheriff's Office, and a particularly discriminating—or idiotic—criminal. Letterman had seized on an item from the Observer's crime blotter–something about a larceny refreshingly short on goods. Here's Letterman's first exchange with Shaffer:
Letterman: This is from the Palm Coast Observer, Palm Coast, Florida. That sounds like a beautiful—have you ever been to Palm Coast?

Shaffer: Palm Coast? No.

Letterman: Doesn't that sound lovely?

Shaffer: It sounds great.

Letterman: Yeah, very nice.

Shaffer: Have you ever been there?

Letterman: Let's see… Huh?

Shaffer: Have you ever been there?

Letterman: No, I've never been to Palm Coast. I'm guessing it's north of Fort Lauderdale.

Shaffer: Which coast? Do you think it's on the—

Letterman: I would think the Palms suggest that it would be on the Atlantic coast. I don't know this for a fact, but it sounds lovely.

Shaffer: They have palm trees on the Gulf coast.

Letterman: Or maybe up a little farther north like St. Augustine.

Shaffer: It could be St. Augustine. Yeah.

Letterman. Hmm. We'll find out. Eeeh. And you wonder why nobody watches this show. You wonder why they're watching that Jimmy Fallon hop up and down, aren't you?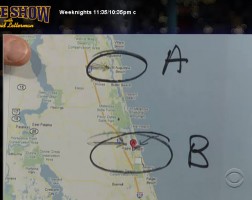 Only then did Letterman finally turn to the crime item: "Larceny. Motor vehicle. The man stated that the GPS, satellite radio and his safety equipment were all still in his vehicle. The only thing taken were a soda from his cooler and two AA batteries." Letterman whooped a couple of times. "Sounds to me like a crime wave down there in Palm Coast."
He went on to a few other items, briefly jabbed at Palm Coast's bi-coastal mystery again ("hi, welcome to geography. We don't know anything") and finally returned to the matter at the end of the segment, map in hand. He circled St. Augustine and marked it "A," circled Palm Coast and marked it "B," and put the map up to the camera. There it was. Palm Coast had finally made it, with one more send-off from Letterman: "I bet it is beautiful. How can it not be beautiful?"
The city and the county's Tourist Development Council can thank their lucky Daves: it would have been disastrous for the city's reputation had it made it on Leno ("Big Jaw Leno" in Letterman lingo), reinforcing the notion that this is the place where second sand third acts go to die. And neither Letterman nor Shaffer once wondered if the thing even has a coast. Letterman must've assumed that if it didn't, it would, given some particularly well placed locals' proclivities for larcenies, eventually annex one. No GPS necessary.

The clip: