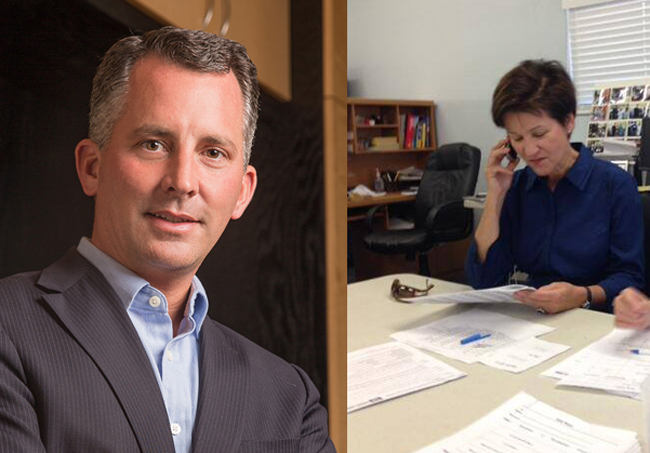 Republican David Jolly narrowly took the contentious and expensive special election on Tuesday to replace his former boss, the late Rep. Bill Young, in the Pinellas County seat in Congress that some believe is a bellwether for contests nationally this autumn.
Receiving just under 49 percent of the unofficial vote tallied by the Pinellas County Supervisor of Elections Office, Jolly, 41, a former Young staffer, defeated Alex Sink, 65, Florida's former chief financial officer who lost to Gov. Rick Scott in the 2010 gubernatorial contest. Sink got 48 percent.
Lucas Overby, a Libertarian from Clearwater, mustered about five percent of the vote.
Meanwhile, Republican Eric Eisnaugle easily won a Central Florida primary that sets him up for a return to the state House and possibly a state leadership role by the end of the decade.
"I ran for Congress not to advance Washington, but to advance Pinellas County," Jolly tweeted after the results were posted.
Sink expressed disappointment in the results in a release that left open her future plans.
"I have congratulated David Jolly and wish him the best success in representing the voices of Pinellas in Congress," Sink said in the release. "My life has always been shaped by a deep commitment to service and problem solving, and I look forward to finding new ways and new avenues to continue practicing these values in pursuit of doing good for our community, our state and our country."
For a seat that is up for election again in November, more than $9 million was spent, mostly by outside sources. Both parties viewed the election to replace Young as a critical test of their chances for success in the mid-term elections in November.
The result spells trouble for Democrats, who are expected to lose seats in the House–amplifying the Republican majority–and possibly lose the Senate, which they've held since 2006.
Young held the seat for more than four decades, and it has been in Republican hands for nearly 60 years, but the district narrowly went for President Obama in 2008 and 2012.
Republicans played on voters' dissatisfaction with Obama, linking Sink to the president's signature piece of legislation, the Affordable Care Act, known as "Obamacare."
"Tonight, one of Nancy Pelosi's most prized candidates was ultimately brought down because of her unwavering support for ObamaCare, and that should be a loud warning for other Democrats running coast to coast," National Republican Congressional Committee Chairman Greg Walden declared in a release Tuesday night.
Democrats painted Jolly as a deep inside Washington lobbyist who had worked on behalf of efforts to privatize Social Security and in support of Medicare vouchers.
Democratic National Committee Chair Debbie Wasserman Schultz tried to find solace in the results.
"Tonight, Republicans fell short of their normal margin in this district because the agenda they are offering voters has a singular focus – that a majority of voters oppose – repealing the Affordable Care Act that would return us to the same old broken health care system," Wasserman Schultz said in a release.
In the state House District 44 contest, Eisnaugle, 37, a lawyer from Orlando who previously served two terms in the House, had little trouble defeating Vicky Bell, 64, an English professor at Valencia College who had served a term on the Orange County School Board.
Eisnaugle, who received more than 80 percent of the vote, will face Democrat Shaun Raja in the special general election on April 8.
The seat was opened when Steve Precourt resigned after being offered the position of executive director of the Orlando-Orange County Expressway Authority.
Precourt, who was slated to leave the House this fall because of term limits, did not end up taking the expressway authority job because of a contract issue.
–Jim Turner, News Service of Florida, and FlaglerLive