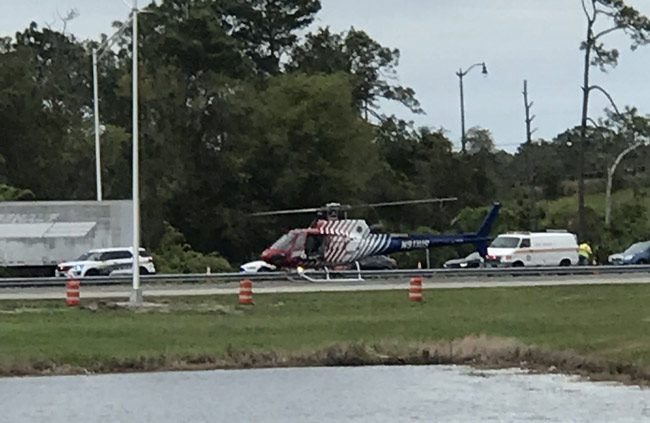 Daniel R. Macleod III, a 40-year-old former resident of Palm Coast, was critically injured in a motorcycle crash late Monday afternoon on I-95, just north of Palm Coast Parkway. Macleod later died at Halifax hospital. He was the second motorcyclist to die on Flagler roads in three days.
According to the Florida Highway Patrol, Macleod, who had been a resident of Hastings, was on his 2017 Harley-Davidson, riding north on the highway's inside lane. Noel Cable Kreger of Jacksonville was at the wheel of a 205 Chevy Cruze, ahead of Macleod. On Monday, the Department of Transportation began setting up a construction zone just north of the parkway as it readies to repave I-95. Kreger had slowed at the point where his lane was to merge with the center lane.
Macleod "for unknown reasons was unable to slow in due time," FHP's report states, crashing onto the back of the Chevy. Kreger was not hurt.
The crash was reported to 911 at 5 p.m., according to 911 notes. Macleod, who was not wearing a helmet, reportedly went airborne, over the Chevy, crashing on the pavement. Both his ankles were fractured, his shoulder was injured, and he was bleeding severely from the head as paramedics treated him at the scene. Minutes later, he stopped breathing. FHP was at the scene 15 minutes after the crash.
The southbound lanes of I-95 were shut down to enable Flagler County Fire Flight, the emergency helicopter, to land, parallel to the crash scene, at 5:22. The helicopter flew Macleod to Daytona Beach, landing there at 5:49, when Macleod was still alive. FHP took over the investigation on On I-95 from the Flagler County Sheriff's Office, with the Palm Coast Fire Police controlling traffic. Flagler County Fire Rescue and the Palm Coast Fire Department also responded to the scene.
On Saturday, Jason Richards, a 46-year-old resident of Winter Haven, died subsequent to his motorcycle crash after he swerved off Colbert Lane. He too died after he was transported to Halifax. At the same time Saturday, two motorcyclists were involved in a crash on Hargrove Grade in Palm Coast. One was taken to Halifax hospital by Fire Flight, as a trauma alert, the other was taken to AdventHealth Palm Coast. Neither had life-threatening injuries. On Friday, sheriff's deputies responded to two motorcycle crashes–one on A1A, one at State Road 100 and Colbert lane–neither involving life-threatening injuries.
Construction on I-95, which will include repaving the entire Flagler County segment, work on guard rails and lighting, is scheduled for the next year and a half.