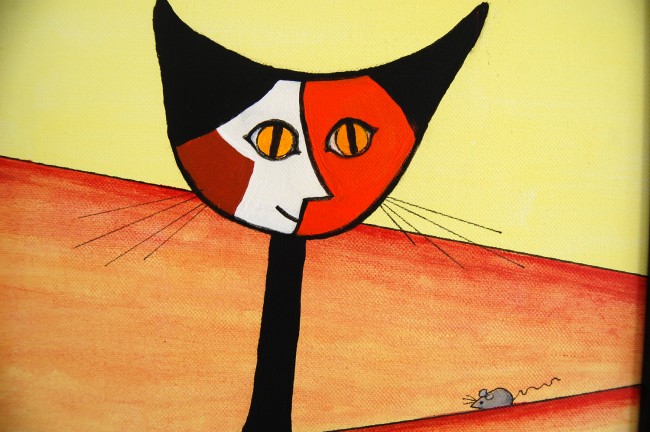 Art history students who've lugged through H.W. Janson's standard text on the subject are familiar with his illustration of creativity: Pablo Picasso's "Bull's Head," made of two bicycle parts—a handlebar and a seat. The seat isn't a work of art. The handlebar isn't a work of art. They're manufacturers' parts. Yet  their combination into what Picasso made of them very much is a work of art, a "visual pun," as Janson describes it, that makes us "also sense that it was a stroke of genius to put them together in this unique way." It looks as simple as child's play. "What is far from simple is the leap of the imagination by which Picasso recognized a bull's head in these unlikely objects; that, we feel, only he could have done."
It wasn't enough for Picasso to imagine it. He had to make it and see it, to make it work, which it magnificently did (it hangs in the Musée Picasso in Paris).
The Flagler County Art League chose to devote its newest show to a similar leap. "Picasso's Legacy" was  an invitation to local artists to take their shot at cubism or anything else that struck their palette. So they have.
"One of the fundamental purposes of cubism was to displace reality," Picasso wrote of his fertile period at the beginning of the 20th century, when he painted, sculpted and collaged his most famous cubist works. "Reality was no longer the object itself. Reality was the painting." Cubism was the representation of reality in component parts, altered and seemingly jumbled, but not really so: in Picasso's hands, a violin was represented in what seemed like a scattering of chunks, each accentuating a part of the violin from a different angle, placed and displaced in unexpected areas of the canvass yet managing to look perfectly harmonious and balanced.
In "Picasso's Legacy," Robert Ammon's "Pablo and Olga" takes off on wonderfully reconfigured—and only seemingly distorted—portraits such as "Woman Facing to the Right" and "Woman With a Cap" to create a two-headed portrait of the artist and his first wife: him looking in one direction, she looking in the other, fittingly, since Picasso's wandering eyes and libido split that union, though she remained married to him because he didn't want to split his property with her. Hence, possibly, Ammon's divided twosome (though Olga, bright though red-eyed, appears far less anxious than Picasso in his Blue-Man-Group look).
Norma Salt entered an acrylic pun of her own with "Picasso's Cat–El Gato," the cat's head managing to look more devious than the mice scurrying behind it, the black cat itself sitting primly on a parquet of red cubes. Francis Ward decided to take Picasso's "Violin and Grapes" and translate it to "Guitar and Dog." Michael Ingram's "For Old Long Time" is a more literal reproduction (or re-orientation) of Picasso's "Old Guitarist," from his blue rather than cubist period. Ingram's guitarist preserves Picasso's shapes but displaces the blue to background and to the guitarist's skin lighter shades while brightening up his clothes in greens and yellows and turning the guitar into a balalaika.
The show is a bit uneven and surprisingly sparse for a dare so rich in possibilities. A couple of students' works made it in. Maybe more might have had the word gone out to the two local high schools, where there's no lack of energetic attempts at taking on old and more modern traditions. Perhaps for lack of enough entries, the show includes a few pieces that, while compelling in themselves, don't necessarily have a connection to Picasso (at least not in the direct sense of the term, though some artists will argue that, like Homer with literature, there is no such thing as art that, since the turn of the last century, doesn't have a connection to Picasso). The art league has changed its rules: artists can enter up to three pieces, rather than up to two, and the requirement that the work was no older than two years has been dropped, which risks encouraging more tired or recycled work at the expense of new creations.
"Picasso's Legacy" was judged. Best in show went to Pat Fadden's "Mama Said," a mixed media piece with elements of light and dark in a small crowd of lightly brushed faces, half faces and no faces that dominated by one presence near the center of the canvass. The suggestion of darkness isn't just in the colors. First Place went to Judi Wormeck for her "Fish Tale," a collage of cat, fish and rusty colors.
It's the second show at the Art League's newest location at City Walk (which is no longer City Walk: the place is renaming itself City Marketplace), after its inaugural "A hero's Call" last month.
"Picasso's Legacy," which opened Oct. 9, is on exhibit through Nov. 9 at the art league's gallery, open Wednesday through Saturday from 10 a.m. to 4 p.m. It's suite 207C on the second floor at City Walk/City Market Place. The next show, Sunday Afternoon With the Artists," opens Nov. 13.