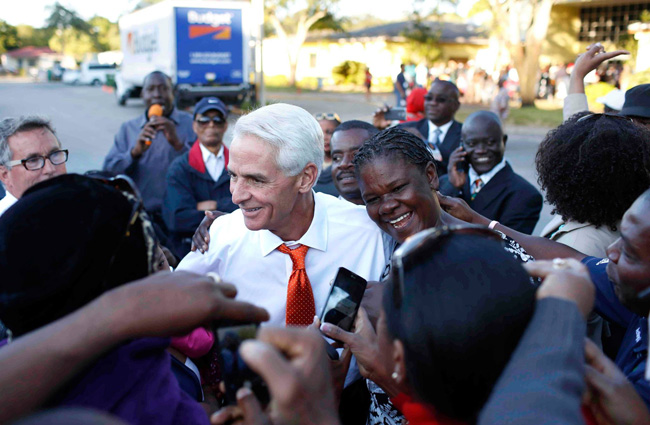 Riding a yellow bus with his silver-haired visage emblazoned on the side, former Gov. Charlie Crist rolled through South Florida to pump up base Democratic voters on the eve of Tuesday's election.
Crist and his entourage made stops Monday in Democratic vote-rich Miami-Dade, Broward and Palm Beach counties, offering his final pitch as an advocate for middle-class Floridians to blacks, Hispanics, seniors and union workers before heading to Orlando for a final pre-election event headlined by former President Bill Clinton.
Clinton urged several hundred students gathered at The Venue at CFE Arena on the University of Central Florida campus to vote for their future.
"You've got to decide. And you cannot leave anybody home tomorrow. … We need you. We need your youth. We need your energy," Clinton said. "Everybody counts. …We are going to work together and we are going to grow together. That's what Charlie Crist means to you."
The former president's message came as the Crist campaign and Democratic loyalists made an eleventh-hour push to get voters to go to the polls Tuesday and unseat Republican Gov. Rick Scott.
"This is the most important thing I'll say today. To all the people who are out there getting ready to vote, I am on your side. Whether it's the minimum wage increase, equal pay for women, all the things that we need and we know that we ought to fight for, go out and vote tomorrow, we'll get it all done. Education and everything," Crist told a crowd of mostly black supporters at a storefront campaign site in Lauderdale Lakes.
Crist kicked off the day outside the International Brotherhood of Electrical Workers headquarters in downtown Miami, where he was joined by U.S. Rep. Debbie Wasserman Schultz, who is also the chairwoman of the Democratic National Committee, and American Federation of Teachers President Randi Weingarten.
Flanked by Wasserman Schultz and Weingarten as well as his wife, Carole, and running-mate Annette Taddeo, Crist noted to the crowd that he was surrounded by women, whom he referred to as "Charlie's Angels," ticking off another Democratic demographic box right off the bat.
"It makes a statement about what this administration will be like, honestly. I was raised with three sisters, no brothers. I got it at a very early age how important women are and need to be respected and need to have their own choice when it comes to their body," Crist said, adding that two of his sisters were public-school teachers.
Crist and Scott are in a dead heat, according to recent polls. Democrats have set up hotlines and dispatched attorneys to help with any voting issues that may arise on Election Day. The U.S. Department of Justice is sending poll observers to 26 jurisdictions — including Duval, Lee, Orange and Hillsborough counties in Florida — in 18 states throughout the country and has also put the civil-rights unit on alert for voting problems.
But Crist remained calm, little more than a day before the election would be over.
"The weather's perfect. Early voting has gone well. We're excited. We just want to make sure everybody gets out and votes. It's going to be tight. It's going to be tight. But it's going to be good," he said.
Crist tossed a football in a parking lot adjacent to a strip mall in North Lauderdale before dropping in on a black barber shop and a Jamaican restaurant.
"Do you have any Vitalis?" Crist, known for his silver coif, asked Vision Clips Barber Shop owner Mike McFarlane. McFarlane posed for a photo with Crist and hung a sign in his window, but did not have the hair product.
Next door at the Dutch Pot restaurant, Crist — a renowned fan of the Red Bull power drink — sampled some sour sop juice, a traditional Jamaican quaff believed to have healing qualities, before his bus headed north.
Democrats continued to brag about closing a gap in an early-voting and absentee-ballot lead held by Republicans, after early voting ended Sunday.
In the Democratic stronghold of Broward County, Democrats cast more votes on Sunday than any other day since early voting started two weeks ago, county Democratic Chairman Mitch Ceasar told The News Service of Florida outside the Lauderdale Lakes Crist campaign locale.
"Yesterday topped our best day ever by 60 percent. We had been 12,000 at our best day. Yesterday we did almost 20,000. That's just a gigantic increase," Ceasar said.
Ceasar predicted that Broward Democrats will cast 100,000 more votes this year than they did in 2010, when lackluster turnout by county Democrats was blamed for Democrat Alex Sink's loss to incumbent Scott. Scott defeated Sink by a margin of 61,000 votes. Democratic turnout in neighboring Palm Beach and Miami-Dade counties has also outpaced that of four years ago.
"I think the number will prove to be insurmountable for the Scott campaign to overcome," Ceasar said.
According to Ceasar, the newfound enthusiasm is based on a variety of factors, including intensive ground operations by Crist's campaign, staffed largely by aides who once helped President Barack Obama nail down victories in Florida in 2008 and 2012.
"We have a great candidate. He's run statewide before. And we've had four years of Rick Scott, which was a great motivator for Democrats and independents who say we could not have a pleasant experience to remember for the last four years," he said.
As they have throughout the campaign, Republicans placed surrogates near several of the Crist events. Lt. Gov. Carlos Lopez-Cantera and Republican Party of Florida Chairwoman Leslie Dougher dogged Crist's bus through Miami and Fort Lauderdale.
Crist wrapped up the afternoon in Lake Worth with stops at a senior center in Lake Worth and at the Romano Law Office.
At the Mid-County Senior Center, Karen Lass helped hand out lapel stickers and bumper stickers and encouraged her friends, many of them elderly Hispanics, to cast their votes for Crist.
Lass, a 72-year-old Democrat, said she voted for Crist — who served as governor, attorney general and education commissioner as a Republican — when he was still with the GOP and had already cast her ballot for him this year.
"He's for the people and for the schools," she said.
Wasserman Schultz, who served in the state Legislature when Crist was a state senator, education commissioner and attorney general, said that, while she did not always agree with Crist when he wore his GOP hat, "I knew he was someone we could count on to do what was right."
Crist as a Democratic governor will focus on education spending and health care and "on making sure that people can climb those ladders of opportunity and reach the middle class," Wasserman Schultz said.
In contrast, she painted Scott as "callously indifferent to the needs of Floridians." Scott has "focused on his wealthy, special-interest buddies," Wasserman Schultz said. "It's unacceptable and he's going to be rejected tomorrow because of it."
—