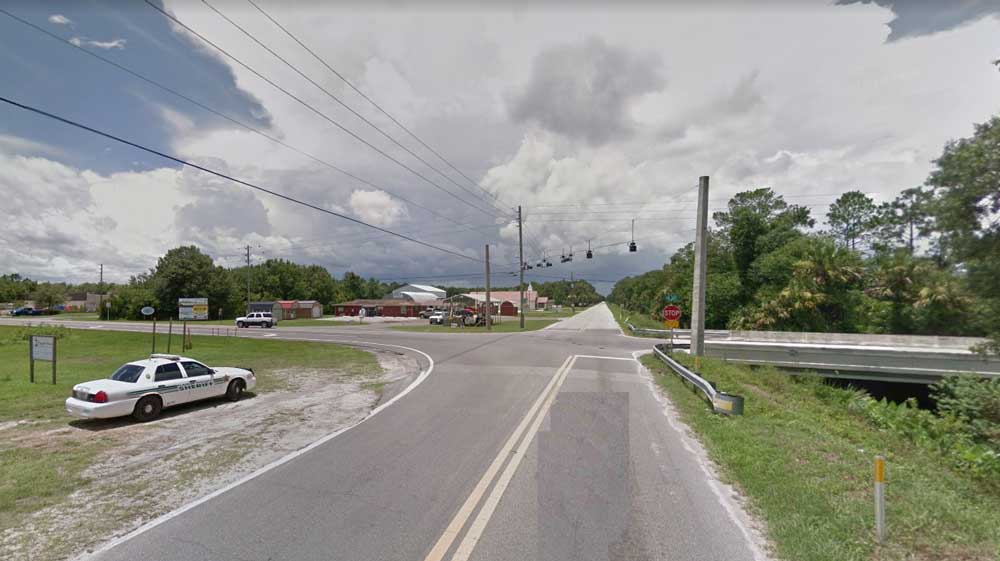 A two-vehicle collision at the crash-prone intersection of County road 302 and County Road 305 in western Flagler County Tuesday evening resulted in two injuries, one critical, one serious, according to the Florida Highway Patrol.
The crash took place at 6:45 p.m. Max Gordon, a 62-year-old Bunnell resident, was driving a Ford Ranger pick-up westbound on 302. A 48-year-old Bunnell woman was driving a Chevy SUV south on 305.




Both vehicles drove into the intersection simultaneously, the front of the SUV striking the right side of the pick-up. The collision caused Gordon's vehicle to rotate 180 degrees. The rear of the truck struck the concrete traffic signal post on the southwest corner of the intersection. Gordon "received incapacitating injuries," according to FHP, and was transported in critical condition to Halifax hospital in Daytona Beach by Flagler County FireFlight, the emergency helicopter. FireFlight landed on 305.
The driver of the SUV had serious injuries but was conscious at the scene, and was taken by ground to a local hospital. Both drivers were wearing their seat belts. Both vehicles remained upright. The crash caused numerous passers-by to pull over and call 911. The woman's identity was not available at the time of this writing.
FHP notes that the intersection has a flashing traffic signal that flashes yellow for both directions of travel on County Road 305, and flashes red for both directions of travel on County Road 302. County Road 302 also has a stop sign for the eastbound and westbound traffic. The crash is under investigation by FHP.