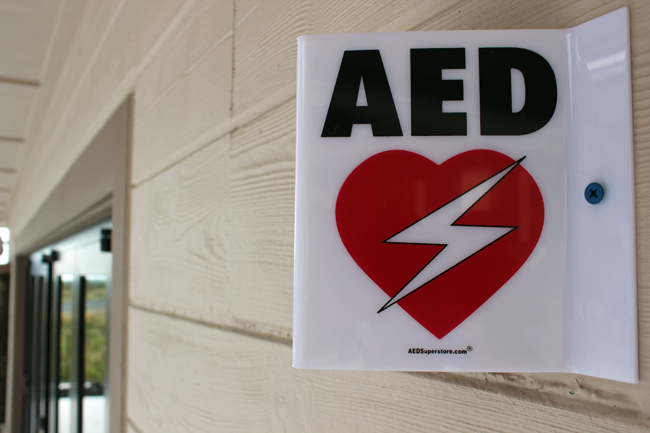 The Flagler County school district and the Palm Coast Fire Department are offering free day-long training in CPR and first aid heart-saver techniques to all school employees or any member of the community interested in being certified in life-saving techniques. Anyone 14 and older may participate.
Certification is awarded after attending one day-long class, held from 9 a.m. to 4 p.m., with an hour's break for lunch, at the Government Services Building, Room 3 (on the third floor). Three such classes will be offered, all on Saturdays: On Aug. 31, Oct. 5 and Dec. 7.
The morning session is devoted to the heart saver program, teaching basic skills such as CPR and AED, or Automatic External Defibrillator, skills.
Those include: Giving CPR to an infant, young child, or an adult, using an Automated External Defibrillator, using a mask or barrier device, and helping an infant, young child, or adult who may be choking. The course is video-based with instructor-led discussion and simulation. You will also be trained in stopping bleeding that can be seen, helping someone with a possible sprain or broken bone, and making sure the scene is safe.
Students participate in, practice, and complete various skills and learning stations.
The training is offered in conjunction with the Palm Coast Fire Department. Workbooks will be provided to participants to borrow the day of the course. However, trainers highly recommend you purchase a course workbook. The American Heart Association recommends that each student review the course information for two weeks prior to the course. Buy the $13.95 coursebook here.
Participants must stay all day to earn their certification. Registered Flagler County School Board employees may earn in-service points by attending, but are required to register through the Electronic Registrar Online (ERO) to get their points.
Flagler County or Palm Coast residents who would like to register for the courses at the school district should do so by calling Palm Coast's Parks and Recreation, at 386/986-2323.
For further information or questions on the course, please contact Justin Dowd at the Palm Coast Fire Department or Katrina Townsend at the school district. You can also visit the Palm Coast Fire Department's web page on CPR and first aid training.