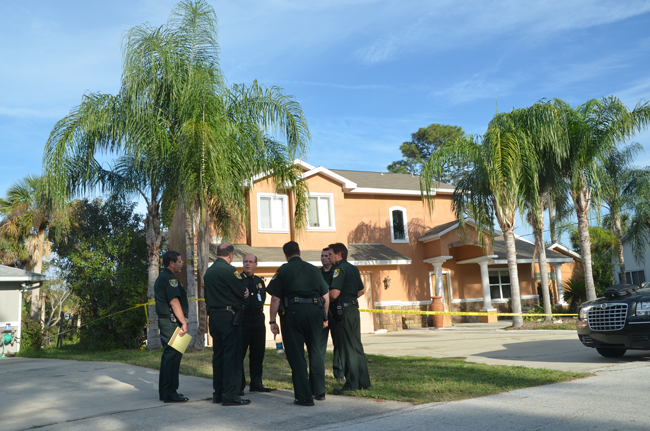 Last Updated: 10:31 p.m.
Just before Christmas, the room-mate and long-time friend of the owner at 16 Covington Lane went missing, while the owner was away. The missing man, in his 50s, never turned up.
On Friday afternoon, the neighbors, at 16 Covington, called in the report of a dead body in the marsh behind the two-level house at 18 Covington. It is the body of a white man in his 40s or 50s. The body has not been identified, but it is in an "advanced state of decomposition," according to Flagler County Sheriff Jim Manfre, who was at the scene with his undersheriff and other members of his top staff at the end of an unusually hectic week on the police beat, that included Manfre's inauguration.
There were no indications of a weapon anywhere near the individual, nor, as yet, of any trauma to the body. But the Florida Department of Law Enforcement's crime lab team arrived at 4:30 p.m. and has only now began investigating the scene. The scene had been roped off, and restricted to very few people–including the sheriff–before the arrival of the crime lab, to prevent compromising the area.
The sheriff's office is terming the death "suspicious." But there is as yet no indication, other than circumstances, that the body of the man is that of the individual reported missing.
"We basically secured the area," Manfre said, moments before FDLE arrived at the scene. "We have not examined the body. We just viewed it to ensure that the person was, in fact, deceased. It's in a marshy area, a swampy area." Manfre himself, he said, did not get close to the body to avoid contaminating the area.
"Nothing to indicate at this point that a weapon was used in the death, or that it was anything other than a natural death," Manfre said.
Manfre explained how the body was discovered: "The neighbor saw vultures, I believe, flying over, sort of looked over, apparently there's a path behind her house I guess that's used by neighbors to go out into the wetlands. She went out and smelled–if you go out, it's a very significant odor–and she called 911."
The smell suggests that the body had been there for some time. He was reported missing before Christmas. "We're not even sure of the identification. We have a report of a missing person of someone in mid-December, we have not identified if that's actually the person who is deceased in the marsh. We just have a supposition. We have a missing person from this particular home that someone was missing from middle of December."
The body was "in some state of decay," Manfre said, posing somewhat of a challenge for immediate identification.
It would be many hours before the body was to be removed and taken to the medical examiner's office.
The house is owner by Daniel and Sandra Kochevar, who have reportedly gone through a divorce recently. The couple was going through foreclosure proceedings before Flagler County Circuit Judge Dennis Craig.
The missing man was Daniel Kochevar's roomate, and a friend of his for years, according to a friend of Daniel Kochevar's. A neighbor said the house had unusual activity of the sort not common in residential neighborhoods–lots of vehicle traffic, many cars parked out front, in and out activity. "It's been a weird situation for a long time," an ex-member of the Palm Coast Planning Board, who stopped and talked with Manfre as he was driving by, said of the house, mirroring what a neighbor had said.
A call was placed to Flagler County's 911 center the afternoon of Dec. 31 to report the missing man. Kochevar said he reported the man missing. According to 911's transcript of the conversation (the names of those reporting the case, and of the missing man, are redacted from the transcript the sherif's office made available this evening) Kochevar told the dispatcher he had last talked to the missing man two weeks previously, and that the missing man had been looking for a place to live. In that call, the missing man's age is placed at 59 or 60. Kochevar told authorities he had not had contact with the missing man since Dec. 17, and that he is "not suicidal and did not have any mental conditions that he is aware of," according to the transcript.
An autopsy of the body is scheduled for Monday. As of late Friday evening, the sheriff's office had no publicly available identification. Even if it had been able to positively identify the body, it would not release the identity before notifying next of kin.
Joseph Alvarez is a friend of Daniel Kochevar's, who lived with Kochevar's son-in-law in Palm Coast's F Section. "He's been actually selling the house. He's moving to [South Florida], and he had a roommate for, I don't know how long, they've been friends for over 20 years," Alvarez said. "He wasn't sure if he was going to be moving or not while he was gone to [South Florida], getting established. So he asked me to come and help with the pool, clean the pool. But after just a little shy of a month ago, the other tenant wasn't around. So we started inquiring to other people that he might have known: have you seen him? And there's nothing. His birthday is December 25th. So nobody heard from him. Nothing."
Alvarez appeared aware of the missing-person report, which Lt. Robert Webber, the sheriff's office spokesman, later said was not an actual report, but a be-on-the-lookout notice.
"The owner actually didn't get back until just around New Year's. So I mean there's that big window of opportunity," Alvarez said. The owner had left a couple of days before Christmas, around Dec. 15 or 16, Alvarez said. Kochevar, he said, "had built the place many years ago, then he'd gotten divorced, so he had a couple a friend, his friend, Denny, move in, and they've been roommates for a long time. There's been a couple of other people here and there. I don't know the extent of all the information."
Denny's last name is not known. Only that he disappeared some days before Christmas–and that neighbors would see him, even in December, biking in the neighborhood, going to the BP station and convenience store nearby.
"The owner's daughter and son-in-law left for Indiana, where she's from," Alvarez said. "Her father, the owner, and her, they grew up, they went back to go see her mother for the holidays, so they left the week before Christmas and came back Christmas night. After that, there was no contact with Denny whatsoever. I mean, went straight to voicemail, I mean, nothing."
Denny, Alvarez said, did not want to go down to South Florida. Denny worked construction and remodeling work. A neighbor said he'd worked on his lawnmower, and was seen working on cars out front. Alvarez himself did not know him well, other than going to a couple of car races together, though he said Denny was "very talkative, hard to understand, Bayou boy"–that is, an Alabaman who'd spent some time in the Bayous.
Covington lane has been the scene of a succession of unusual events, and some crime, over the past year. The house at 94 Covington was the scene of the shooting death of Stefanie Merrill by her husband, in a bathroom in the house, as William Merrill was training an AK-47 at his wife's chest, thinking it was not loaded. He pulled the trigger and killed her. That was last February. Merrill was sentenced to 25 years in prison in October. That month, the house at 105 Covington was the scene of a brazen burglary, caught on the homeowner's surveillance video system. That video helped lead to the arrest of the suspects, after a car chase all the way to St. Johns County.