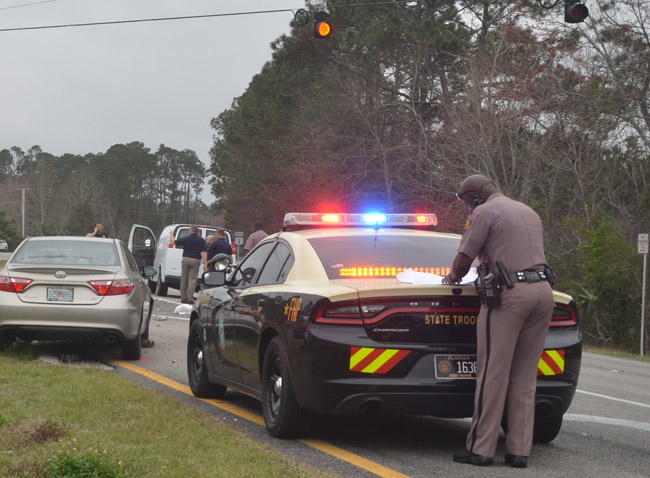 Be warned: cops from Florida to Maine are out in force this weekend (April 8 and 9), pulling over, warning and ticketing speeders, careless, reckless and distracted drivers as part of the Drive to Save Lives campaign. Highway troopers from every state along the eastern seaboard are participating, with a focus on I-95.
That means if you travel anywhere on the interstate this weekend, you'll be in the troopers scopes. The effort–with the Drive to Save Lives initiatives implemented over previous or successive weekends in some states–is part of a broader awareness campaign to reduce crashes.
The Florida Department of Highway Safety and Motor Vehicles is urging motorists to keep their eyes on the road and focus on driving in an effort to reduce distracted driving crashes statewide. The Florida Highway Patrol is partnering with the Florida Department of Transportation, Florida Police Chiefs Association, Florida Sheriffs Association and AAA – The Auto Club Group to promote April as Distracted Driving Awareness Month.
In 2016, there were almost 50,000 crashes involving distracted driving in Florida, which is more than five crashes every hour. Last year, these distracted driving crashes accounted for more than 3,500 serious bodily injuries and 233 fatalities. Distracted driving crashes have increased 26 percent since 2013. (Texting and driving has been the focus of student initiatives in Flagler County in the past.)
"It takes about five seconds, on average, to read or send a text," the National Highway Transportation Safety Administration reports. "Not a lot of time. But, in that span of time, with your eyes on your phone and not on the road, a vehicle travelling 55 miles per hour can travel the length of a football field. In that instant, over that distance, a life can be taken—maybe even yours. Distracted driving killed 3,477 people on America's roads in 2015." The administration adds: "If you're caught texting and driving you'll be pulled over and ticketed because you're putting your life and your neighbors' lives at risk."
In Florida, however–a state that routinely draws poor marks for highway safety laws–texting at the wheel is not a primary offense, but a secondary offense, which means that cops are not permitted to pull over a driver merely for texting. The texting offense may be added to a primary offense, like speeding or not wearing a seat belt. But it may not be the cause of the traffic stop. Lawmakers in Florida have repeatedly tried to make texting while driving a primary offense. They have failed so far.