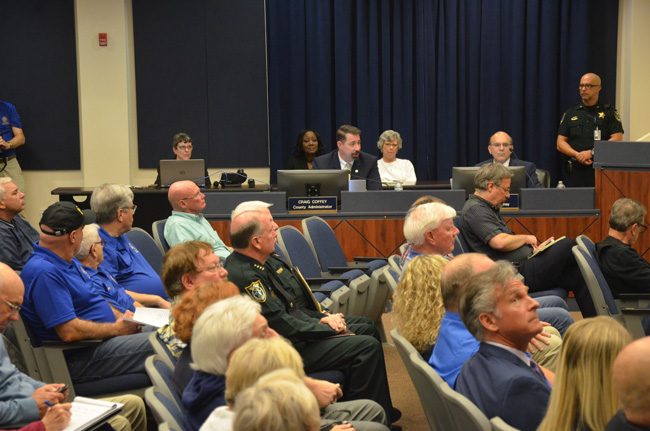 Last Updated: Thursday, 11:39 a.m.
The Flagler County Commission this evening accepted County Administrator Craig Coffey's resignation, who said Friday will be his last day.
The commission accepted the resignation plan in a 3-2 vote at a special meeting, and agreed to meet Monday to decide on an interim succession.  There is no interim manager picked at the moment. The meeting achieved what Coffey and commissioners hoped it would, ahead of a planned meeting next Monday when Coffey's fate was to be decided: by pre-empting that meeting with his own resignation proposal, Coffey muted the potential for a public flogging and gave him the opportunity to better control the manner of his departure.
The resignation ends an 11-year tenure that started in late 2007 and that saw Coffey survive a previous attempts to fire him, but that soured precipitously in the past year, largely because of his handling of the Sheriff's Operations Center: the evacuated and apparently sick building, which sickened more than two dozen employees who worked there, turned into an uncelebrated mausoleum for Coffey's tenure as he downplayed and at times ridiculed employees' claims.
Commission Chairman Don O'Brien, Commissioners Joe Mullins and Dave Sullivan were for an immediate separation, sealing Coffey's fate. Commissioners Greg Hansen and Charlie Ericksen favored keeping Coffey for six months, but start a search for his replacement immediately.
Sullivan, for the third time in three weeks, provided the key third vote on a major issue: although he had previously favored keeping Coffey for a few months longer, tonight he cast his decision as going along with that of Coffey, who began this evening's meeting by making his resignation offer: an immediate resignation, effective Friday, with severance and health benefits for 20 weeks, and agreement on all sides not to disparage the other.  The agreement was worded as an amendment to Coffey's contract.
"I'm basically in agreement with that amendment as written," Sullivan said. "This is Mr. Coffey's decision to come forward with this amendment and therefore I will support that amendment as drafted."
Hansen said that since the county is facing more than two dozen projects, it would be wiser to keep Coffey for a few months more. Ericksen said likewise, though he reserved most of his initial comments–some of them grossly inaccurate–to defend Sally Sherman, the deputy administrator who tendered her resignation late Tuesday evening.
O'Brien and Mullins said it was better to make a decision now rather than stretch it out.  "Once a decision is made, we need to move on and we need to get started as soon as possible with a new vision and a new direction for this county," O'Brien said.
It was a near-full house at the commission meeting room, with numerous people wearing black t-shirts emblazoned with social-media-era emojis that spell out Fire Coffey, echoing the Facebook page of the same name created by Flagler County Sheriff's employees a few weeks ago. Many in the audience were ready to speak, especially if it appeared as if the commission would not have the three votes necessary to end Coffey's tenure immediately. But it was obvious minutes into the meeting, when Mullins made the motion to accept the resignation and Sullivan seconded, that the deal was done.
Commissioners followed their rules and opened the floor to public comment. But the vote was clear: Coffey would be gone by Friday. That left speakers to either to address Coffey's legacy in the form of appreciative elegies, as former County Commissioner George Hanns did, or in the form of verbal blades triumphantly twisted in Coffey's wounds, as was the case with former County Commission candidate Jane Gentile-Youd, who ended her three minutes with "good riddance." One sheriff's employee said Coffey owes sheriff's employees an apology.
Others, like Sheriff Rick Staly, whose opposition to Coffey provided one of the deepest nails in his tenure's coffin, addressed the commission with an eye to the future for the Sheriff;s Operations Center and his employees. Former County Commissioner Alan Peterson, who also served as a Palm Coast City Council member (and was among those who hired ex-Manager Jim Landon) advised the commission to take more time to hire replacement for Coffey and top staffers.
Coffey's resignation means that those of his deputy, Sally Sherman, and his human resources director, Joe Mayer, will become effective Jan. 30. Others may yet follow, as Coffey's tenure built the sort of loyalty that reflects itself in just that sort of resignation: when directors lose their manager, they also lose their job security's only shield.
Sherman had been at the center of a controversy when Coffey re-hired her the day after she "retired" last February, putting in effect a double-dipping ploy while evading state law's requirement that an employee so retiring in Florida's retirement system remains off the job for at least six months. Her re-hire as a consultant cost the county more money than it had when she was employed. The details of the plan were kept from commissioners until they were revealed in press reports.
"I have a bad taste in my mouth with the remarks that was made about this talented women," Ericksen said. "She was accused of double-dipping, she went by the FRS program, that's the way it is, you call it what you want, it's not what it is," he said, inaccurately: the law was written specifically to prevent such ploys. Ericksen then made unsubstantiated charges–that the revelations were motivated by sexism and racism: "The comments came from men who don't like women in the position, and then express it, and there are some people who don't like it because they think of the way of the 1960s, if you know what I mean."
Mullins, moments before the 6:21 p.m. vote, ended the meeting with a plea for "healing." ("How does it feel to topple an entire county structure without any plan in place?" Linda Hansen, Greg Hansen's wife and the sharper operative of the pair, wrote FlaglerLive's editor Thursday morning. "You must feel very good this morning! You and John Walsh." Walsh is the Palm Coast Observer's publisher. "King makers, I believe you call yourselves. Congratulations, you have destroyed a government which you have hated so badly. Now what? Welcome to complete chaos, which you helped to create. And the responsibility which you will bear. I'll be watching.")
When the Palm Coast City Council fired Jim Landon a few months ago, Landon immediately slipped out a side door. After the commission's vote tonight, Coffey remained in his seat, and afterward stayed around to chat with colleagues, shake hands with many people, reminisce about not-so old times about his tenure, all the while smiling broadly and reminding some of his staffers he'd be at work at 6 a.m. Thursday. His last conversation in the room was with Staly, who had been among his harshest critics over the last few months. Staly extended his hand and said, "I wish you the best." The two shook hands, and Coffey walked out.