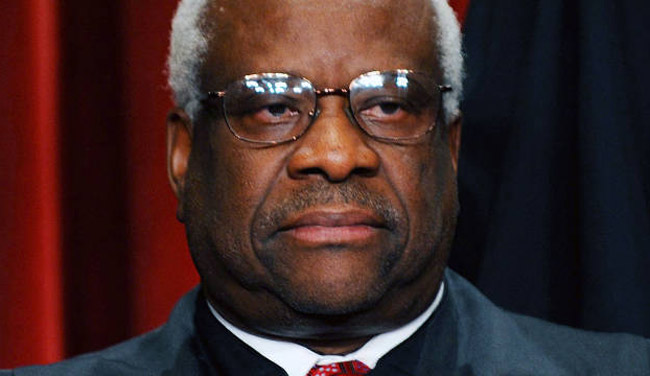 The cruelties of the self-loathing, self-pitying Clarence Thomas were on display again this week when he provided the deciding vote that had the Supreme Court managing to turn the right to remain silent against the accused, and using that silence as evidence of incrimination.
Thomas will never miss a chance to stick it to defendants. This is the justice who has no problem executing the mentally ill: he was among the three dissenters voting for such executions in Atkins v. Virginia in 2002.
This is the justice who decided that prison guards at Louisiana's Angola state prison—America's version of the 19th century Congo under Belgian rule—kicking an inmate while he's handcuffed and shackled, punching him in the mouth, eyes, chest and stomach while another guard held him in place, bruising his face, swelling his mouth and cracking his dental plate, all while a supervisor watched the beating and told the guards "not to have too much fun," did not amount to cruel and unusual punishment under the Eighth Amendment. He was in a 7-2 minority on that one, joined only by Antonin Scalia, whose jurisprudence never travels far from Inquisition-vintage punishments. When the case was argued, even President George H.W. Bush and his deputy solicitor general at the time, John Roberts, now the chief justice, were on the inmate's side. Not Thomas. Never Thomas. (Hudson v. McMillan, 1992.)
This is the justice who sounded virtually nostalgic when he joined a 7-2 majority that declared the three-drug lethal injection procedure typically used in executions neither cruel nor unusual. "The unanimous court," he wrote, referring to an 1879 case, "had no difficulty concluding that death by firing squad did not" fall in the cruel and unusual category. So why should lethal injection? Never mind that the 1879 case involved Wallace Wilkerson, who bled for 27 minutes after the firing squad missed his heart, as witnesses and a doctor stood by in a Utah yard. Not cruel and unusual at all, at least not for fans of torture. (Baze v. Rees, 2008.)
This is the justice who had no problem providing the deciding vote—and the majority opinion, in a 5-4 case—in throwing out a $15 million award for civil rights violations in the false conviction of John Thompson, who spent 18 years on death row before his exoneration. The prosecution had intentionally failed to turn over evidence that would have exonerated him. Thomas excused the prosecution. Thompson lost his compensation (Conick v. Thompson, 2011).
So came Monday's 5-4 vote in Salinas v. Texas.
Noah Feldman sums up Thomas's devolution back to 1789: "Thomas's opinion on what facts must be submitted to the jury derives from a series of opinions he has written over the past 15 years, all of which amount to a concerted historical attack on the way modern legislatures and judges handle criminal punishment. In the good old days, the English common law defined a limited set of felonies, and they all had the same punishment: death. Like the Islamic Shariah, the Jewish Halakha and many other early legal systems, the common law wasn't so much bloodthirsty as designed to operate in an environment with little formal police enforcement. Capital punishment was counterbalanced by a low likelihood of detection — kind of like harsh sentences for insider trading."
He concludes, along with some admiring words with Thomas's fanatical adherence to his principles: "If criminal justice, or the rest of our constitutional system, were actually turned back 225 years or so, the results would be so unfamiliar as to seem bizarrely un-American. Originalism is valuable because it reminds us that there are certain core values that we as a people have preserved throughout our history — not because we should stop using zippers and go back to a world of buttons."
The court has had its share of radioactive justices from Roger Taney to James McReynolds to the insufferable Felix Frankfurter. Thomas fits the tradition. He used to be the court's most extremist justice. No longer. Samuel Alito now holds that title, though Alito uses it more cleverly, being less of a stickler for principle and more interested in positioning himself in ways that could influence the outcome of decisions. Imagine that. Thomas, looking more moderate than a colleague. Even ironies can be cruel and unusual.
–Pierre Tristam