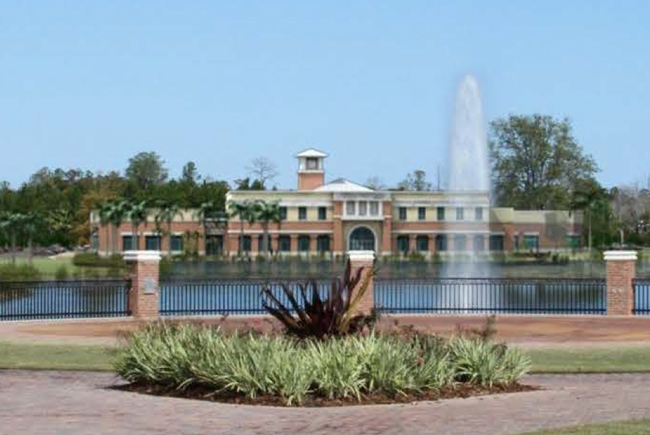 By the sounds of it Tuesday you'd have thought the Palm Coast City Council had once again made up its mind to build a new city hall.
Here was an architecture firm—Orlando's C.T. Hsu and Associates, best known for designing the Amway Center where the Magic play–already picked out showing the sort of "modest" building it had in mind for Palm Coast. Here was the Gilbane Building Company, the Providence, R.I.-based construction firm, speaking of guaranteeing a "maximum price" to deliver a two-story, 32,000 square foot building for $9.1 million, including parking, landscaping, furniture.
And here was Chris Quinn, the city's finance director, outlining the financing plan for the new building, and reminding the council that the city spent $1.4 million in rent for its facilities since 2008, and is looking at spending the same amount over the next five years if it were to keep renting. The city spends roughly $20,000 a month to rent its offices at City Marketplace along Cypress Edge. "It's not a small amount," Quinn said. "The only thing we have to show for that like anybody who rents is a box of rent receipts." And here was the city's Beau Falgout, the senior planner, describing how design would occur in January 2014, construction would end in September 2015, and the city would move in the following month.
The council of course had taken no such decision. It had merely directed its administration in July to prepare a set options so the council could decide whether it should keep renting its offices at City Marketplace or build a city hall of its own. Missing from Tuesday's discussion is any mention of what it would cost to renew the lease at City Marketplace.
But come next Tuesday, the council may be voting on whether to go ahead with the city hall project, though it may just as well limit itself to hearing public comments on the idea. Judging from this morning's discussion, two council members are clearly in favor (Bill Lewis and Jason DeLorenzo), Mayor Jon Netts favored it, while Bill McGuire and Dave Ferguson were not committed. McGuire was the most skeptical, but not necessarily because he is opposed to the idea so much as he cautioned his colleagues about an inevitable public backlash, absent better PR.
City Manager Jim Landon left no doubt about his wish this morning: he choreographed Tuesday's presentation to make continued renting look like a foolish choice, down to his warning that "we need to be able to act quickly" to take advantage of favorable interest rates. Landon had said the same thing in 2010 and 2011, when he pushed a $10 million city hall proposal that the council finally derailed in the face of staunch public opposition. At the time, Mayor Jon Netts had initially favored the project, then opposed it, absent a referendum.
The administration has no plan to hold a referendum on this newest proposal, arguing that it doesn't need to, since the city will not be borrowing money to finance it. It would use $5.8 million from cash owed the city's general fund by the Town Center redevelopment zone (the Community Redevelopment Area), $1.1 million in building permit dollars, and $2.2 million in future revenue from the Town Center CRA, where the city hall would be located.
"We're not taking away from other projects to pay for this project," Landon said. McGuire didn't buy that line of thinking, since it holds true only in so far as the council would be choosing not to develop other projects that it could very well spend this money on.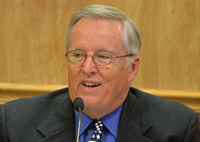 "What else could this money be used other than to build a city hall?" McGuire said.
"City Council could appropriate those funds for anything the council wishes," Quinn said.
"We just raised the utility fee considerably within the last year and they're going to be hit again," McGuire said, wondering whether it would be possible to use some of the $6 million to prevent utility rates from going up as steeply.
"You're not going to affect the current rates. Anything you might do is add to the pot for future capital projects," Quinn said.
Still, McGuire persisted: why not preserve the money to use for other public projects that might be needed in the future? Quinn said a new city hall would eliminate rent payments, thus saving that expense. Netts asked how long it would take the city to recoup the money it would spend on a new city hall, versus renting, at current renting rates. Twenty years, Netts was told, though in reality a $9 million city hall would work out to 36 years, if annual payments are $250,000.
McGuire again returned to his question, asking two more times what would be done with the money if it were not spent on a city hall until Landon finally said it'd be spent on other capital project priorities. But Landon and Quinn described the possibility of a city hall financed under current terms as "a unique opportunity."
Council members have been unable to overcome public opposition to a new city hall since 2005, when more than 80 percent of voters rejected one such proposal in a referendum. This time, however, the council has the orchestrated support of the Flagler County Chamber of Commerce and the Palm Coast Observer, who together are planning a concerted campaign to persuade council members to go for it. The Observer is running an editorial Thursday supporting the idea, and the chamber, in a letter to its executive board members sent Friday, is urging members to send emails to council members and to the Observer showing their support. As of Monday afternoon, Observer Publisher John Walsh said he'd received five such letters.
Walsh serves on the chamber task force that studied the city hall idea and said he and the chamber concluded that supporting a new city hall was important for three reasons: Owning is better than renting; the project can be done without raising taxes; and it would be good for economic development.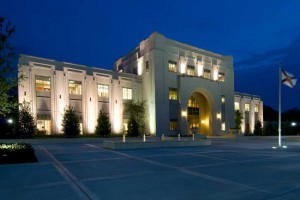 "We met twice and we created a list, pro and con," Walsh said in an interview Monday, "and we filled the page on pro, and the cons that we listed didn't have any facts. It was all emotional." And, he added, "selfishly, positive economic development gives me an opportunity to sell more ads." Walsh had met with Michael Chiumento, the lawyer whose firm's offices neighbor the potential location of the new city hall in Town Center, Milissa Holland, the former county commissioner, and McGuire to discuss the matter. McGuire remained skeptical. Holland (now a lobbyist with still-close connections to the council members) and Chiumento are behind it.
Friday, the Chamber of Commerce's business affairs committee formalized its stance. "This is an important issue for Palm Coast and an opportunity to show that the Chamber has the ability to mobilize support from the business community when it matters," Chamber President Rebecca DeLorenzo wrote board members. "I hope you will join us however you can. Please encourage your friends, family, staff and colleagues to do the same."
At the end of the nearly 90-minute discussion Tuesday, McGuire remained cautious. "The presentation was excellent, the numbers look good, but I know when I walk out that door, this is going to be a real PR issue, you'd better get your ducks in a row and be ready to sell this to the public," McGuire told Landon. He recalled the "bad taste" in people's mouths about previous attempts to sell the idea and once again warning that the public will demand a referendum, even if it's not legally required—and even if the idea might be "good business sense."